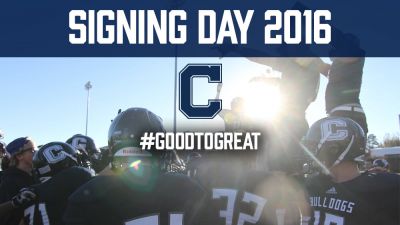 Class of 2016 Concordia football recruits | PDF
SEWARD, Neb. – Never before has the Concordia University football program unveiled a larger class of recruits on National Signing Day. On Wednesday, seventh-year head coach Vance Winter and his staff announced that 50 recruits for the class of 2016 have jumped on board as of signing day (complete list at bottom). More prospective athletes are expected to join the list as recruiting continues on through the spring and summer.
Eleven different US states are represented in this initial class. Twenty-one hail from Nebraska, eight come from Colorado, seven are Texas natives and six call California home. Two will arrive via Kansas and one apiece are natives of Arizona, Florida, Illinois, Minnesota, North Carolina and Utah. Winter especially likes the depth that this class will add to his 2016 roster.
"I just feel like we addressed a lot of different position needs," Winter said. "This is a great class for depth. We're bringing in a lot of guys that will have an opportunity to be meaningful contributors to our football team. We got a lot of guys who are very good high school players and project well to college. I'm really excited about the whole class and its overall depth."
Winter says that the months of December and January were the most hectic since he's been here in terms of the number of recruits visiting campus. Recruiting coordinator and defensive coordinator Patrick Daberkow worked as the point person in arranging for large numbers of prospective recruits to flock to Seward. The approach has paid off with a 2016 group healthy on quantity and quality.
"The biggest selling point we have for our program is our guys currently on the roster," Daberkow said. "We feel that if a recruit gets to know our players, we have a great shot of him wanting to play football and go to school here."
Concordia has a lot to sell considering its marquee bunch set to return from a 2015 squad that finished 6-4 overall. The Bulldogs have gone a combined 18-14 over the past three seasons. Now the hope is to go from "good to great." Hence the hashtag, #GoodToGreat, that has been sprayed on Twitter by staff members. Social media has become a big part of recruiting. Says Winter, "We've been able to connect with a wide variety of guys in a wide variety of different ways."
The Bulldogs have incorporated new-age recruiting tactics while continuing to mine locations that have been fruitful to the program. The areas of Houston and San Antonio are always a focus but like any other program, it's a priority to recruit talent within your own state. Winter believes he and his staff have improved in that regard with this 2016 class.
"We've definitely gone to the same areas we've gone to before," Winter said. "I feel like we did a better job this year recruiting Nebraska guys. We have quite a few more. You have to go into recruiting with a competitive, attack-mode mindset and our coaching staff has done that. I'm proud of what our staff has done in making each recruit feel valued while explaining our vision to recruits. Also, there are a lot of faculty members that have gone above and beyond for us. Coach Daberkow's done a phenomenal job of setting up visits with such a huge number of guys and making those visits meaningful."
The 2016 season kicks off on Saturday, Sept. 3 when Concordia hosts University of Saint Mary (Kan.) for a 6 p.m. start.
2016 Concordia football recruiting class
Jackson Abramo | QB | Omaha, Neb. | Burke HS
Taylor Beck | ATH | Central City, Neb. | Central City HS
Clay Bergen | TE | Henderson, Neb. | Heartland HS
Riley Bilstein | OLB | Atkinson, Neb. | West Holt HS
Tyler Buhr | DB | Adams, Neb. | Freeman HS
Victor Cortez | OL | Los Banos, Calif. | Gavilan College
Joshua Dawkins | DB | Winter Park, Fla. | Lake Howell HS
Ryan Durdon | WR | Decatur, Texas | Decatur HS
Lukas Ericson | QB | Osceola, Neb. | Osceola HS
Anthony Evans | ATH | Lincoln, Neb. | Lincoln HS
Robert Ferguson | FB | Houston, Texas | St. Pius X HS
Bardia Ghasemlou | OL | Sugar Land, Texas | Clements HS
Nathaniel Gilmore | DB | Atwater, Calif. | Atwater HS
Connor Goode | ILB | Norfolk, Neb. | Norfolk HS
Alex Gutierrez | RB | Chowchilla, Calif. | Chowchilla HS
Jackson Hall | WR | Berthoud, Colo. | Berthoud HS
Kordell Hamer | WR | Central City, Neb. | Central City HS
Devon Harris | OLB | Aurora, Colo. | Rangeview HS
Nathan Heeseman | DB | Loveland, Colo. | Mountain View HS
Gavin Herd | ATH | Midvale, Utah | Hillcrest HS
Cody Hofrock | OL | Sidney, Neb. | Sidney HS
Kamal Howard | WR | Aurora, Colo. | Cherokee Trail HS
Jayden Hutchings | OLB | Austin, Texas | Lake Travis HS
Joshua Jackson | DL | Lincoln, Neb. | Lincoln North Star HS
Jake Kemp | QB | Decatur, Texas | Decatur HS
Payton Kuhnel | DB | Peoria, Ariz. | Liberty HS
Dennis Landry | ATH | Loveland, Colo. | Mount View HS
Aaron Lino | ILB | Lancaster, Calif. | Eastside High School
Trystan Lyster | K | Omaha, Neb. | Omaha Northwest HS
Zac Miller | TE | North Platte, Neb. | North Platte St. Patrick HS
Grant Mitchell | OL | Greenville, Ill. | Metro East Lutheran
Gary Niewkoop | DL | Chowchilla, Calif. | Chowchilla HS
Kalvin Page | DL | Omaha, Neb. | Omaha Northwest HS
Jerod Peters | OL | Aurora, Neb. | Aurora HS
Matthew Petracek | WR | Wilber, Neb. | Wilber-Clatonia HS
Jacobsen Podtburg | DL | Adams, Neb. | Freeman High School
Jacob Pralle | OL | Rochester, Minn. | Mayo HS
Grant Ritter | OL | Schertz, Texas | Clemens High School
Aaron Rudloff | ILB | Battle Creek, Neb. | Battle Creek HS
Kyle Rush | RB | Arvada, Colo. | Ralston Valley HS
Preston Schnitzler | RB | Kenesaw, Neb. | Kenesaw HS
Tanner Schwaninger | OLB | Palmyra, Neb. | Lincoln Christian HS
Derek Tachovsky | ILB | Wilber, Neb. | Wilber-Clatonia HS
Noah Torres | DB | Atwater, Calif. | Atwater HS
Anthony Verdicchio | DL | Parker, Colo. | Ponderosa HS
Zachary Walter | ILB | Lincoln, Kan. | Lincoln HS
Shemick Watts | WR | Missouri City, Texas | Elkins HS
Lamont Weddle | OLB | Denver, Colo. | Rangeview HS
David Weir | DB | Salina, Kan. | Salina South HS
Rufus Williams | DL | Raleigh, N.C. | Merced Junior College