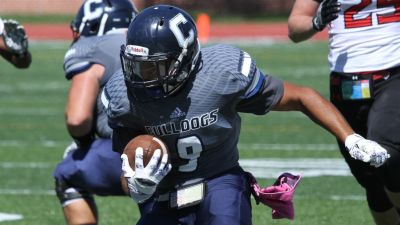 CRETE, Neb. – An inability to finish drives doomed the Concordia University football team in its attempt to end a prolonged drought against rival and fifth-ranked Doane. The Tigers pounced by picking off four Bulldog passes and pulled away in the fourth quarter. Doane won, 27-7, despite being outgained by No. 16 Concordia, 404-309, on Saturday afternoon in an affair that featured lengthy lightning delays prior to the opening and second half kickoffs.
Eighth-year head coach Vance Winter's squad is now 3-1 this season. The Bulldogs had hoped to knock off the Tigers for the first time since 2005. For most of the day, Concordia's stout defense kept things tight. But on three red zone trips, the Bulldogs came away with just seven total points.
"We did some good things offensively in between the 20s, but we sputtered," Winter said. "The turnover differential was a big thing, too. We had some opportunities we didn't cash in on. It's just frustrating that we didn't take advantage. I felt like we controlled a lot of the play. We just didn't finish drives."
Doane entered the contest averaging 43.0 points per game, but was kept in check for the better part of the contest. Tiger quarterback Jack Shadley was flustered into a 6-for-17 outing that included passes picked off by both Cory Evans and Le'Dontrae Gooden. Shadley's second interception came with Doane at the Concordia 16-yard line in the second quarter.
After a scoreless third quarter, Doane put the game out of reach in the final stanza. The Bulldogs suffered a back breaker when Shadley found Aaron Hanlin for a 24-yard touchdown connection on a fourth-and-two play early in the fourth quarter. Then after picking off a TJ Austin toss, the Tigers took a commanding 20-point lead when Nate Meier bulldozed into the end zone from four yards out.
An All-American in 2015, Meier was Doane's top weapon on Saturday. He carried the ball 26 times for 121 yards. His first run of the day went for 35 yards. As a team, the Tigers totaled 212 rushing yards in a game that was nearly dead even in terms of time of possession.
The one drive Concordia did finish covered 79 yards on six plays and tied the game, 7-7, in the first quarter. It was topped off by Riley Wiltfong's 15-yard touchdown pass to Jared Garcia, who hauled in the 23rd score of his career. He needs just one more touchdown catch to equal Ross Wurdeman for a program career record.
On the ground, senior Bryce Collins pounded out 90 yards on 23 carries. He's also nearing a milestone. The native of Boerne, Texas, sits 16 yards shy of becoming the third running back in school history to reach 3,000 career rushing yards.
Wiltfong and Austin combined to complete 18-of-36 passes for 322 yards and a score. Garcia grabbed five passes for 67 yards. Trae Owens complimented Garcia with four receptions for 96 yards while tight end Cameron Christiansen enjoyed a career day that saw him catch three balls for 58 yards.
In addition to his second-quarter interception, Gooded contributed a team high 10 tackles, including one for loss, and a pass breakup. Inside linebacker Michael Hedlund added seven tackles.
The second quarter was full of missed opportunities for Concordia. On consecutive possessions, the Bulldogs missed on a 29-yard field goal try, had a first-down pass in Doane territory intercepted and then turned the ball over on downs in the red zone. Still, the Tigers did not take the lead for good until late in the first half when Shadley crossed the goal line on a five-yard run.
Life on the road continues next Saturday for the Bulldogs, who will travel to Sioux City, Iowa, to take on No. 2 Morningside (2-1). The Mustangs suffered their first loss of the season on Saturday by a 35-21 decision at the hands of NCAA Division III third-ranked University of Wisconsin-Whitewater.