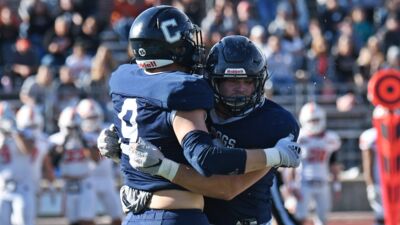 SEWARD, Neb. – The 10th and final week of the regular season has arrived for the Concordia University Football program, which has gotten on a roll. The Bulldogs extended their win streak to five while defeating Doane, 20-13, last week inside Bulldog Stadium. Concordia wound up going 4-1 at home this season and has an opportunity to finish with a winning road record (currently 2-2). Saturday's game between Concordia and Hastings will mark the 54th all-time series meeting.
The Bulldogs are in the midst of the longest winning streak they have enjoyed during Patrick Daberkow's tenure as head coach (began in 2017). Concordia won a defensive slugfest with Doane in a contest that saw both teams produced fewer than 300 total yards. The game swung on Jorge Ochoa's 23-yard interception return for a touchdown in the fourth quarter. Offensively, Jonah Weyand (17-yard rush) and Cayden Beran (seven-yard reception) found the end zone for the Bulldogs in the latest victory.
Hastings is in the process of building its program back up under Head Coach Matt Franzen, formerly the head coach (and then athletic director) at Doane. Last week, the Broncos allowed 527 yards in a 35-17 loss to Midland. The national statistical rankings are a reflection of the struggles Hastings has experienced this fall. The Broncos have surrendered an average of 38.9 points per game. Hastings will attempt to knock off Concordia for the first time since 2018.
GAME INFO
Concordia (6-3, 6-3 GPAC) at Hastings (2-7, 2-7 GPAC)
Saturday, Nov. 13 | 1 p.m.
Lloyd Wilson Field | Hastings, Neb.
Webcast/Live Stats: Hastings Stretch Portal
Radio: 104.9 Max Country
Commentators: Parker Cyza and Ross Wurdeman
Tickets: Concordia HomeTown Ticketing

STATISTICAL BREAKDOWN
Team Statistics
*2021 national rankings out of 98 NAIA football programs

Concordia
Offensive PPG: 24.3 (56th)
Defensive PPG: 20.7 (29th)
Total Offense: 313.9 (65th)
Pass Offense: 190.7 (59th)
Rush Offense: 123.2 (69th)
Total Defense: 320.4 (30th)
Pass Defense: 209.2 (51st)
Rush Defense: 111.2 (22nd)
Turnover +/-: +9

Hastings
Offensive PPG: 15.9 (84th)
Defensive PPG: 38.9 (T-78th)
Total Offense: 286.3 (81st)
Pass Offense: 172.9 (70th)
Rush Offense: 113.4 (76th)
Total Defense: 471.6 (93rd)
Pass Defense: 273.4 (92nd)
Rush Defense: 198.1 (80th)
Turnover +/-: +4

2021 INDIVIDUAL LEADERS

Concordia
Head Coach: Patrick Daberkow (22-25, 5th season)
Passing: DJ McGarvie – 112/204 (.549), 1,302 yards, 18 td, 6 int, 131.7 effic.
Rushing: Jonah Weyand – 110 rushes, 467 yards, 4.2 avg, 2 td
Receiving: Cayden Beran – 37 catches, 418 yards, 11.3 avg, 7 td
Defense: Lane Napier – 121 tackles, 3 pbu's, 1 sack, 1 int, 2 fr, 1 ff, 2 tfl's

Hastings
Head Coach: Matt Franzen (at Hastings: 2-7, 1st season; overall: 67-56, 12th season)
Passing: John Zamora – 118/180 (.656), 1,071 yards, 7 td, 1 int, 127.3 effic.
Rushing: Tyree Nesmith – 161 rushes, 831 yards, 5.2 avg, 6 td (8 total td)
Receiving: Garrett Esch – 24 catches, 377 yards, 15.7 avg, 3 td
Defense: Tydus Clay – 64 tackles, 9.5 tfl's, 3.5 sacks, 2 pbu's

SCHEDULE/RESULTS

Concordia (6-3, 6-3 GPAC)
9/4 at (3) Morningside, L, 7-63
9/11 vs. Briar Cliff, W, 61-21
9/18 at (19) Dordt, L, 7-27
9/25 vs. (2) Northwestern, L, 7-31
10/2 vs. Dakota Wesleyan, W, 34-0
10/9 at Jamestown, W, 24-17
10/16 at Mount Marty, W, 38-7
10/23 vs. Midland, W, 21-7
11/6 vs. Doane, W, 20-13
11/13 at Hastings, 1 p.m.

Hastings (2-7, 2-7 GPAC)
9/4 at (2) Northwestern, L, 13-45
9/11 vs. (14) Dordt, L, 10-61
9/18 vs. Jamestown, L, 28-32
9/25 at Dakota Wesleyan, L, 16-27
10/2 at Briar Cliff, W, 24-23
10/9 vs. (3) Morningside, L, 7-62
10/16 at Doane, L, 0-44
10/30 at Mount Marty, W, 28-21
11/6 vs. Midland, L, 17-35
11/13 vs. Concordia, 1 p.m.

In the rankings
Concordia could push for votes in the national coaches' poll late this season thanks to its five-game win streak. The Bulldogs' most recent top 25 appearance came in November 2017 when they landed at No. 25. Current Massey Ratings list Concordia at No. 35 and Hastings at No. 82. The strength of schedule for the Bulldogs ranks 30th. The Tigers last found themselves in the NAIA top 25 in early October 2017 (at No. 19).
Concordia
GPAC preseason: 5th
Current Massey Ratings: 37th
Hastings
GPAC preseason: 8th
Current Massey Ratings: 82nd

Five-straight wins, five-straight GPAC weekly honorees
After each of the past five wins, Concordia has been rewarded with a GPAC Player of the Week honoree. The latest award winner is senior linebacker Jorge Ochoa, named the GPAC Defensive Player of the Week on Monday. A native of Beaumont, Texas, Ochoa made the game's most significant play last week when he intercepted a pass and took it 23 yards for a fourth quarter touchdown, lifting the Bulldogs to the 20-13 victory over Doane. Ochoa also collected nine tackles, including one for loss, broke up a pass and was credited for a quarterback hurry. The Concordia defense limited Doane to 264 total yards and created three takeaways. On the season, Ochoa has totaled 39 tackles, four tackles for loss, 1.5 sacks and an interception.

2021 GPAC Players of the Week
Oct. 4 – DJ McGarvie (Offensive)
Oct. 11 – Caydren Cox (Defensive)
Oct. 18 – Lane Napier (Defensive); Korrell Koehlmoos (Special Teams)
Oct. 25 – Peyton Mitchell (Defensive)
Nov. 8 – Jorge Ochoa (Defensive)

The incomparable Lane Napier passes 500 career tackles
There just isn't anyone who can compare to Lane Napier when it comes to making tackles. Prior to Napier's arrival on the scene, no Bulldog during the GPAC era had ever reached 300 career tackles. He's now pushed past 500 stops (522 tackles) after making 14 in the win over Doane (and an interception). Two games prior, Napier racked up 20 tackles at Mount Marty and was named the GPAC Defensive Player of the Week for the fourth time in his career. Napier has posted at least 10 tackles 27 times and has reached at least 15 tackles 11 times in his career (20-plus tackles five times). The native of David City, Neb., is a four-time First Team All-GPAC selection and was chosen as a Second Team All-American by the AFCA in 2020.

Napier, year-by-year tackle totals
2021 – 121
2020 – 54
2019 – 108
2018 – 142
2017 – 97

McGarvie sets standard for freshmen
No freshman quarterback in program history has thrown more touchdown passes in a single season than DJ McGarvie, who has pushed his season total to 18. The Lincoln North Star High School alum has thrown at least one touchdown pass in each of the first nine games of his collegiate career. He extended that streak last week by connecting with Cayden Beran on a critical fourth-and-goal scoring play from the seven-yard-line. During Concordia's five-game win streak, McGarvie has completed 77-of-127 (.606) passes for 910 yards to go with 11 touchdown passes and just two interceptions. Entering Saturday, McGarvie needs three touchdown passes to equal Von Thomas' single-season school record of 21 touchdown tosses.
Most TD passes in single season, school history
21 – Von Thomas (2014)
18 – DJ McGarvie (2021)
17 – Rod Giesselman (1970)
16 – Jarrod Pimentel (2001)
16 – Phil Seevers (1988)

Defense dominates during streak
Behind a linebacker crew led by the likes of Caydren Cox, Lane Napier, Jorge Ochoa and others, the Bulldogs have come together as a defensive unit. During the five-game win streak, the Concordia defense has limited its opponents to averages of 8.8 points and 256.2 yards per game. The defense is more than just Napier, who has gotten plenty of attention locally for his mounting tackle stats. The past four games have resulted in four different GPAC Defensive Players of the Week from the Bulldogs. In last week's win, the defense held Doane to 264 yards, created three takeaways and sacked the quarterback four times.
Ochoa became the third defensive player for Concordia to score a touchdown this season: Shayne Campbell (49-yard fumble return vs. Briar Cliff), Cox (eight-yard interception return at Mount Marty) and Ochoa (23-yard interception return vs. Doane).

Total yardage allowed, last six weeks
9/11 vs. Briar Cliff – 154
9/18 at Dordt – 403
9/25 vs. Northwestern – 393
10/2 vs. Dakota Wesleyan – 138
10/9 at Jamestown – 306
10/16 at Mount Marty – 232
10/23 vs. Midland – 341
11/6 vs. Doane – 264

Kavulak, Stevens step up
The defensive line may have put together its best performance so far this season in last week's win over Doane. For most of the day, star Tiger running back Frazzie Wynn had nowhere to go. He busted off one 41-yard rush, but each of his other 20 carries went for five yards or less. As for the pass rush, Jordan Kavulak and Payton Stevens were ferocious. The Seward High School product Kavulak collected 2.5 sacks and recovered a fumble while Stevens notched 11 tackles, 1.5 sacks and a forced fumble. Kavulak now has eight tackles for loss and 4.5 sacks on the year. Meanwhile, Stevens has been dependable off the edge. He has recorded 29 tackles, 5.5 tackles for loss and 3.5 sacks while being credited with seven quarterback hurries.

Receiving trio diversifies offense
Few teams nationally have as an experienced a receiver group as Concordia trots out in wideouts Cayden Beran and Korrell Koehlmoos and tight end Garrett Schardt. Each of those Bulldogs has totaled more than 1,000 career receiver yards. Collectively, the trio has combined for career figures of 317 receptions, 4,500 receiving yards and 32 touchdowns. On the season, all three have at least 30 catches, at least 400 yards and at least four touchdowns. A native of Davenport, Neb., Schardt has developed into one of the best tight ends in the country. His 496 receiving yards lead the team. Schardt had a key 43-yard catch that set up Beran's touchdown.

Career totals
Korrell Koehlmoos – 124 receptions, 1,841 yards, 12 touchdowns
Cayden Beran – 122 receptions, 1,479 yards, 11 touchdowns
Garrett Schardt – 71 receptions, 1,180 yards, 9 touchdowns

Weyand goes off on Doane
There were no huge gainers in the run game last week, but an offensive line led by the likes of veterans Johnny Robinson III and Christian Schlepp helped Jonah Weyand consistently rip off solid chunks of yardage last week. A Crete High School product, Weyand finished the win over Doane with 112 yards and a touchdown on 26 carries. Weyand's longest rush of the day came on his 17-yard touchdown run in the second quarter. A year earlier, Weyand burned the Tigers with 169 rushing yards and two touchdowns. Despite missing three games this season due to injury/illness, Weyand leads the team with 467 rushing yards (4.2/carry) on the year.

Party like it's 1970
If the Bulldogs can get a win on Saturday, the 2021 team will have accomplished something the program has not achieved since 1970 – defeat in-state foes Doane, Hastings and Midland in the same season. Concordia topped the Broncos and Tigers last season but did not get the chance to play Midland due to a COVID no contest. The '70 team is a good one to be associated with. That Bulldog squad, coached by John Seevers, went 8-1 and finished ranked 12th in the NAIA. As part of the 1970 run, Concordia defeated Doane, 35-0, Hastings, 23-0, and Midland, 43-14. As it stands currently, the Bulldogs have won four games in a row against in-state opponents.

Series vs. Hastings
The Broncos have owned the all-time series with a record of 36-16-1 versus the Bulldogs. However, the series has been very competitive recently with the two programs splitting the last 10 meetings evenly (see history below). The 2019 matchup resulted in the largest point differential in series history with Concordia blowing out Hastings, 44-0. The meeting last season was much closer with the Bulldogs pulling it out, 34-28, in overtime behind a five-touchdown performance from running back Jonah Weyand. That game could have easily gone the other way. The Broncos held a 21-14 lead with less than four minutes left in regulation. Concordia converted on a fourth-and-12 late in the fourth quarter on a drive that eventually resulted in a game tying touchdown. Concordia is looking for the first three-game win streak in this series since Hastings won four in row from 2007 through 2010.

Last 10 meetings
2020 – Concordia 34, Hastings 28 | OT (Seward)
2019 – Concordia 44, Hastings 0 (Hastings)
2018 – Hastings 21, Concordia 13 (Seward)
2017 – Hastings 38, Concordia 18 (Hastings)
2016 – Concordia 31, Hastings 28 (Seward)
2015 – Concordia 28, Hastings 3 (Seward)
2014 – Hastings 48, Concordia 43 (Hastings)
2013 – Concordia 26, Hastings 21 (Seward)
2012 – Hastings 34, Concordia 26 (Hastings)

Scouting Hastings
After being led for nine seasons by Tony Harper, Hastings made a change at head coach and brought in Matt Franzen, who had previously served as the athletic director at Doane. Prior to taking on the AD role at Doane, Franzen had been the Tigers' head football coach for 11 seasons and led the program to the NAIA playoffs in 2015 and 2016. Franzen hopes to lift the Broncos to that same level, but it wasn't going to happen overnight. Hastings' two wins this season have come against Briar Cliff and Mount Marty, both on the road. In other words, the Broncos are still searching for their first home victory of 2021. Hastings has had a solid rushing attack with Tyree Nesmith, who has run for 831 yards and six touchdowns. However, the offense has struggled with sacks (35 allowed). Defensively, linebacker Tydus Clay has enjoyed a big year in compiling 9.5 tackles for loss. From Hastings' perspective, a win over Concordia would be a nice springboard into the 2022 season.