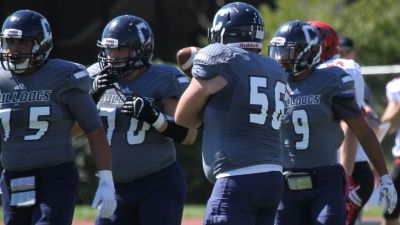 SIOUX CITY, Iowa – A pair of interceptions for touchdowns highlighted a dominant first half for host and sixth-ranked Morningside as it celebrated its homecoming on Saturday afternoon with a 55-13 victory over the Concordia University football team. On an otherwise forgettable day for the Bulldogs, senior running back Bryce Collins placed himself in elite company by becoming the third player in the history of the program to eclipse 3,000 career rushing yards.
Eighth-year head coach Vance Winter's squad has now lost back-to-back road games against teams ranked inside the top 10 nationally. No. 21 Concordia slipped to 3-2 overall and 1-2 in conference play.
"Morningside had a lot to do with our mistakes. They're a good football team," Winter said. "You obviously can't have those mistakes to beat a team like that. We definitely covered the gamut. It kind of snowballed on us.
"We gave up probably 28 points because of the kicking game and on offense. It was a frustrating day."
Morningside needed all of just 54 total yards of offense to roll up a 24-0 lead by the end of the first quarter. Their best offense over the first 15 minutes was their ball-hawking secondary. Both Darrian Turk and Xavier Spann jumped TJ Austin passes and then found the goal line. The Mustangs later punctuated the opening half with a touchdown heave from Trent Solsma to Chad Berg on a third and goal from the 42. That made it 38-0.
The long afternoon was foreshadowed when Concordia thought it had tied the game, 7-7, via a 99-yard kickoff return by Tarence Roby. But a holding call negated the play. After the Bulldogs were forced to punt, Morningside tacked on a 34-yard field goal by Jared Amundson and the rout was on.
The Concordia defense did a credible job of containing the powerful Mustang offense despite what the final score looked like. The Bulldogs held Morningside to 164 yards fewer than its season average (628.7), forced five punts and got an interception from Le'Dontrae Gooden for the second-straight week.
Collins went over 3,000 career yards in the second quarter when he carried the ball 15 yards for a first down to the Morningside 15. Collins finished his day with 78 yards on 17 carries, including one that went for 34 yards. Collins trails only Cleve Wester (3,867) and Gary Seevers (3,257) on Concordia's list of all-time leading rushers.
"I think Bryce is one of the most respected guys in the conference," Winter said. "I know coaches on opposing teams really respect him and we have a great deal of respect for him and how he goes about things."
With Riley Wiltfong at the controls, the Concordia offense finally gained traction late in the third quarter. After a first down completion in the red zone to Jared Garcia, Wiltfong connected with Deshawn Eure for a 14-yard scoring toss. On their very next possession, the Bulldogs marched 70 yards on eight plays on a drive that got jump started by Jordan Slough's 31-yard rush. Wiltfong capped the series with a seven-yard touchdown run off the right side with 2:33 remaining in the game.
Wiltfong and company managed 319 total yards and 17 first downs. Wiltfong went 10-for-25 with 134 yards through the air. Garcia caught four passes for 41 yards while Bulldog ball carriers combined to net 174 yards on 36 attempts. Defensively, Concordia was led by the 14 tackles from Michael Hedlund. Gooden made 13 stops in addition to his interception.
Prolific Morningside running back Tyler Kavan was limited to 33 rushing yards on 13 totes. Backup Dante Anderson carried the rock four times for 76 yards and a score. Solsma went 18-for-28 for 215 yards and four touchdown passes.
Winter's squad played without injured starters in tight end Cameron Christiansen, offensive linemen Keddrick Fuselier and Hallick Lehmann and linebacker Parker Johnson. Making the start at linebacker, Patrick Skwara emerged with a stop in the backfield in a Morningside third-and-one play in the first half. Josh Davis filled in and made his debut at tight end, snagging two passes for 41 yards.
The Bulldogs will be back in Seward next Saturday for homecoming on the Concordia University campus. The Bulldogs will host Briar Cliff (1-5, 0-3 GPAC) at 1 p.m. CT. The Chargers are coming off their own homecoming game in which they were toppled, 38-10, by Dordt in another Saturday afternoon affair.