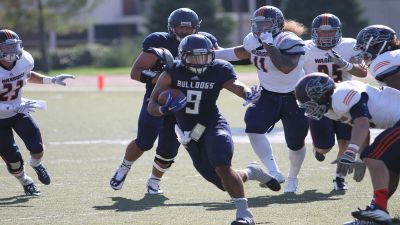 Collins, Folchert rally Concordia for overtime win at Midland
FREMONT, Neb. – Trailing Midland 35-14, the Bulldog offense erupted behind monster games from quarterback Garrett Folchert and running back Bryce Collins in what amounted to a stunning come-from-behind victory for the Concordia University football team. Collins clinched the win with a fourth down overtime carry that went for a 16-yard touchdown. The Bulldogs celebrated a 41-38 win that spoiled homecoming at Heedum Field in Fremont, Neb.
Seventh-year head coach Vance Winter's squad improved to 3-0 against in-state opponents. Concordia is 5-1 overall and 4-1 in conference action.
"It was nuts," Winter said. "Everything that could have gone wrong did. It was not a positive start for us. I'm proud of how we kept our cool. There was no panic on our sideline. It's a credit to the leadership we have on our team."
After Tucker Miliken's 34-yard field gave Midland a 38-35 lead in overtime, Concordia faced a fourth-and-one from the Warrior 16. Winter first sent Adam Meirose out for a field goal try, then reconsidered and called timeout. The Bulldogs turned to their star running back and Collins delivered with a 16-yard touchdown run off the right side to instigate a pileup in the end zone.
A season after Concordia fell victim five times by seven points or less, Winter decided to make the aggressive call.
"Last season I probably would have went the safe route," Winter said. "If you go by the book you kick the field goal, but this whole offseason we talked about making winnings plays. No one questioned it. If we were going to lose, it was going to be because we got stuffed. Our guys did a good job."
A spirited Warrior team coming off its first win last week came out with an offensive game plan that gave Concordia fits. Midland racked up 28 first-quarter points on a Bulldog defense that entered the evening ranked No. 1 in the NAIA. Raul Alvarez tossed his fourth touchdown pass of the game, a 36-yard bomb to Bryce Faussett and shell-shocked Concordia trailed 35-14 with 5:51 left in the third quarter.
But Folchert wouldn't allow the Bulldogs to go down without a fight. The native of Ogallala, Neb., rifled touchdown passes of 17 and six yards to top receiver Jared Garcia to pull the Bulldogs within a single score with 9:22 to play. A few vicious hits never rattled Folchert, who delivered a career performance that saw him go 26-for-35 for 315 yards and four touchdowns.
On the game-tying drive, Folchert found holes underneath the coverage. He hooked up with tight end Seth Fitzke on a 20-yard crossing route and later a nine-yard toss into the flat to Collins that set up first and goal. The Midland defense tightened and the Bulldogs eventually stared down a fourth and 10. That's when the heroic Folchert found Brandon Luetchens for an impressive grab in the end zone. Suddenly the game was knotted, 35-35, with 2:45 remaining in regulation.
After serving as a holder and backup quarterback much of his career, Folchert seized his opportunity on Saturday. The 5-foot-11, 190-pounder took every snap after TJ Austin left in the second quarter with a thumb injury.
"He's just a great competitor," Winter said of Folchert. "He competed and competed. He prepares so well. We have confidence in him in situations like this. He took some shots tonight. He's tougher than nails. He'll step up and make some throws. I'm really proud of him."
Folchert didn't have to do it alone. Collins eclipsed 100 yards rushing (118 on 22 carries) for the third-straight game. He also caught eight passes for 125 yards. The game breaker from Boerne, Texas, caught a short pass and busted it 75 yards for a score that helped Concordia stay competitive in the second quarter.
With the offense firing, the Bulldog defense made second half adjustments that held Alvarez and company in check. Linebacker Michael Hedlund was all over the field with 19 tackles and Trey Barnes came up with a pair of sacks. The duo spurred a defense that forced four Midland punts and two lost fumbles in the second half.
That helped make up for a sloppy first half during which Concordia got "schemed up" as Winter said. The Bulldogs were in business after Matt Keener's interception and return of 33 yards, but Concordia gave it right back, coughing the ball up at the Warrior one-yard line. Those were the first two offensive plays of the game.
Even with its first-half struggles, Concordia limited the damage to 380 total yards by the Midland offense. The Bulldogs piled up 509 of their own, marking their second-straight game of 500 or more yards. Before exiting the game, Austin ran for 77 yards – 49 of which came on a touchdown run in the first quarter that gave the Bulldogs the lead. Garcia caught eight passes for 102 yards and two scores.
For Midland (1-6, 1-4 GPAC), Alvarez finished 22-for-31 for 265 yards and four touchdowns. Warrior running back Deon Ransom carried 16 times for 64 yards as Midland lost its fourth-straight meeting with Concordia.
The Bulldogs return home next Saturday (Oct. 24) when they host No. 6 Doane (6-0, 5-0 GPAC). The Tigers, who own a 10-game winning streak dating back to last season, will be coming off a bye. Kickoff from Bulldog Stadium is slated for 1 p.m.