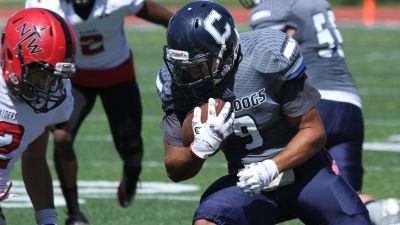 SIOUX CENTER, Iowa – The 21st-ranked Concordia University football team got the fight it expected from an improved Dordt team on Saturday afternoon. The Defenders just couldn't handle Bryce Collins, who bullied his way to 179 yards and three touchdowns on the ground to power the 35-28 victory in Sioux Center, Iowa.
The first conference road win of the season allowed eighth-year head coach Vance Winter's squad to move to 6-3 overall and 4-3 in conference play. The Bulldogs have guaranteed their third winning season in the past four years.
"They played really hard and they have some real good players," Winter said of Dordt. "We had some struggles to stop them early, which is kind of expected because a lot of teams have struggled to stop them. I thought we responded well in the second half and played solid. We knew what kind of fight we were going to be in for."
While leaning upon the legs of Collins, Concordia took control of the game after shaking off an 18-14 halftime deficit. Collins ran for 41 of his yards on the opening possession of the second half that covered 68 yards. Collins capped the drive on play No. 9 by running 11 yards to the end zone. The Bulldogs eventually bumped their lead to two touchdowns (35-21) via a Jared Garcia scoring grab and then Collins' third touchdown of the day.
"He looked good. He looked fresh," Winter said of Collins. "The bye week was helpful for him. He was really explosive and I thought the offensive line did a nice job opening some holes along with Erik (Small) and our tight ends. He really had a good game."
Dordt (4-6, 2-6 GPAC) gave itself a chance in the final minute of the game when quarterback Brock Lamle found Jake Dodge for a 53-yard touchdown hookup that got the Defenders within one score. However, TJ Austin fielded the ensuing onside kick and Concordia ran out the clock.
The Bulldogs thought they had sealed up the game just a couple of minutes earlier when Michael Hedlund picked off Lamle's pass and gave Concordia the ball at the Dordt 24. The Bulldogs ended up turning it over on downs with 1:19 left in the contest.
Hedlund and company did a commendable job of limiting Dordt's explosive offense. The Defenders finished with 402 total yards – below their season average of 456.1. Bryce Lidtka, who came into the game ranked No. 2 nationally in rushing yardage, was contained for 107 yards on 25 carries.
Austin and Riley Wiltfong both fired one touchdown pass apiece. They combined to go 18-for-29 for 196 yards through the air. Once again, Garcia was the favored target. He caught seven passes for 74 yards. Deshawn Eure hauled in a nine-yard scoring strike from Austin in the second quarter.
Hedlund piled up nine tackles and became the first Bulldog in the GPAC era to record multiple 100-tackle seasons. All-American Trey Barnes also enjoyed another big day that included a pair of sacks and 2.5 tackles for loss. Matt Keener topped the team with 10 stops while nose guard Ron Jackson plugged the middle with eight tackles.
Winter moved into a tie for fourth on Concordia's all-time coaching wins list on Saturday. His 40 victories equal the total produced by the program's very first head coach, Walter Hellwege (40-32-9).
The Bulldogs will conclude the 2016 regular season next Saturday when Hastings (4-6, 1-6 GPAC) visits Seward for a 1 p.m. CT kickoff. It will mark the final regular-season game in Winter's tenure, who became the ninth head coach in program history when he took over the Bulldogs in 2009. Last season Concordia's defense dominated in a 28-3 home victory over Hastings.