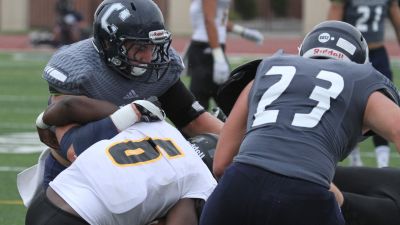 The Concordia University football program has returned to the practice fields this spring while experiencing life after D'Mauria Martin and Tarence Roby, four-year cornerstones in the defensive backfield. With a decidedly youthful secondary group, the spotlight now shifts to a budding linebacker core that welcomes back three starters.
Head coach Patrick Daberkow and defensive coordinator Corby Osten will be counting upon the likes of Kordell Glause, Lane Napier and Derek Tachovsky as leaders and as productive players on the field. Those three all started extensively last season, but others such as Riley Bilstein, Terrell Pearson and Zac Walter will also vie for plenty of snaps.
Said Daberkow, "We feel like that's our deepest group. They're going to play an integral role in the success that we have on defense next year. Everything's going to center around them and their abilities in game planning and scheming. We'll lean very heavy on that linebacker core."
The senior of the group will be Glause, who has started for the past two seasons as an outside backer in the program's 3-4 scheme. The Palmer, Neb., native says it has been noticeable how much more physically prepared the unit has become during another offseason of workouts with strength and conditioning coach Todd Berner. Glause also talks about how the game comes easier from the mental side as he has honed his knowledge of Concordia's schemes and opposing offensive attacks.
There's a learning curve for most linebackers making the adjustment to the college game. Considering the wealth of key sophomores, and even some freshmen, that made up last year's linebackers, it was natural for people to put a big question mark by this unit a year ago.
Said Glause, "The game is just a lot faster (in college). You have to pick up on things. It's not where you can just use your God given talents. You have to be prepared. Physically, I've put on 30 pounds since I've gotten out of high school. I figured out right away that I needed to get a lot stronger. Coach Berner has done a lot of stuff with speed and explosiveness. Mentally, as the years have gone on, things kind of slow down."
In terms of honors, the most heralded of Concordia linebackers is Napier, still a freshman who chose the Bulldogs out of nearby Aquinas High School in David City. He led all GPAC players during the regular season with 97 tackles and garnered first team All-GPAC honors as an inside backer. Glause mans a less glorious role on the outside that often requires him to eat up blockers, but he still registered four tackles for loss as a junior. Tachovsky made 35 stops while Pearson spent most of the fall on the sidelines after a season-ending injury in the opener at Kansas Wesleyan.
There appear to be more than four capable starters in the bunch. The excess of riches at this spot should ease the blow that comes from the departures of Martin and Roby.
"Now that most of our DB's graduated from last year we got put into the leadership role," Tachovsky said. "Our DB's are young so we're going to have to step it up. Last year the DB's stepped it up when we were all young. The front seven had so many sophomores. Now it's our turn. We're the older ones now. The DB's need time to learn and grow."
Naturally, most players coming out of high school are not finished products. Not many are as prepared as Napier, who began 2017 getting reps in the offensive backfield in addition to duties at linebacker. It became apparent that Napier was most valuable on the defensive side of the ball. He collected 56 tackles over the final four games of the season and is in a rare position this spring. He's already a proven commodity despite not having completed a full year of college.
"I knew I could help the team out in some way," Napier said. "They started me out at running back and that wasn't feeling right so they moved me to linebacker and everything started clicking. I had great guys to push me all the time. I think my knowledge of football helped me too. Just getting out there and playing was most helpful."
In the case of Glause, he suffered an injury early in his career and his physical development was pushed back. He tried to use that time to soak up the college game. Glause mentions mentors such as Michael Hedlund, Matt Keener and Tait Sibbel that provided an example of how to be successful.
Someday younger players will bring up players like Glause and Napier as teammates who showed them the way. They are the new household names on the defensive side this spring. A higher profile isn't likely to change them. They're focused on things like run fits and fulfilling individual responsibilities for the greater good of the program.
Together, they make each other better.
Said Napier, "We know how each other plays. I played next to Kordell most of the time last year and you kind of get a feel for what he's going to do and you don't have to worry so much. You just go play and you know the other guys are going to do the same."