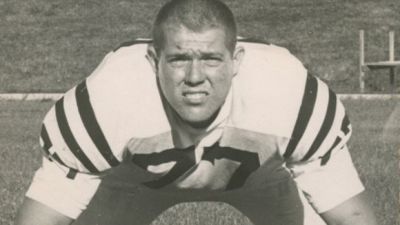 The National Football League is reserved for the best of the best. The reality is that many of the names that are called this weekend (April 23-25) as 2020 NFL Draft choices will be those of stars attached to the big name "power five" conference schools. But everyone loves a good underdog story. In the history of Concordia University football, more than a handful of standouts have enjoyed at least a cup of coffee at the NFL ranks.
The narratives relayed below detail Bulldog football players who are known to have signed contracts with NFL teams or to have been invited to NFL training camps (no player in program history has ever been drafted). These excerpts were taken from the book, Cultivating Men of Faith and Character: The History of Concordia Nebraska Football. Former Concordia standouts who signed with NFL franchises include Lloyd Holsten (Detroit Lions), Dave Kjergaard (Houston Oilers), Bob Oetting (Los Angeles Rams), Larry Oetting (Minnesota Vikings), Cleve Wester (Detroit Lions) and Clarence Woods (New Orleans Saints).
Woods is the most recent former Bulldog to have signed with an NFL team. He did so in 1989 and appeared in three games that season, according to a 2005 newspaper article published in the New Britain Herald (Connecticut). Holsten is believed to have been the first Concordia player to have inked with the NFL.
--------------
What happened in his first ever playing time as a Bulldog really is the stuff of legend. Lloyd Holsten (1961 graduate) lined up right over center and bullied the opposing lineman into a collision with the quarterback. The ball popped loose and Holsten fell on it. Coach Ken Schroeder had believed in Holsten and now Holsten believed in himself. He trotted off the field to the roars of wild approval from the crowd. A star was born. Wrote Schroeder, "He no longer was that shy, inhibited, overweight, and unsung individual that would sit in his car between practices because of his feelings of inadequacy. He was 'popular man on campus.'" Holsten's personality took off. He became known as someone both friendly and funny.
Holsten played two seasons for Schroeder and another two for Concordia's next head coach, Ralph Starenko, while putting together a career that had once seemed completely unfathomable. Holsten, a future Lutheran high school teacher, was invited to Detroit Lions training camp following graduation after also receiving interest from the Baltimore Colts and Chicago Bears. He was the first known Concordia football player to sign a professional contract. Holsten's shocking improvement affected Schroeder to the point that the former head coach detailed the story for the bulk of a seven-page handwritten letter of his fondest memories of his four-year run at Concordia.
--------------
Dave Kjergaard, a defensive end and member of the conference championship 1981 football team, also got a look from the NFL as a member of the Houston Oilers. The contracts then were not nearly as lucrative as they are now. Kjergaard received a signing bonus of around $2,000. But the native of Covington, Oklahoma, did not find the pro atmosphere to his liking. The son of a pastor, Kjergaard didn't much care for the expletive-laced language common among NFL coaches and players. He was described as a brilliant and humble man.
--------------
With offers from a number of NFL teams, Bob Oetting (1964 graduate) chose the Los Angeles Rams in search of an adventure that also supplied a great honeymoon destination for him and his wife Carol. "I didn't know too much about what to expect, but I couldn't wait to get out there," Bob said. A long preseason summer camp was highlighted by an exhibition game at the Coliseum that drew more than 100,000 fans, providing a unique experience for the small town boy. Bob got playing time as a reserve for the "Fearsome Foursome" defensive line of Rosey Grier, Lamar Lundy, Merlin Olsen and Deacon Jones. Yet Bob confidently believes he would have earned a starting role if not for a series of injuries. He scoffed at the notion that he may have been intimidated and overwhelmed by the competition. Football is football, he would say.
According to his recollection, Bob underwent at least six knee surgeries, two shoulder surgeries and a spinal fusion operation in addition to experiencing numerous concussions. Those injuries forced Bob out of the picture in Los Angeles. Every time he had seemingly fully recovered, injuries would flare back up. After two years as a Ram, Bob wasn't ready to give up football. He moved on to the Canadian Football League and became a starting offensive tackle for a team located in Vancouver. Of course, another knee injury followed. Football took him to Toronto and then Montreal. Even after two serious knee injuries, Bob was about to get another shot at the NFL. The St. Louis Cardinals (a member of the NFL from 1960-1987 before moving to Arizona) came calling with a lucrative offer. Unfortunately, Bob failed his physical. "I didn't like it. I thought I could have played, but the surgeries slow you up. I had lost quite a bit of speed. It was probably a wonderful blessing."
--------------
Next in line was Larry Oetting, who was given the opportunity to try out with either the Denver Broncos or Minnesota Vikings and decided on the Vikings. Though he had a "good tryout," Larry did not make the Viking roster. Prior to playing at Concordia Teachers College, Larry led Concordia High School to a 1957 Nebraska Class C state title. In the championship game, the Blue Raiders defeated David City St. Mary's, 32-13, in a contest played in Seward on November 7. In a commemorative book put together by the championship winning coach Warren N. Wilbert, Larry's teammate and roommate John Boll wrote the following about Larry: "Little did I know that Larry Oetting would grow up to be the outstanding tackle in a great lineup of four Oettings in the Concordia Hall of Fame. He would have been best man in our wedding, except that he was in the Minnesota Vikings' training camp that day. My new bride wasn't overly thrilled that we had to stop to see him that day after our wedding, but I reminded her that Larry and I were roommates for six years." Sometimes referred to as "Meat," Larry commanded the respect of all by the way he carried himself. Coach Wilbert wrote that Larry "not only played eye-popping offensive and defensive ball all season long, but was among the seniors who gave our team strong leadership." Though not a skill position player, Larry actually scored his only career touchdown in the state title game.
While at Concordia, Larry heavily immersed himself within the fabric of the school. He busied himself with a total of 11 campus activities. He was president of both the letterman's club and the senior class and a member of the student senate. He maintained a B+ average despite his intense schedule. The 6-2, 240-pound tackle earned two all-conference honors and was named a 1961 Little All-American. And he could hit like a truck. Larry Noack's first encounter with Larry Oetting ended in pain during a drill called "bull in the ring." Playing the part of the bull, circled by teammates, Larry Oetting spun around twice and then charged at Noack, who said he literally saw stars after receiving the blow. Said Coach Ralph Starenko in 1961, "Oetting is the best lineman I've ever coached. He is big, tough, exceptionally fast for his size, and a sharp, hard blocker, tackler, and a tremendous leader on and off campus."
--------------
Former head coach Larry Oetting oversaw two of the top running backs in Concordia history in Jeff Towns (St. Louis, Missouri) and Cleve Wester (Boynton, Florida). Towns piled up 1,930 yards over his two seasons as a Bulldog in 1978-79 before transferring to Kansas State. On the other hand, Wester stayed at Concordia all four years and stands today as the most prolific ball carrier in program history with 3,658 career rushing yards. Wester received induction into the Concordia Athletic Hall of Fame in 2004. Courtney Meyer made the first recruiting contact with Wester, who was versatile enough to return punts and then gash defenses in the run game despite the lack of a dominant offensive line. Wester was noted for having a great attitude and determination. "He was not big," said offensive lineman Dan Oetting, who served as a key blocker for some of Wester's most productive seasons. "I'm sure that's why he perhaps did not get considered at a DI school. He was incredibly fast and a fun guy. He got really mad at me because I lost weight before my sophomore year. He told me he was mad because he wanted his linemen as big as they could be."
Wester appeared in the National Football League in 1987 when the players association went on strike. At 23 years of age, the 5-foot-8 Wester filled the void for the Detroit Lions. Over three games, Wester carried the ball 33 times for 114 yards. His NFL career quickly came to a close when the strike ended following week six of the regular season.
--------------
There haven't been many athletes in Concordia's history capable of standing up to Clarence Woods. "He just looked like an NFL receiver," said teammate Scott Seevers. "We didn't have a lot of weapons in those days but those were two (Woods and quarterback Phil Seevers) pretty good weapons." NFL scouts even made their way out to Seward to have a look at Woods, who began his career at Concordia, transferred to NCAA Division I University of Arkansas, and then returned to Concordia. Forced to sit out upon his reemergence at Concordia, Woods played on the scout team and tore apart the Bulldog secondary.
Woods, who grew up playing football on the streets of the St. Louis suburb Normandy, was a quarterback's dream, especially for the NAIA level. After consistently burning opposing defensive backfields, Woods even signed an undrafted free agent contract with the NFL's New Orleans Saints. He saw action in four preseason and three regular-season games in 1989 (according to a news story), then moved on to leagues in Canada and Europe before a stint with the Western Massachusetts Blitzing Bears. He held on to his football playing career until 2005 prior to joining the New Britain Board of Education in Connecticut. He never forgot about his time at Concordia. A 2005 news story from the New Britain Herald quoted Woods, who said, "Everyone around me was saying hello. I wasn't used to that. Everyone was so friendly. I mean, I lived in a suburb outside of St. Louis – this wasn't Nebraska. It was a different place with a small-town atmosphere." It was at Concordia where Woods blossomed as an athlete. He had stood just 5-1 and weighed only 100 pounds when he entered Lutheran North High School. He grew to 6-2, 215 by the time he wore Bulldog blue. Once at Concordia, Woods convinced Concordia coaches to play him at receiver instead of defensive back. Said Dana head coach Leo McKillip in 1988, "Clarence Woods is probably the best single individual in the conference. He can kill you as a pass receiver, runner, punt returner and kick returner. He's going to be a problem."