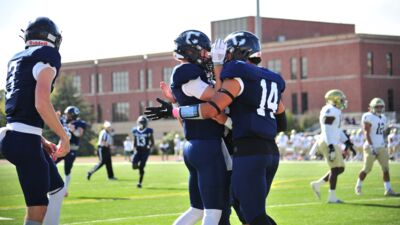 SEWARD, Neb. – An 86-yard scoop and score for Jayzen Armstrong completely turned the tide and washed away the early struggles of the Concordia University Football team on Saturday (Oct. 15) afternoon. In a game that just about had it all, the Bulldogs found a groove and won comfortably, 47-24, over visiting Mount Marty. A second-year program, the Lancers made their first ever visit to Bulldog Stadium. In the win, Korrell Koehlmoos became Concordia's all-time leader for career receiving yards.
Head Coach Patrick Daberkow's squad has won three in a row to even up the season record at 3-3. Concordia is in the midst of playing three straight at home.
"The second half is what we want to be about," Daberkow said. "The first half was one of the more foolish halves of football that I think that we've had. To come back from that and right the ship was good to see … Coach (Corby) Osten's always harping on the guys to finish plays and give great effort. It all starts on that foundation. They do a lot of things offensively that are difficult to defend. I thought our tackling improved a lot in the second half. It's really about the fundamental stuff."
This was a game characterized by big plays for touchdowns, special teams miscues on both sides and a dominant day up front for Bulldog nose guard Devon Polley. The fumble return for a touchdown by Armstrong came at an opportune time as Mount Marty led, 12-3, and had moved inside the red zone. On the play, Luke Sanchez knocked the ball free from Lancer receiver Jonah Miyazawa as he was falling to the ground. Armstrong pounced on the ball and raced untouched to the end zone.
Other than a botched punt snap late in the first half, Concordia dominated the rest of the game. The offense settled as DJ McGarvie connected with the record breaking Koehlmoos for aerial touchdowns of 19 and 36 yards, respectively. In the running game, Devin Zeigler got loose for 113 yards and two touchdowns on 19 carries. Both of his touchdowns came from 17 yards out. Zeigler's second touchdown made it 40-18 early in the fourth quarter. For good measure, tight end Luke Lang reeled in an impressive 10-yard scoring grab while reaching back to his left.
If not for the special teams errors, this would have been close to a complete performance by the Bulldogs. The Lancers took advantage of those gaffes and had separate touchdown drives of 15 and 16 yards, respectively. The Concordia defense did its job in limiting Mount Marty to 295 yards while making game-changing plays. Isiaha Conner's doozy of a toe-tap interception on the sideline also set up a field goal.
Most significantly, Armstrong's play flipped momentum at a time when the Lancers appeared to be gaining confidence. The native of Casa Grande, Ariz., also blocked a PAT and had Mount Marty chasing points the rest of the way (0-for-4 on PATs/two-point tries). Said Armstrong of the fumble return, "I saw the ball on the ground, so I picked it up and I was like, this is an opportunity to score. I gotta go do it. That's my first one. It felt good."
Up front, Polley has become a major headache for opposing offensive lines. The nose guard from Edmond, Okla., blew up two separate Lance fourth down attempts, including one in the red zone and another that gave the Bulldogs the ball at Mount Marty's 30. Polley collected 3.5 tackles for loss and 1.5 sacks. Concordia got a team high 13 tackles from Michael Grindey and eight stops from Kam Baker.
Said Polley of his high-level play, "It started this offseason. I started working in the weight room trying to get bigger, faster, stronger. It's just been paying off the last couple weeks."
McGarvie finished his day 24-for-34 for 235 yards and three touchdowns through the air. Koehlmoos hauled in nine more catches for 106 yards and two scores while becoming the first Bulldog ever to eclipse 2,500 career receiving yards. In addition, Mark Arp ran for 79 yards on 14 carries and Lang made four catches for 44 yards. In his versatile role, Austin Jablonski caught six passes for 38 yards.
Concordia racked up 431 total yards and a season high point total while again leaning upon an offensive line that had to be revamped mid-season. The starters on Saturday included, from left to right, Kaden Peters, Carson Fehlhafer, Jackson Anderson, Toby Hager and Blake Schlegel.
Said Daberkow, "I'm really proud of the offensive line. We are playing with four guys in that starting group that were not starters at the beginning of the season. They have stepped in and filled in very well. They rose to the challenge this week and I'm excited to see what they do as the season progresses."
The Bulldogs are now 2-0 all-time versus Mount Marty (2-5, 1-5 GPAC), which played its first season of football in 2021. The Lancers got nice production on Saturday from running back Isaiah Thompson, who rushed for 89 yards and a touchdown and caught a 16-yard reception for a touchdown. Mount Marty's one league win came over Briar Cliff.
The third home game in a row is coming up next Saturday (Oct. 22) when the Bulldogs will welcome Dordt (3-3, 3-3 GPAC) to Seward for another 1 p.m. CT kickoff. The Defenders have won each of the past four meetings while Concordia leads the all-time series, 9-5. In this week's action, Dordt lost by a 23-0 score to No. 4 Northwestern.