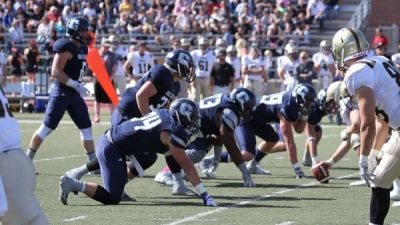 Bulldogs unable to overcome miscues at Hastings
HASTINGS, Neb. – Hastings quarterback John Dostal raced 50 yards to the end zone, slipping away from would-be Bulldog tacklers in allowing the Broncos to pull away with a 34-26 Homecoming victory under the lights on Saturday. The Hastings signal caller's touchdown at the 8:23 mark of the fourth quarter all but put visiting Concordia and its mistake-prone offense out of reach. A Von Thomas five-yard touchdown toss to receiver Jeff Balz in the back of the end zone in the final minute proved too late.
The Bulldogs (0-3, 0-2 GPAC) had cut the deficit to eight at 27-19 with a Kenny Zoeller 29-yard field goal with 13:50 left in the game. Concordia then got the ball back still trailing by eight with a chance to even the score. However, Thomas lofted a pass deep downfield that Kane Elenburg intercepted at midfield to set up Dostal's back-breaking scamper that made the score 34-19.
A Bulldog offense that moved the ball affectively and totaled 429 yards was again plagued by turnovers as they lost three fumbles and Thomas fired two interceptions. On the other side, Hastings played turnover free.
"Offensively, we're our own worst enemy," Concordia head coach Vance Winter said. "If we don't make those mistakes, we're hard to stop."
The Bulldogs scored first on Thomas' eight-yard touchdown that capped a nine-play, 75-yard drive on the team's first possession of the game. Concordia played mostly mistake free until the second quarter when turnovers on three out of four possessions aided the Broncos (2-0, 2-0 GPAC) in taking a 24-14 lead to the locker room.
A second-consecutive five turnover game had Winter echoing the comments he made after last week's 26-23 home loss to Dakota Wesleyan.
"It's the same old thing. It's just like last week," Winter said. "Guys aren't trying to make mistakes. We're walking a fine line. We have to make those plays and stop making the critical mistakes. Again, we left a lot of things out there."
Defensively, big plays and missed tackles bit Concorida hard with Dostal burning the Bulldog secondary at the 9:22 mark of the second quarter with a 72-yard touchdown hook up with receiver Trevor Bohn, who finished with 180 receiving yards on six catches.
Thomas concluded his day 24-for-43 with 270 yards through the air and one touchdown pass. He again impacted the game significantly with his mobility in rushing for two touchdowns, his third and fourth of the season, and 88 yards on the ground on 12 attempts. Junior running back Aaron Gillory posted 36 yards rushing on 14 carries. Balz's 69 yards receiving were tops on the team.
Dostal lit up the sky with 280 passing yards and also led his squad with 70 rushing yards. He completed 15 of 33 pass attempts and fired one touchdown in leading the Broncos to 445 total yards of offense, including 164 rushing.
Junior cornerback Derek Blessing continued his stellar work in the return game, going for 90 yards on four punt returns with a long of 42. The Ogallala, Neb., native also posted eight tackles and a pass break up on defense. Linebacker Langston Jones paced the Bulldogs with nine total tackles, including 2.5 for loss.
Zoeller connected on his only field goal attempt of the night to improve to 7-for-7 this season on field goal attempts.
Hastings running back Keenen Ballage scored a pair of touchdowns but was limited to 62 yards rushing on 23 carries.
Saturday's eight-point loss marked Concordia's third-straight defeat by eight points or less, following a 45-37 loss to then No. 13 Benedictine in week one and a three-point nailbiting downer against Dakota Wesleyan on Sept. 8.
The combined totals of 874 yards and 60 points gave Saturday's game a much different feel than the 2011 meeting between the two teams. Concordia knocked off Hastings 10-0 in Seward last year in a game in which neither team eclipsed 200 yards of offense.
The Bulldogs return home for Parent's Day next Saturday with Dordt College paying a visit to Bulldog Stadium. Kickoff is slated for 1 p.m. Concordia defeated the Defenders 21-7 last Sept. 24 in a game played in Sioux Center, Iowa.