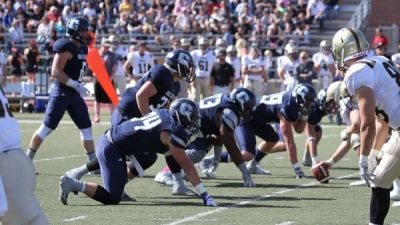 Bulldogs travel to No. 1 Sioux Falls on Saturday
Concordia University travels to take on the University of Sioux Falls on Saturday with kickoff scheduled for 1 pm.
Sioux Falls, the No. 1 team in the country, is a perfect 9-0 on the season. The Cougars are 38-0 since the end of the 2007 season. USF is averaging 47.6 points per game while only allowing 9.0 points per game so far this season. Chevon Walker has handled the bulk of the running duties for the Cougars, totaling 649 yards and 11 touchdowns this season. Through the air, quarterback Jon Eastman has totaled 2,367 passing yards and 33 touchdowns. Jon Ryan has been his favorite target. Ryan has 56 catches for 1,088 yards with an impressive 20 touchdown receptions on the year.
Concordia is coming off a 26-6 road loss at Northwestern College last weekend. The Bulldog offense couldn't get on track, as Concordia totaled just 85 yards of total offense in the game. Concordia's defense ranks near the top of the GPAC in many categories. Led by Ben Klein (Dallas, Texas) and Jerrod Fleming (Houston, Texas), the Bulldog D allows just 21 points per game. The Bulldogs are 4-6 overall with a 3-6 mark in conference play so far this year.
Fans unable to attend the game can catch a live webcast at the following link:
http://www.usfcougars.com/component/videoplayer/?tmpl=component&event=18