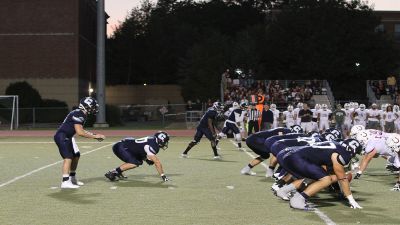 Bulldogs suffer first loss in slugfest at No. 9 Northwestern
ORANGE CITY, Iowa – The defenses lived up to the hype in a GPAC slugfest that took place in Orange City, Iowa, on Saturday. The veteran Northwestern unit held the Concordia University football team scoreless in the second half and gutted out a 17-14 victory. The ninth-ranked Red Raiders survived a Concordia pick six and finally sealed the game when Concordia's Adam Meirose missed wide left on a 45-yard field goal attempt in the closing seconds.
Seventh-year head coach Vance Winter's squad fell to 2-1 overall and 1-1 in conference play. The Bulldogs had been seeking their first win at De Valois Stadium since 2002.
"They made more plays than us," Winter said. "I thought our guys fought and competed, but they made more plays. We have to get better in a lot of ways. Offensively that was not what we were hoping for. We recognize that Northwestern is great on D, but we left some things on the field and missed some opportunities.
"We're not hanging our heads, just frustrated right now."
Like the previous three meetings between the two sides, Saturday's contest came down to the final seconds. Trailing 17-14, Concordia got one more shot when its defense forced a punt. Starting from his own 22 with 1:38 left in the game, quarterback TJ Austin led the Bulldogs within striking distance. He completed first down passes of 17, 24 and 15 yards to tight end Josh Slechta to put Concordia at the Northwestern 24-yard line. On fourth-and-14 from the 28, the Bulldogs attempt to tie the game misfired.
The Bulldog defense led by a career high 18 stops from linebacker Clay Mauro kept on coming. Its group of ballhawkers staked Concordia to its first lead of the game when safety LeDontrae Gooden picked off Jonathan Kodama's pass and took it 45 yards for a second quarter touchdown that made the score 14-7.
"It was a great effort again," Winter said. "Everybody was laying it all out there. Everyone kept fighting and competing. Northwestern has some good skill people. Our guys were really running around and hitting."
Northwestern regained the lead for good by scoring on its first two possessions of the second half. A fumbled kickoff paved the way for Julian Dittman's 44-yard field goal. After a Concordia punt, the Red Raiders then capped a six-play, 63-yard drive with Kodama's second touchdown pass of the day to receiver Sam Rall.
In a contest that featured physical play at the line of scrimmage and a combined 21 punts, Northwestern outgained the Bulldogs, 347-237. Concordia managed next to nothing on the ground, rushing 27 times for 35 yards against the stout Red Raider front. Bryce Collins was held to 15 yards on 10 carries and Demarques Saulberry totaled just six yards on six totes.
After punting four times and having a field goal blocked in its first five possessions, the Bulldogs turned to sophomore receiver Jared Garcia. He responded with a 67-yard reception on a toss from quarterback Garrett Folchert. Then on second-and-goal from the seven, Garcia made a difficult catch in the back of the end zone to get Concordia on the board. It was the first score of the year for Garcia, who last season broke a program single-season record by hauling in 11 touchdown catches.
Twice Concordia started drives inside the Red Raider 25-yard line, but came up with no points in both instances. The Bulldogs missed all three of their field goal attempts on the afternoon (41, 41 and 45).
Austin completed 9 of 30 passes for 130 yards. Folchert went 3-for-6 for 77 yards and a touchdown. Kodama, a transfer, went 18-for-37 for 227 yards and two touchdowns. The Red Raider rushing attack was led by Paul Hutson (22 carries for 76 yards).
In addition to forcing 10 Northwestern punts, the Bulldog defense also stuffed Hutson on a fourth-and-one play in the first quarter. Cory Evans and Tait Sibbel were credited with three pass break ups apiece.
For the first time since 2012, Concordia faces a bye week. The Bulldogs resume the 2015 season on Oct. 3 when they travel to Sioux Center, Iowa, to take on Dordt (0-3, 0-2 GPAC). Concordia is 6-1 all-time versus the Defenders.