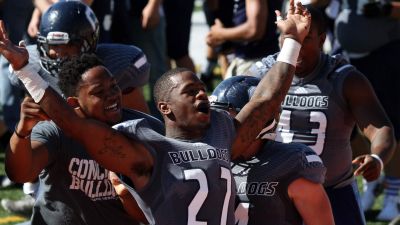 SEWARD, Neb. – Leaning upon its stout defense, the 20th-ranked Concordia University football team didn't need a thing of beauty to remain unbeaten. It overcame 14 penalties and only 252 yards of offense in claiming a 9-7 victory over Northwestern in a Saturday afternoon defensive slugfest. The contest was reminiscent of the 17-16 Bulldog victory over Northwestern on homecoming in 2012.
For the second time in four seasons, head coach Vance Winter's program is off to a 3-0 start. The 2016 conference opener was hard to watch at times, but Bulldog Stadium came alive when defensive back Cory Evans sealed the game in the final seconds with an interception.
Fittingly, it was the defense, which allowed just 217 total yards to the Red Raiders (0-3, 0-1 GPAC), that made the play to put the game away.
"That was an incredible performance defensively," Winter said. "I thought that we could have gotten off the field on some of those third downs in the third quarter, but it's just a tough group. They came up with play after play on some fourth downs stops and then the pick at the end. We feel pretty good about a game coming down to the end and our defense needs to make a stop."
Trey Barnes again played a starring role for Concordia. The senior product of Seward High School enjoyed an impressive day punting the football, pinning Northwestern inside the 20 on three occasions. His final punt of the afternoon placed the Red Raiders at their own nine with just over a minute left. At his defensive end spot, Barnes made his presence felt by taking quarterback Jonathan Kodama to the turf twice.
Kodama and company failed to get anywhere near potential game-winning field goal range on their final possession. After a one-yard rush on a scramble by Kodama, Northwestern used its final timeout with 52 seconds remaining. Kodama then airmailed his pass over the middle, where Evans hauled it in. Playing in his first game this season, the native of West Tampa, Fla., football in hand, raced towards the east bleachers and raised his arms in celebration.
"As a defense we were thinking have to pick up the slack," Evans said. "When the offense isn't doing too well we have to pick it up. When we aren't doing well, the offense will pick us up. Our main goal is three and out – get off the field."
Northwestern totaled only three yards of offense in the opening quarter – all of which came on JC Koerselman's touchdown run. The game's opening score came immediately after Riley Wiltfong had his red zone pass intercepted by Miguel Alvarado who returned the pick 76 yards before being run out of bounds before reaching the goal line.
All of the contest's 15 points came in the opening quarter. TJ Austin, wearing No. 10 on Saturday in honor of former teammate Von Thomas, concluded a 10-play, 64-yard scoring drive by plunging into the end zone from a yard out. After the defense forced a three and out on the ensuing possession, Concordia marched 42 yards on six plays and put three on the board via Jose Garcia's 32-yard field goal.
Mistake-plagued game included two missed field goals by Northwestern kicker Julian Dittmann. Not only that, there was a total of 187 yards in penalties in a game without much flow. After Wiltfong's early interception, the Bulldogs avoided turnovers the rest of the way.
Linebacker Michael Hedlund again topped Concordia in tackles with 10. Evans added seven tackles, including one for loss. Tarence Roby equaled him with seven stops of his own.
The Bulldogs are forging themselves an identity centered upon rugged defense. No matter how ugly Saturday's game was, Concordia is happy to be 3-0.
"It's a huge start," Barnes said. "It's a year where we start off with some good teams. Now we have to keep that rolling and be able to beat highly-ranked opponents."
Offensively, Austin went 7-for-11 for 80 yards through the air. Wiltfong threw for 70 yards on 6-of-12 passing. Jared Garcia, who did most of his damage in the first quarter, caught six balls for 78 yards. He now has 100 career receptions. The Red Raiders, strong up front, made life tough on Concordia's run game, which produced 102 yards on 34 carries. Bryce Collins ran 17 times for 49 yards.
The Bulldogs will be at No. 5 Doane (3-0, 1-0 GPAC) next Saturday for a 1 p.m. kickoff in Crete. Concordia will attempt to defeat Doane for the first time since 2005. Last season the Tigers knocked off the Bulldogs, 23-20, in overtime.