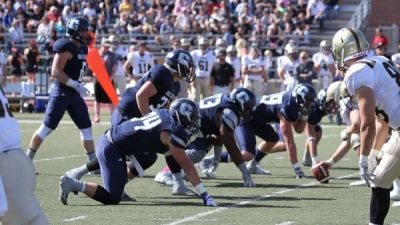 Bulldogs spoil Dakota State homecoming
MADISON, S.D. – Concordia head coach Vance Winter returned to his alma mater amid Dakota State's homecoming on Saturday. After a sluggish first half offensively, the Bulldogs awakened over the final 30 minutes and came away 28-7 victors.
"The first half was like a root canal," Winter said. "They came out and they really moved the football. We knew we would get their best shot on homecoming, and that's what we got."
Trailing 7-0 coming out of the halftime locker room, Concordia (2-3, 1-2 GPAC) finally got on the board when freshman running back Victor Brown capped a 13-play, 66-yard drive with a two-yard plunge into the end zone. The drive, which occurred on the opening possession of the second half, spanned 5:47 and energized a team that needed a shot in the arm.
"It was a sleepwalking fest in the first half," Winter said. "Dakota State did a bunch of stuff that we didn't react well to. We were very fortunate to only be down 7-0.
"In the second half we got back to doing what we had planned on. To Dakota State's credit, they did a lot of things that we didn't handle very well."
The score remained deadlocked until late in the third quarter when sophomore quarterback Von Thomas hooked up with junior tight end Jordan Larrington for his first of three touchdown passes on the evening. The strike put the exclamation mark on another long drive, this one covering 75 yards on 10 plays.
Thomas completed his trifecta of touchdown tosses with a 14-yard connection to junior receiver Noah Smith with 4:59 left in the game and then a nine-yard hook up with senior wide out Colten Quinabo with only 1:36 remaining. The aerial assault put the game out of reach and extended the Trojan losing streak to nine straight.
"We've got a great group of guys," Winter said. "The way we responded shows their mental toughness. Absolutely nothing was going right for us in that first half. We just wanted it to be over and get to the locker room and get refocused. We were a different team in the second half."
Dakota State (0-6) outgained Concordia 406-280 for the game, but the Bulldog defense forced two turnovers and refused to break in the red zone. The Concordia defense also held up well against the run, allowing 97 rushing yards on 30 attempts.
Thomas finished 18-for-24 passing with 154 yards and three touchdowns, marking his second-straight game with a trio of scoring tosses. The Miami, Fla., native now has 10 touchdown passes on the year to go against five interceptions. He and his teammates were turnover free on Saturday.
Concordia sophomore running back Aaron Gillory ran effectively, going for a game-high 67 rushing yards on 15 attempts. Thomas added 23 rushing yards on eight carries.
The Trojans piled up most of their yards through the air as Brandon Large, a transfer from NCAA Division I Eastern Illinois, went 30-for-53 for 309 yards and one interception. Large entered the game 13th in the NAIA with an average of 243 passing yards per game.
Buoyed by an aggressive blitzing defense and some Concordia dropped passes, Dakota State limited the Bulldogs to only 15 offensive plays in the first half as the Trojans controlled the ball. Concordia was happy to reverse that trend in the second half and finished with 28:02 in time of possession for the game, but still concluded the contest with 24 less offensive plays than Dakota State.
Defensively, Concordia was led by the 10 total tackles from junior Cornerback Derek Blessing. Opposite Blessing at the other corner spot, junior Darnell Woods came up with his first interception of the season.
The Bulldogs are back on the road next Saturday when they travel to Sioux City, Iowa, to take on Briar Cliff (1-4, 1-3 GPAC).