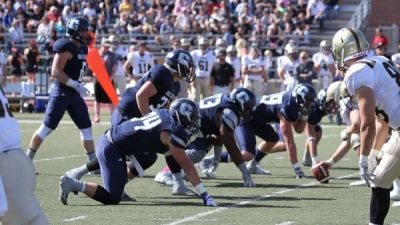 Bulldogs run over by No. 4 Morningside
SIOUX CITY, Iowa – Fourth-ranked Morningside continues to make a mockery of an outstanding GPAC football league. On Saturday the Mustangs ripped apart Concordia from the opening whistle on the way to a 50-0 victory at Elwood Olsen Stadium in Sioux City, Iowa.
"We were outclassed in every way. They are a legit football team," Bulldog head football coach Vance Winter said of the Morningside squad that clinched the GPAC title with the win. "They had a sense of purpose from the beginning."
The Mustangs' Joel Nixon, the conference's most efficient passer, powered an offense that piled up 616 total yards to Concordia's 199. Nixon got started early with a 23-yard touchdown pass to Joel McCabe barely four minutes into the game. He then found Kyle Schuck late in the quarter for an eight-yard touchdown connection to make it 13-0.
It only got worse from there as the Mustangs (9-0, 8-0 GPAC) racked up 28 points in the second quarter, including two touchdown runs by Jon Halvorson. Schuck's second touchdown catch of the game with :06 remaining in the first half put the game well out of reach at 41-0.
Nixon finished 23-for-27 passing with 338 yards and five touchdowns, while Halvorson recorded a game high 70 yards on the ground. Nixon added 54 yards rushing, including a long of 20.
For Concordia (5-5, 4-4 GPAC), sophomore quarterback Von Thomas connected on 17-of-32 pass attempts for 185 yards. He found his favorite target in senior Colten Quinabo eight times for 146 yards, including a hook up of 72 yards.
Bulldog senior defensive lineman Michael Voelker enjoyed a nice day on the interior of the defense. The Linn, Kan., native made eight total tackles, 2.5 for loss, and came up with Concordia's only sack of the afternoon.
The Bulldogs lost the turnover battle 2-0 and managed only 14 rushing yards on 31 attempts in falling to Morningside for the ninth-straight time. Concordia last defeated the Mustangs in 2003.
While very little went right on Saturday, Winter believes his team will bounce back quickly in preparation for next week's rivalry game at No. 24 Doane.
"We will respond," Winter said. "We got humbled pretty good today. That is a Morningside team that will be in the running for the national title. We found out just how far we have to go to get to the top of this conference.
"We're going to get back to work and refocus."
Concordia will try to end a six-game skid against the Tigers on Nov. 10 and post a winning season for the first time since 2001. Doane (6-3, 5-3 GPAC) defeated Dordt 55-6 on Saturday and will enter the game against the Bulldogs with back-to-back blowout wins.
"They've had the upper hand for quite a while," Winter said. "We need to change that. They are a really quality team. They are probably the second or third best team in our conference. It's going to take a real big effort to win."