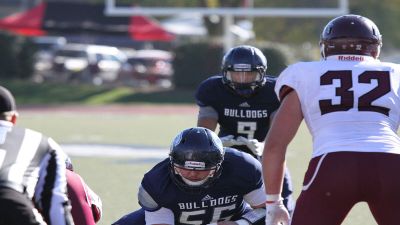 Bulldogs push No. 2 Morningside in top 25 battle
SEWARD, Neb. – In a top 25 matchup, the 24th-ranked Concordia University football team edged in front in the second quarter but No. 2 Morningside ultimately proved too potent. The prolific Mustangs overcame a rash of penalties and rode running back Tyler Kavan to a 44-21 victory inside Bulldog Stadium on Saturday afternoon.
Seventh-year head coach Vance Winter's squad fell for the second-straight week at home against a top-10 ranked foe. Concordia now sits at 5-3 overall and 4-3 in GPAC contests.
"I love our guys. I love how they responded from last week and the effort in practice this week," Winter said. "We came out here and played to beat Morningside. We didn't play to play close. We came out here to win the game, but we came up a little short."
The Bulldogs closed within six points (27-21) with 6:42 left in the third quarter when Bryce Collins capped a nine-play, 55-yard drive with a one-yard touchdown plunge. The Mustangs (8-1, 7-0 GPAC) then put the game away with 17 fourth-quarter points. Running back Tyler Kavan busted loose for late touchdown runs of 59 and 19 yards to make for a 23-point final margin.
Just as he did a week ago versus sixth-ranked Doane, sophomore receiver Jared Garcia gave the opposing secondary fits. Garcia caught five passes for 72 yards and drew a wealth of flags on the Mustang defensive backfield. The Bulldogs got help from 13 Morningside penalties that totaled 145 yards.
"Jared's a tough cover one-on-one for sure," Winter said. "He did a nice job and we hit him on some back shoulder things and got over the top of them a little bit. They're really good corners too. Really athletic and guys that can really play. We knew it would be tough to throw it on them, but Jared did a great job."
The flags played a role in the Mustangs finding themselves in an unfamiliar position. At the 5:59 mark of the second quarter, senior quarterback Garrett Folchert delivered a 57-yard scoring strike to Trae Owens. Suddenly the Bulldogs led 14-13 after trailing 13-0 early in the second quarter.
Folchert gutted it out after being sidelined for last week's 23-20 overtime loss to No. 6 Doane. The Ogallala native led the Bulldogs on drives that threatened to cut into a 30-21 fourth quarter deficit. Folchert had a red zone pass go off the hands of a receiver and into the possession of Morningside's Derrick Dison. Concordia also stalled in Morningside territory on its next opportunity. The drive ended with Folchert's incomplete pass on fourth and 15 from the Mustang 33.
Folchert ended up going 12-for-33 for 176 yards and a touchdown. His toughness after numerous hard hits was representative of a Concordia team unintimidated by the dominant Morningside program.
"With Morningside most teams in the GPAC look at them like some super team. They're good," Folchert said. "They have a fast defense and offense as well and well organized. But we prepare like they're any other opponent. We don't care what the name says on the front of their jersey."
A defense that held Morningside well below its season scoring average of 61 points per game could only hold off quarterback Ryan Kasdorf and company for so long. Kavan piled up 120 of his 196 rushing yards and two of his three touchdowns in the second half. Kasdorf finished with 248 passing yards while tossing touchdown passes of 31 and 54 yards. The Mustangs finished with a 517-321 advantage in total yards.
Sophomore Riley Wiltfong, who made his second-straight start at quarterback for Concordia, actually led the Bulldogs with 61 rushing yards. He picked up 40 of them on a keeper up the middle of the field, but paid a price as a hard hit sent him to the sideline. The Mustangs bottled up Collins (26 rushes, 49 yards, two touchdowns), who was most effective out of the wildcat formation.
Defensively, junior Trey Barnes was animal once again, registering a career high three sacks of Kasdorf. The Seward High School product has nine sacks on the year. Meanwhile, safety Matt Keener led Concordia with 11 tackles.
Morningside's ability to excel in the red zone proved crucial. The Mustangs went a perfect 5-for-5 in their red zone trips. On the other hand, Concordia had four red zone chances with one ending on an interception and another resulting in a missed 27-yard field goal.
The Bulldogs complete their regular-season road schedule next Saturday with a trip to No. 19 Dakota Wesleyan (7-2, 5-2 GPAC). Kickoff from Mitchell, S.D., is slated for 1 p.m. CT. Concordia won last year's meeting in Seward, 27-19.