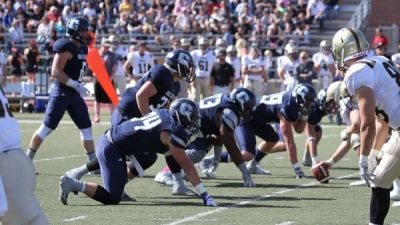 Bulldogs picked to finish seventh in GPAC preseason football poll
Concordia University is picked to finish seventh in the 2011 GPAC Preseason Coaches' Poll. The poll was released on Wednesday following the GPAC media day. All 10 of the league's coaches addressed the media on Wednesday with their 2011 season outlook.
Morningside College is the preseason pick to win the GPAC Championship. The Mustangs received 79 points and seven first place votes. Northwestern College was picked second with 74 points and the final three first place votes, and Midland University was third with 65 points.
Dakota Wesleyan University (52 points), Hastings College (49 points) and Nebraska Wesleyan University (45 points) finished fourth through sixth, respectively, while Concordia came in seventh with 31 points. Doane was eighth with 29 points, while Briar Cliff University (14 points) and Dordt College (12 points) rounded out the poll.
"I think our league is getting more balanced," remarked Concordia Head Coach Vance Winter. "I apologize for not mentioning individual names today. We feel like if we let our play do the talking this year, people will know all about our players. We like the experience we have coming back, and we feel good about our past couple of recruiting classes. We're looking to take that next step as a program."
With the University of Sioux Falls now moved over to NCAA Division II, there will be a new GPAC Champion this year. Sioux Falls won the last nine GPAC regular season titles.
The 2011 season begins on August 27 when Midland hosts Dakota State and Concordia travels to No. 17 Benedictine. The 2011 GPAC schedule will consist of nine games.