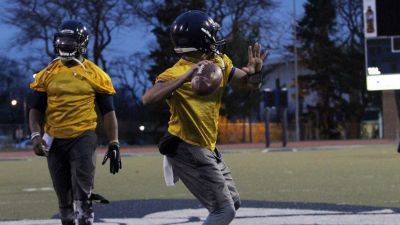 SEWARD, Neb. – Concordia football fans can get an early look at head coach Vance Winter's 2016 Bulldogs by attending Friday's open spring scrimmage inside Bulldog Stadium. The team will begin with warmups at 7 p.m. with scrimmaging to start approximately 30 minutes after the hour. The practice will run until about 8:45 p.m. There will not be a live stream available.
A combined 17 starters return (10 on offense, seven on defense) to in 2016, the eighth season under Winter. Roughly 85 athletes have participated in practice this spring. The 2016 season opens with a visit from the University of Saint Mary (Kan.) on Sept. 3.
Below are snippets from an interview that voice of Bulldog football Jayson Jorgensen conducted with Winter prior to the start of spring practice, which began on March 29. All games, home and away, will again be carried this fall by 104.9 Max Country out of York, Neb.
Jayson Jorgensen: How would you rate the offseason your guys have had? Has it been as strong as you were hoping for?
Vance Winter: Yeah, I'm really pleased. You see the guys change body types throughout the offseason. I think mentality wise our guys are excited, too. We're really looking forward to the 2016 season.
JJ: Is each spring a little different depending upon the makeup of the team? What are the biggest areas you're looking at this spring?
VW: There are a lot areas for us to improve. I think there's a lot of excitement regarding our program. To me that's all hype. I want to see the areas where we need to be better. Offensively there are many areas in terms of consistency running the ball. I think we need to get better in a lot of ways in our passing game and become more dynamic and explosive. Defensively, we're replacing quite a few good players. We lost a lot in the linebacker core. Having the secondary back is a great thing, but there are areas to improve defensively that Coach Daberkow and his staff are looking at. We want to see growth overall and find an identity for this football team – what we're going to be about.
JJ: Last year certainly showed you can never have enough depth. This spring is going to be a great time to build some depth.
VW: Absolutely. That's the theme for the teams that are successful. Injuries are part of football just like blocking and tackling. The best teams are able to overcome those types of things. That's been the challenge the past two years. You have to develop that next guy and have that next guy ready to perform at a high level. That's what separates the good teams and the OK teams.
JJ: How about your quarterbacks? TJ Austin and Riley Wiltfong were both nicked up last fall. Are those guys healthy and ready to go?
VW: Yeah, they're both looking great. They're both feeling well and doing some throwing on their own. They went through the whole offseason of lifting and conditioning. They both look great and are ready to go.
JJ: How much better do you feel this spring about your offensive line than where you were a year ago?
VW: It's a little bit different. We have four very familiar faces back. Last year we were really searching. We feel good about their growth. I've seen some big gains in the weight room out of that group, which is exciting. Last year we had such a green, young group. They learned some lessons every day. There's a little bit different demeanor in that group just knowing what it takes.
JJ: You mentioned the linebackers. You certainly lost some good ones. Are you confident that the guys you have in the program right now are ready to step in there and keep that high level of play going?
VW: I'm excited about that group. There have been some guys who have had some outstanding offseasons. We're not totally inexperienced. There are a lot of guys that played football at those positions. I'm excited about how they've worked. We saw growth throughout the whole fall with that linebacker group even though they maybe didn't play that much. We saw growth in their practice habits. We're excited to see them continue to go forward.
JJ: For your upperclassmen, how big of a motivating factor is the desire to take the next step for them this offseason?
VW: There's a lot to be excited about and I've been around here when there was absolutely no expectation on the outside. It's a lot more fun to have expectations and belief that we have a good football team. We know we have a good football team. We have to be very process-oriented. We've got to continue to get better every day. We've got to be a team that consistently plays with an edge about us and a chip on our shoulder. I believe we have that kind of group of guys. I've been pleased with the leadership and how our offseason has gone. Our guys are very focused on taking this program to the next level.