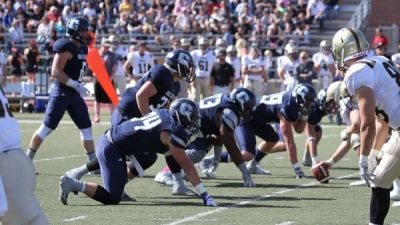 Bulldogs fall in shootout with No. 13 Benedictine
SEWARD, Neb. – The Bulldogs went toe-to-toe with 13th-ranked Benedictine (Kan.) on Saturday night in the football season opener for both teams. After being pummeled 45-0 by the Ravens a year ago, Concordia's new-look offense provided an entertaining game for a jam-packed throng of fans at Bulldog Stadium. Ultimately, high-powered Benedictine was too much and walked away a 45-37 winner.
Concordia's Derek Blessing sent electricity channeling through the stadium when his 56-yard punt return touchdown with 2:56 remaining in the game brought the Bulldogs within eight. However, the ensuing onside kick was recovered by the Ravens, who needed just one first down to salt away the victory with Concordia out of timeouts.
"There were some good things, but we feel as a team that we should have made those plays," quarterback Von Thomas said. "We'll go through adversity and bounce back and keep on pushing."
The Ravens appeared to be on cruise control after running back Cameron Fore plowed into the end zone from two yards out to give Benedictine a seemingly commanding lead at 45-23 with 11:14 left in the contest.
That's when Thomas went to work. Blessing, a terror all night for the Benedictine coverage units, busted off a 51-yard kick return to set Thomas and the offense up at the Raven 44-yard line. The 6-foot-2 signal caller then orchestrated a five-play, 44-yard drive that culminated with an eight-yard Thomas touchdown scamper with 9:39 to go to make the score 45-29. A successful hook up from Thomas to Colten Quinabo on the two-point attempt brought Concordia to within two touchdowns.
"We stayed positive. We kept pushing," Thomas said. "Guys had faith in me. I have faith in my guys, and we trust our coaching staff 100 percent."
Concordia then mustered another long drive after forcing a Raven punt. The Bulldogs charged 74 yards on eight plays before being stopped on downs at the Benedictine five-yard line. A first and 10 at the 11 had been set up by a 41-yard strike from Thomas to receiver Noah Smith.
The Ravens then got one first down on the next possession before punting it away to the dangerous Blessing, who dashed straight up the middle and didn't stop until he crossed the end zone.
The Bulldogs, outgained 407-295 in the game, played evenly with Benedictine throughout the first half as a multitude of errors plagued the Ravens. After grinding out a 62-yard, 14-play drive on their first possession to go up 7-0, the visitors served up a prime scoring opportunity for head coach Vance Winter's squad.
A snap high over Raven punter Dylan McGuire's head trickled all the way to the Benedictine 18-yard line, setting the Bulldogs up in the red zone. Concordia failed to record a first down and settled for a Kenny Zoeller 27-yard field goal.
A fumbled kick return and an interception thrown by Benedictine quarterback Bill Noonan set up two more Zoeller field goals to give the Bulldogs a 9-7 lead just over a minute into the second quarter. The senior kicker nailed all three of his field goal tries on the night.
A bizarre touchdown occurred at the 6:28 mark of the second stanza when Fore fumbled the ball into the end zone and offensive lineman Hayden Smith pounced on top, putting the Ravens up 14-9.
The Bulldogs answered with a touchdown pass from Thomas to fullback Will Cox before Benedictine closed the half with a Zach Keenan 37-yard field goal to take a 17-16 lead into the locker room.
Thomas finished 15-for-32 passing with 157 yards and a pair of touchdown tosses. He also led the team in rushing with 69 yards and a touchdown on 11 attempts.
Defensively, senior linebacker Kyle Little had a big day as he registered 10 total tackles, an interception and a sack. Sophomore linebacker Nakemm Evans came up with 13 stops, including one for loss, to lead Concordia.
Fore finished with 107 yards rushing and two touchdowns on 23 carries to power the Raven rushing attack. Benedictine piled up 207 yards on the ground despite the 43-yard loss on the botched snap in the first quarter. Noonan had an efficient 16-for-21 effort through the air with 188 passing yards and one touchdown.
The Bulldogs now have a bye before hosting Dakota Wesleyan on Sept. 8 at 1 p.m. in their GPAC opener.