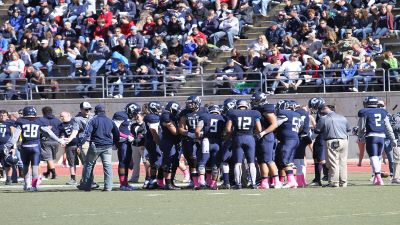 Bulldogs fall in overtime despite Garcia's big day
SEWARD, Neb. – The first career start for Concordia sophomore quarterback Riley Wiltfong came down to the final play in another heart-stopping rivalry game between the 23rd-ranked Bulldogs and No. 6 Doane on Saturday afternoon inside Bulldog Stadium. The visiting Tigers sealed up a 23-20 victory when defensive back Tyler Chapa intercepted Wiltfong's overtime pass in the end zone.
Seventh-year head coach Vance Winter's squad had hoped to complete a perfect season against in-state opponents. Instead, the Bulldogs (5-2, 4-2 GPAC) fell in excruciating fashion once again. Since the beginning of 2014, seven of Concordia's eight losses have been decided by seven points or less.
"It was the same story it was versus Northwestern (17-14 loss)," Winter said. "We had some opportunities with some short fields. We had some scenarios where we didn't get any points and that's disappointing.
"Doane has a good defense. They're a good team."
Wiltfong got off to a rocky start with his first two passes resulting in a deflection and then an interception deep down field. The Doniphan native recovered by tossing a pair of long touchdown passes to Jared Garcia, including a 67-yarder that tied the game, 20-20, early in the fourth quarter. On both touchdown connections, Wiltfong found Garcia wide open as a result of busted coverages.
Concordia pulled the redshirt on Wiltfong due to injuries to both sophomore TJ Austin and last week's hero, senior Garrett Folchert. Wiltfong stepped in and played admirably, completing 17-of-27 passes for 261 yards and two touchdowns.
"I think for a first game he did really well," Garcia said of Wiltfong. "It's the first start of his career and he went out there and made some great plays. It's something to look forward to for the rest of the season."
Following the game-tying touchdown from Wiltfong to Garcia, the Concordia defense forced a Tiger punt. Highlighted by a 27-yard catch by Garcia, the ensuing drive saw the Bulldogs march from their own 25 all the way to the Doane one. But on a fourth-and-goal, Concordia failed to punch it in as Frank Crawford stuffed Wiltfong on the quarterback keeper with 2:22 left on the clock.
Doane (7-0, 6-0 GPAC) then proceeded to pick up four first downs in moving to the Concordia 34. With just six seconds left in regulation, Jordan Pederson attempted a 51-yard field goal that fell well short of the mark, necessitating a second-straight overtime game for the Bulldogs.
After Doane settled for a Pederson 40-yard field goal on the extra session's first possession, Concordia found itself facing a third-and-13 at the Doane 18-yard-line. After a timeout, Wiltfong lofted a pass into the right corner for Garcia, only to have it picked off by Chapa for the game-clinching turnover.
It was a rare occurrence when Wiltfong threw in the direction of his star receiver without getting a positive result. Garcia caught six passes for a career best 192 yards to go with his 16th and 17th career touchdown receptions.
"They were really aggressive," Garcia said of the Doane defense. "They tried to stop a lot of the short stuff. I was able to break long for deep balls. We were taking advantage of their aggressiveness."
Similar to last year's meeting in Crete, Concordia built an early lead. The Bulldogs led 13-3 with five minutes left in the first half after a key special teams play. That's when Tait Sibbel came up with his second blocked punt of the game. Sophomore Tarence Roby caught the the deflected ball and capped a 12-yard return by diving into the end zone for six.
The Tigers regained the lead on the opening drive of the second half when quarterback Brandon Stuart hurled a bomb deep down the right side of the field that was caught by Jacob Cornelius for a 55-yard touchdown strike. Doane led 17-13 and then increased its advantage to 20-13 with Pederson's 23-yard field goal in the final minute of the third quarter.
The Tigers overcame Sibbel's two blocked punts with a mostly stout defensive effort. Doane ended up with a 385-338 edge in total yards. The Bulldogs were able to contain GPAC leading rusher Nate Meier, holding him to 151 yards on 34 carries with a long rush of only 14 yards.
Led by 10 stops apiece from Garret Borcher and Cole Wiseman, Doane held down Collins to 56 rushing yards on 18 carries. Collins had entered the game with three-straight 100-yard rushing performances.
Defensively, Sibbel made 11 tackles to top the Bulldogs. Trey Barnes also had a big day, recording 10 tackles (three for loss) and his sixth sack of the year.
The Bulldogs remain at home to host No. 3 Morningside (7-1, 6-0 GPAC) on Halloween. Kickoff from Bulldog Stadium is slated for 1 p.m. Concordia last defeated the Mustangs in 2003 by a score of 34-19 in a game played in Seward.
"I know this group is going to respond," Winter said. "We're going to be ready to play. We're going to be excited to play. Our guys are a tough-nosed group."