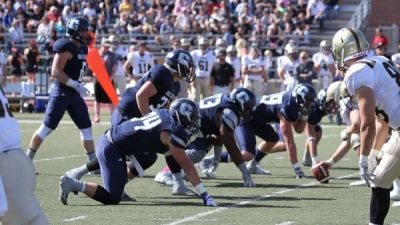 Bulldogs drop thriller in GPAC opener
SEWARD, Neb. – The rash of turnovers, penalties and dropped passes aside, Saturday's GPAC football opener between the Bulldogs and visiting Dakota Wesleyan proved to be a thriller. After drubbing Concordia each of the last two seasons, Dakota Wesleyan needed a fifth Concordia turnover to seal a 26-23 victory at Bulldog Stadium.
"We put our defense in bad spots. Our defense was on the field way too long in the first half," Concordia head coach Vance Winter said. "The first half was probably one of the stranger halves I've ever seen in football. We just made some uncharacteristic errors that cost us today. And it's disappointing because we got things figured out a little bit in the second half offensively.
"Just too many mistakes, too many dropped passes, too many turnovers. Those kinds of things cost you."
The outcome remained in doubt until sophomore quarterback Von Thomas lofted a pass that the Tigers' Josh Thompson picked off in the end zone with 21 seconds left in the game. The interception came on a Bulldog first and 10 at the Dakota Wesleyan 16-yard line. Concordia (0-2, 0-1 GPAC) had marched the ball 64 yards on 10 plays to get within range of a dramatic last-minute victory before Thompson dashed those hopes.
The crippling interception came on the heels of a clutch fourth and 15 conversion in which Thomas found junior receiver Derek Klaus for a gain of 19 yards to the Tiger 34-yard line. Three plays later Klaus caught a nine-yard pass from Thomas to convert on a third down and place the ball at the 16, prior to the game-clinching turnover on the next snap.
The two teams traded blows for much of the second half in sun-soaked Seward, Neb. Thomas capped a 10-play, 58-yard drive with an eight-yard touchdown scamper off of right tackle to put the Bulldogs in front 23-20 with 7:03 remaining in the game. The drive began on the Concordia 42-yard line after the ball was jarred loose from Tiger running back Josh Endres by Dylan Heithoff and recovered by Ryan Coffey.
It didn't take long for Dakota Wesleyan (2-0, 1-0 GPAC) to answer with a five-play, 70-yard touchdown drive that culminated with a 49-yard scoring strike from quarterback Jon Bane to receiver Michael Brown. The ensuing extra point was blocked, keeping the score at 26-23 in favor of the Tigers with 4:47 to play.
Much of the game was marred by gaffes on both sides. Each squad handed out five turnovers and they combined for 20 penalties covering 219 yards. In addition, Thomas had numerous passes slip through his receivers' fingers on potential game-changing plays.
"We've all picked up this new offense really well," said senior receiver Jeff Balz, who caught three passes for 70 yards and a touchdown on Saturday. "There are still little kinks, little chips, little things we need to get figured out, especially when we get down close. I think we can get it. We're all definitely disappointed about this loss and a lot of it comes down to offense in the red zone."
The first half closely resembled Concordia's game one loss to 13th-ranked Benedictine (Kan.) in the way that the Bulldogs were forced to settle for field goals. Concordia senior kicker Kenny Zoeller improved to 6-for-6 on field goals tries this season by connecting on attempts from 35 yards out twice and once from 22 yards away as the offense bogged down.
Dakota Wesleyan out-gained the Bulldogs 396-305, relying heavily upon its workhorse running back in Endres. He carried the ball 41 times for 166 yards and two touchdowns. Bane, a second team all-conference quarterback last season, threw for 239 yards and two scores.
However, the Tigers' offense, like Concordia's, often got sidetracked by turnovers. Bulldog senior defensive lineman Michael Voelker enjoyed a great game, disrupting play up front. He had six tackles, a sack and forced a fumble that resulted in one of the five Dakota Wesleyan turnovers.
"Coach all the last couple weeks emphasized always ripping at the ball and going after the ball," Voelker said. "We just keep that mentality throughout the game. We just keep going after the ball and trying to rip it out."
On the other side of the ball, Bulldog drives were often stymied by senior defensive back Dustin Bergmeier, who intercepted three Thomas passes. Concordia's signal caller finished 16-for-34 passing with 204 yards and one touchdown toss. For the second-straight game, he also led the team in rushing, this time going for 39 yards and a score on 10 attempts.
Defensively, Concordia was led by the 12 total tackles of freshman safety Tait Sibbel, who had a solid game in his first career start. Junior safety Ryan Coffey chipped in 11 tackles and a fumble recovery.
Two tight losses to quality opponents are evidence of the progress made by Winter's squad since last season, but the Bulldogs are determined to get over the hump.
"We've got to learn how to finish. That's all it is," Voelker said. "We've got to learn how to keep making plays and finish. We've just got to believe."
"We left points on the field the whole first half," Winter said. "We had two times down where we were in plus position where we dropped passes. Those guys aren't trying to drop those things, but it's disappointing. You have to make those types of plays if you're going to beat good teams."
Concordia will continue GPAC play on Sept. 15 when it travels to play at Hastings in a 6 p.m. contest. The Bulldogs shut out the Broncos 10-0 in last year's meeting.