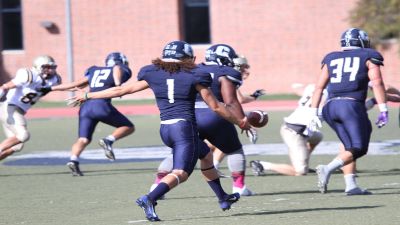 Bulldogs dismantle Nebraska Wesleyan in final meeting as GPAC rivals
SEWARD, Neb. – Bryce Collins bullied Nebraska Wesleyan with three rushing touchdowns and the Concordia University football team cruised to a 47-14 victory inside Bulldog Stadium on a picture perfect homecoming Saturday afternoon. The Bulldogs outgained the Prairie Wolves, 508-238, in the final meeting as GPAC rivals between the two sides.
Seventh-year head coach Vance Winter's squad improved to 4-1 overall and 3-1 in conference action. The Bulldogs have won six of their last seven games dating back to the end of the 2014 season.
"It was nice to be back home. Our guys were fired up to play," Winter said. "We couldn't wait for one o'clock to get here. Our guys showed that. They were ready to play."
Collins set the tone for the day with a 52-yard touchdown burst on the game's opening possession. The prolific back from Boerne, Texas, later busted a 75-yard touchdown run in the second quarter, making it a 21-0 Bulldog lead. Collins, who went over 2,000 career rushing yards last week, blew through massive holes in the Prairie Wolf defense on his way to 142 yards and three touchdowns on just nine carries.
Concordia's explosive offense was just getting started. A big day for sophomore quarterback TJ Austin included touchdown strikes of 48 and 44 yards to freshman receiver Trae Owens. Austin also used his legs in taking a zone read 24 yards straight up the middle for a score midway through the second quarter.
Collins and Austin (59 rushing yards) combined for 201 yards on the ground. An offensive line that got starting guard Austin Taylor back from injury shined for a second-straight game.
"The offensive line has really been clicking," Collins said. "I think each week we just get better and better as a whole group. They're working hard. They know the potential they have. They're starting to figure out what they can do."
On the other side of the ball, senior outside linebacker Tait Sibbel and Concordia's top-ranked defense again dominated. Sibbel racked up four tackles behind the line of scrimmage in stymying a Prairie Wolf offense that managed only 84 yards in the first half. Four of the Bulldogs' first five opponents have failed to crack 300 yards of offense.
On Saturday, Concordia's linebackers cleaned up. Starting backers Michael Hedlund (13 tackles), Sibbel (nine tackles) and Clay Mauro (seven tackles) were active all afternoon.
"The defense we run is perfect," Sibbel said. "When you have guys like Trey (Barnes), Clint (Gardels) and (Michael) Gill holding up the o-line it's easy for us on the outside."
By the halftime break, Concordia had already put the game out of reach with three Collins touchdowns and two scores authored by Austin (one passing, one rushing). The Bulldogs led 14-0 just over five minutes into the game and then took a 40-0 lead to the locker room after Adam Meirose booted a 28-yard field goal in the closing minute of the half.
Austin enjoyed his most productive day as a Bulldog. He completed 12-of-17 passes for 219 yards and two touchdowns to go along with his 59 rushing yards. Eight different Bulldogs carried the football on a day when Collins was hardly needed in the second half. Freshman Qyalan Clay ran six times for 33 yards.
In the passing game, Austin often went to Jared Garcia (four catches, 81 yards) and Owens (three catches, 97 yards, two touchdowns). Owens tops the Bulldogs with four touchdown receptions on the year.
In a season-long theme, opposing quarterbacks continue to struggle against Concordia's vaunted pass defense. Prairie Wolf signal caller Ben Green went 13-for-26 for just 65 yards. He was also picked off by Hedlund in the first quarter. Two plays later the Bulldogs celebrated an Owens touchdown grab.
The Concordia offense overwhelmed Nebraska Wesleyan despite playing without receiver Carey Harrison and tight end Josh Slechta. Both missed the game due to injury. On the other hand, defensive lineman Michael Gill and offensive guard Austin Taylor both returned to the field versus Nebraska Wesleyan.
The Prairie Wolves (2-4, 1-4 GPAC) are in their final season as a member of the GPAC. They will join the Iowa Intercollegiate Athletic Conference beginning in 2016-17. Their wins this season have come against Friends University (Kan.) and Midland.
The Bulldogs will take to the road next Saturday when they visit Fremont, Neb., for a 5 p.m. kickoff at Midland (0-5, 0-3 GPAC). Concordia has won each of the last three meetings with the Warriors.