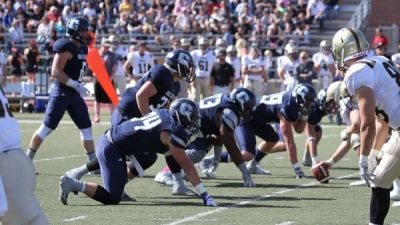 Bulldogs cruise to fourth straight win, 47-12, over Briar Cliff
Concordia University jumped out to a 30-6 halftime lead and cruised to a 47-12 GPAC football win over Briar Cliff University on Homecoming Saturday in Seward. It's the first four-game winning streak for Concordia in eight years. The Bulldogs now sit at 4-2 overall and 3-1 in GPAC play. Briar Cliff slipped to 2-4 overall and 1-4 in GPAC play.

Briar Cliff struggled to field the opening kickoff, and the Chargers were forced to start the drive from inside their five yard line. Following a quick three and out, Concordia took over with great field position on their opening possession of the game. It took the Bulldogs just five plays to march 32 yards for a touchdown. Ryan Adams (El Dorado Hills, Calif.) capped the drive with a 2-yard touchdown run to give Concordia the 7-0 advantage.

The Chargers went three and out again on their next possession, but a Concordia roughing the kicker penalty kept the drive alive. Later in the drive, BCU quarterback Tom Traficanti's pass was picked off by Concordia's Kyle Little (Johnson, Neb.). Little, who was making his first career start, returned the interception 44 yards for a score to put Concordia up by the score of 14-0.

The Bulldogs took advantage of solid field position again on their next drive. Kenny Zoeller (Spring, Texas) connected on a 42-yard field goal to push the Bulldog advantage to 17-0 heading into the second quarter.

Adams scored his second rushing touchdown of the game to put Concordia up 23-0. Concordia then used a big play on special teams to increase the advantage to 30-0. A Briar Cliff punt was blocked, and Concordia's Jamarcus Walker (Houston, Texas) returned it 33 yards for a touchdown.

Briar Cliff got on the board late in the half. The Chargers moved 65 yards in nine plays. Traficanti hit Bryce Harshman on a 29-yard touchdown reception to cut the Bulldog lead to 30-6 heading into halftime.

Midway through the third quarter, Concordia scored again to grab a 37-6 lead. On a third and long play, Bulldog quarterback Cohl Tufford (Richardson, Texas) scored from 27 yards out on a designed quarterback draw. The Chargers bit on a great pump fake by Tufford, and Tufford broke free right up the middle for the score.

In the opening minute of the fourth quarter, Concordia struck again to grab a 40-6 lead. A 43-yard rush by Tufford put the Bulldogs deep in BCU territory, and Zoeller hit a 44-yard field goal.

Following another BCU punt, the Bulldogs continued to pour it on with another long scoring drive. Chris Smith's (Houston, Texas) 58-yard run set the Bulldogs up, and Dan Margritz (Lexington, Neb.) scored from two yards out to make the score 47-6. Briar Cliff scored a late touchdown for the final score of 47-12. Traficanti connected with Harshman for his second touchdown reception of the day for the final score of the game.

"We played a full 60 minutes of football today which was good to see," remarked Bulldog head coach Vance Winter. "We continue to grow. We weren't pleased with how we played offensively in the first half, but we were much improved in the second half. We're more physical up front. Our running backs are running well, and our group of running backs is pretty good."

Concordia netted 400 yards of total offense in the win, including 305 rushing yards. Adams led the way with 116 rushing yards and two scores. Adams had a long run of 31 yards and averaged over seven yards a carry on Saturday.

"Our offense can't be great unless our offensive line plays great," said Adams. "Those guys have really stepped up lately, and they keep getting better. Our offensive line has allowed our skill position players to do what we do."

Tufford was 6-of-11 through the air for 68 yards and an interception. Tufford also added 55 rushing yards and a score in the Bulldog win. Little led the way defensively with a game-high 11 tackles to go along with two sacks and the interception return for a score. Derek Rodine (Polk, Neb.) added nine stops and a forced fumble for the Bulldogs defensively.

Traficanti was 18-of-37 with two touchdowns and two interceptions for Briar Cliff. Jared Williams had 62 rushing yards, and Harshman had a big day with eight catches for 162 yards and two touchdowns.

The schedule strength picks up starting next week, as Concordia travels to Northwestern College. The Raiders received votes in last week's NAIA Top 25 Poll and have been playing solid football for the last several weeks. Coach Winter discussed the upcoming schedule.

"We look at next week as just that, the next game on the schedule," remarked Winter. "We'll prepare and focus on what we do well and continue to focus on the little things that have helped us play better football lately."

Kickoff is scheduled for 1 pm in Orange City, Iowa.