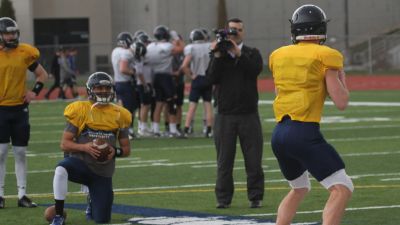 NAIA spring football poll | Spring update
SEWARD, Neb. – A three-game win streak to close the 2016 season allowed the Concordia University football team to vault up to No. 19 in the year's final NAIA coaches' top 25 poll. The Bulldogs were also included in the first national rankings of 2017, checking in at No. 20 in the spring poll released on Monday (April 10) by the NAIA. The rankings are nearly identical to the postseason edition that came out on Dec. 20.
First-year head coach Patrick Daberkow's squad opened up the spring practice schedule on Monday, March 27. Spring ball will conclude on Friday, April 21 with a 7 p.m. scrimmage that will take place inside Bulldog Stadium and be open to the public.
Behind first team All-American defensive end Trey Barnes, the 2016 Bulldogs finished 7-3 overall for the highest winning percentage for the program since the 2001 campaign. In addition, Concordia went undefeated at home (5-0) for the first time since 2000. This past year's squad appeared in nine of the 12 national polls released by the NAIA (see below). They vaulted as high as 16th.
The 2016 season marked the eighth and final as head coach for Vance Winter, who announced his resignation on Oct. 31 (he then coached the final two games of 2016). The highest ranking achieved during Winter's eight-year tenure was 14th following a 6-0 start to the 2013 season. Concordia found itself ranked in the national poll 17 times during Winter's reign. The year prior to Winter's promotion to head coach, the Bulldogs won just one game.
Daberkow's staff is made up of full-time assistants in Thomas Byrd (offensive coordinator), Corby Osten (defensive coordinator) and Wes Coomes (special teams coordinator).
2016 Concordia rankings
Aug. 8 – RV
Sept. 12 – 20th
Sept. 19 – 16th
Sept. 26 – 21st
Oct. 3 – RV
Oct. 10 – 24th
Oct. 17 – NR
Oct. 24 – 21st
Oct. 31 – 21st
Nov. 7 – 21st
Nov. 13 – 18th
Dec. 20 – 19th