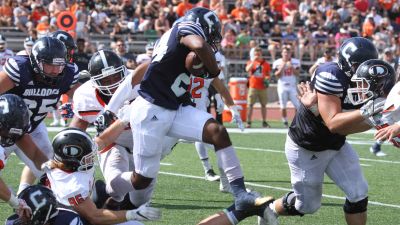 HASTINGS, Neb. – The Concordia University football team is still trying to figure out how to win away from home. For the second game in a row, the Bulldogs spotted their opponent a pick six. This time around Concordia couldn't recover while suffering a 38-18 setback at Hastings.
First-year head coach Patrick Daberkow's squad is now 2-3 overall and 1-2 in conference play. The Bulldogs have gone winless in three tries on the road.
"We got beat as a unit. We all played a role in this," Daberkow said during a postgame interview on 104.9 Max Country. "I think special teams did a good job today. Tarence Roby had a lot of yards on kick returns. Unfortunately we had a lot of kick returns today. It starts with the head football coach. We need to do some things differently if we're going to finish out the home stretch the way we want to."
A tight 7-0 game at halftime got out of hand in the fourth quarter as running back Tahj Willingham and the Bronco offensive line wore down Concordia. Willingham racked up 169 yards on 29 carries and reached the end zone twice. His two-yard scoring plunge late in the final quarter put a cherry on top of a happy homecoming for Hastings (4-1, 1-1 GPAC)+. The Bronco ground game churned out 276 of the team's 472 total yards.
Offensively, Concordia managed only 4.8 yards per play on 61 plays. Quarterback Andrew Perea found Vincent Beasley on scoring tosses of 15 and seven yards. Both came too late for the Bulldogs, who trailed 31-6 midway through the fourth quarter. It was a fine day for receiver Jackson Hall, who snagged six passes for 123 yards with a long of 37. Perea went 15-for-30 for 195 yards and two touchdowns.
Roby continues to provide electricity with the ball in his hands. He totaled 244 return yards while averaging 39 yards per kickoff return. Roby entered the day averaging 108 all-purpose yards per game and ranked in the top 15 nationally in in kick and punt return average per attempt.
Roby's fine returns were not enough to overcome the production of Willingham and quarterback Anthony Cloyd. They combined for 257 rushing yards. Cloyd also threw for 196 yards and two touchdowns. Noah Housh went over 100 yards receiving on just two catches.
Lane Napier and Shane Scott shared a Concordia team high of seven tackles apiece. Scott registered a sack and three tackles for loss. From his linebacker spot, Kevin Small recorded six tackles, including one for loss.
The Bronco defense limited the Bulldogs to 79 rushing yards on 28 carries. Ryan Durdon topped Concordia with 43 rushing yards on 13 attempts. Sir-Zavius Broussard netted 38 yards on six rushes. Broussard even threw a pass that resulted in an 18-yard gain.
The Bulldogs will be off next Saturday before returning to action on Oct. 14 when No. 24 Midland (4-1, 2-1 GPAC) visits Seward for a 1 p.m. CT kickoff. Last season Concordia defeated the Warriors, 20-14, inside Bulldog Stadium. The Bulldogs will carry an eight-game home winning streak into the contest.
Said Daberkow, "We've got some guys banged up that we can hopefully get back for the last half of the season when Midland comes to town. We'll have some time to fix the things that showed up to be wrong today."