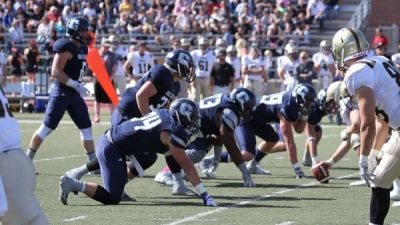 Bulldogs bulldoze Chargers in season finale
SEWARD, Neb. – Concordia football found its offensive groove in time to close the 2013 season with a dominant performance. On a day in which the program honored 24 seniors, the Bulldogs cruised to a 45-7 win over visiting Briar Cliff (4-7, 3-6 GPAC) inside Bulldog Stadium on Saturday afternoon. The win marked the 17th time in which Bulldog football has reached at least seven wins in a season. They conclude 2013 at 7-4 overall and 5-4 in conference play.
"Everybody upfront got a challenged a little bit this week and really performed well against an improving team," Concordia head coach Vance Winter said. "I thought that was the story of the game for us – just how much we controlled things offensively and we controlled pace of play."
Quarterback Von Thomas ended his junior campaign with a big day as he racked up 269 total yards (194 passing, 75 rushing) and four total touchdowns (three passing, one rushing) to set a new school record for yards from scrimmage in a season. Thomas' 2,508 total yards in 2013 eclipsed former quarterback Phil Seevers' former program record of 2,443 yards in 1988.
With Thomas at the controls, the Bulldogs went to work right away behind a punishing effort from their offensive line that fueled the run game all day. Concordia held the football for more than 20 minutes in time of possession in the first half and finished with 40:19 of possession and outgained Briar Cliff 494-201 for the game.
The three-headed rushing attack of Thomas, senior Mitch Reed and freshman Bryce Collins combined for 271 yards and three touchdowns on 46 attempts. Playing in his final collegiate game, Reed went over 100 yards (101) for the second time in his career. He put the game's final touchdown on the board with a one-yard plunge in the fourth quarter.
"All of our running backs were clicking very well," Reed said. "They were able to hit the holes really hard. The offensive line was able to blow the defense off the ball. We just took it to them all game.
"I was healthy coming back from basically being injured all season and I was able to put it together. I'm extremely happy. This is the best way to go out."
Concordia jumped on top early with a smash mouth 14-play, 66-yard touchdown drive that ate up 6:59 off the clock on its first possession. Reed got the start and pounded out 22 yards on the drive that culminated with Thomas finding senior tight end Jordan Larrington for a one-yard touchdown connection. On the scoring play, Thomas used his legs to keep the play alive, eventually throwing back across his body to find Larrington in the end zone.
The rest of the game went much the same way with Concordia spreading the sugar. Six different players scored the Bulldogs' six touchdowns. Leading receiver Chevarius Curry-Felix snagged a touchdown grab for the fifth-straight game.
Thomas also delivered a 24-yard touchdown toss to wide open tight end Josh Slechta in the second quarter. The signal caller from Miami, Fla., found the end zone on his own early in the third quarter when he raced off left tackle for a 14-yard scoring rush.
Collins, the promising freshman back from Boerne, Texas, found the end zone one last time, scoring his team best 11th touchdown on a one-yard rush late in the first quarter.
Defensively, senior Langston Jones led the way with a team high 12 tackles (five solo). Fellow senior Dylan Heithoff registered a sack that helped put an end to a Briar Cliff drive midway through the second quarter.
For Jones and the rest of the seniors, it was an emotional day.
"It's family," Jones said. "We're all brothers. We've all been here for four years. It's just great."
Despite a four-game slide following the 6-0 start, Concordia enjoyed its best season since 2001 and emerged onto the national scene with a ranking as high as No. 14 at one point.
"We've made huge strides this season," Winter said. "For us the win was great and to finish out the season with a win was great. We're taking this program in the right direction. The seniors have been a huge part of that. We've got a lot of young guys who are good football players and are going to get better this offseason.
"We're just kind of disappointed that this is it."
The Bulldogs will bring back the bulk of their key players offensively in 2014, but the defense takes a hit with the likes of Derek Blessing, Heithoff and Darnell Woods moving on. Led by Thomas at quarterback, the Concordia offense figures to continue its improvement under coordinator Curran White.
"We've got a talented group (coming back next year)," Winter said. "They've got to buy in to the work ethic that these seniors have set forth."