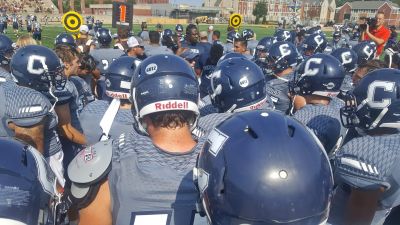 SEWARD, Neb. – Game week has arrived for the Concordia University football team. Week one presents a significant challenge and opportunity for the Bulldogs, who will journey about three hours south for a matchup with 20th-ranked Kansas Wesleyan University. It will be a battle between two teams who completed the 2016 season with top 20 national rankings. For Concordia, it also marks the official start of the Patrick Daberkow head coaching era.
Meanwhile, the Coyotes are led by fourth-year head coach Matt Drinkal. Kansas Wesleyan kicked off its season last week and fell by a 31-24 score at Olivet Nazarene University, located in Bourbonnais, Ill. The Coyotes lost despite a 465-392 advantage in total yards. Olivet Nazarene finished 2016 with a 4-7 overall record. Kansas Wesleyan is coming off a 9-2 mark in 2016.
GAME INFO
Concordia (0-0) at No. 20 Kansas Wesleyan (0-1)
Saturday, Sept. 2 | 6 p.m.
STADIUM NAME | Salina, Kan.
Webcast: Stretch Internet
Radio: 104.9 Max Country
Commentators: Tyler Cavalli and Roger Fitzke
STATISTICAL BREAKDOWN
2016 Final Team Statistics
*National rank in parentheses
Concordia
Offensive PPG: 25.8 (52nd)
Defensive PPG: 24.1 (28th)
Total Offense: 348.9 (55th)
Pass Offense: 188.3 (56th)
Rush Offense: 160.6 (47th)
Total Defense: 328.4 (16th)
Pass Defense: 182.6 (22nd)
Rush Defense: 145.8 (28th)
Turnover +/-: +1 (T-35th)
Kansas Wesleyan
Offensive PPG: 34.9 (T-17th)
Defensive PPG: 26.6 (38th)
Total Offense: 448.4 (17th)
Pass Offense: 225.8 (31st)
Rush Offense: 222.5 (18th)
Total Defense: 382.7 (45th)
Pass Defense: 205.9 (35th)
Rush Defense: 176.8 (54th)
Turnover +/-: -2 (T-45th)
Returning Individual Leaders
Concordia
Head Coach: Patrick Daberkow (0-0, 1st season)
Passing: TJ Austin – Passing: 87/183 (.475), 1,136 yards, 12 td, 6 int; Rushing: 68 att, 239 yards, 3.5 avg, 3 td
Rushing: TJ Austin – 81 att, 327 yards, 4.0 avg, 3 td
Receiving: Jared Garcia – 55 catches, 825 yards, 15.0 avg, 10 td
Defense: Kordell Glause – 44 tackles, 6 tfl's, fr
Kansas Wesleyan
Head Coach: Matt Drinkall (21-14, 4th season)
Passing: Wes Geisler – 145/275 (.527), 2,061 yards, 17 td, 4 int; rushing: 287 yards, td
Rushing: Demarco Prewitt – 146 att, 663 yards, 4.5 avg, 13 td
Receiving: Demarco Prewitt – 28 catches, 261 yards, 9.3 avg, td
Defense: Garrett Updegraft – 99 tackles, 13.5 tfl's, 5 sacks
In the rankings
Both Concordia and Kansas Wesleyan received mention in preseason national polls. Noteworthy rankings are listed below.
Concordia
GPAC: 5th (coaches); 6th (media)
NAIA coaches' poll: first among others receiving votes
College Football America T25: 23rd
Massey Ratings: 35th
Kansas Wesleyan
KCAC: 3rd (coaches); 2nd (media)
NAIA coaches' poll: 20th
College Football America T25: 15th
Massey Ratings: 67th
New head ball coach
In more than 90 years of existence, the Concordia football program has had a grand total of 10 head coaches. Daberkow becomes the sixth Concordia alum to be named head coach. Originally from Madison, Neb., Daberkow graduated in 2007 and then spent two years as a graduate assistant for Courtney Meyer. Daberkow joined the staff full time and has spent the previous seven years coordinating the defense. In both 2013 and 2015, the Bulldogs finished inside the top five nationally in total defense.
KCAC/GPAC Football Challenge
This will mark the third year of the KCAC/GPAC Football Challenge, which will come to an end after 2017. The GPAC has dominated the series, going 8-1 in 2015 and 7-2 in 2016. Kansas Wesleyan has received favorable draws in the first two years of the challenge. It defeated Midland, 55-37, in 2015 and Briar Cliff, 27-21, in 2016. The 2015 Midland and 2016 Briar Cliff teams both finished at 1-10 overall. In its two games in the challenge, Concordia has won handily, defeating Southwestern College, 31-10, in 2015 and University of Saint Mary, 23-7, in 2016.
Garcia creeps up on Wurdeman
Last season Jared Garcia surpassed former All-American tight end Ross Wurdeman for a school record total of career touchdown receptions. Garcia enters this season within striking distance of Wurdeman's program career standards of 168 catches and 2,458 receiving yards. A native of Pearland, Texas, Garcia has totaled 140 catches and 2,188 receiving yards to go along with 29 touchdowns. In terms of total career touchdowns, Garcia ranks No. 5 in program history.
Total career touchdowns, school history
1. Cleve Wester – 45 (1982-85)
2. Gary Seevers – 39 (1953-56)
3. Bryce Collins – 37 (2013-16)
4. Alex Alvarez – 33 (1999-2003)
5. Jared Garcia – 29 (2014-present)
Dynamic duo
With seniors like D'Mauria Martin and Tarence Roby on board, the Bulldogs have the potential to suit up one of the top defensive backfields in small college football. Martin, a three-year starter at cornerback, has moved to safety this offseason. Meanwhile, Roby, a former walk on at Northern Illinois University, remains as a top notch cover corner. Roby figures to also be used extensively in the return game. The playmaker from Rockford, Ill., has not spent a single down on offense in his collegiate career, but he's still managed to find the end zone four times since arriving at Concordia in 2014. In the first road trip last season, Roby returned a kick 91 yards for a touchdown at Ottawa. As far as Martin goes, the staff trusts he'll be a quick study as a safety. Daberkow calls Martin one of the smartest football players he's ever coached.
Roby touchdowns
9/20/2014 – 46-yard fumble return vs. Midland
10/18/2014 – 90-yard kickoff return vs. Northwestern
10/24/2015 – 12-yard blocked punt return vs. Doane
9/10/2016 – 91-yard kickoff return at Ottawa
In the backfield
Concordia hopes to use week one to answer question marks at the quarterback and running back positions. A close quarterback race between juniors Andrew Perea and Riley Wiltfong has played out during spring and fall camps. Wiltfong, who hails from Doniphan, Neb., is the program's most experienced signal caller. In 12 career games, Wiltfong has thrown for 1,412 yards and owns a 14-to-8 touchdown-to-interception ratio. Perea (Pico River, Calif.) has thrown only six passes in his career, but possesses a strong arm. Both players have acquired a keen understanding of new offensive coordinator Thomas Byrd's offense.
At the running back position, Jordan Slough and Ryan Durdon figure to see the bulk of the carries. Both are relatively untested with Concordia having relied heavily upon prolific back Bryce Collins the previous four seasons. In limited duty the past two years, Slough has rushed for 169 yards on 41 carries. An ultra-productive back during his prep days at Doniphan-Trumbull, Slough has shown an ability to make plays in the passing game during fall scrimmages. Durdon has moved to the backfield after beginning his college career as a receiver.
Rebuilt front seven
Junior linebacker Kordell Glause is the lone returning starter in Concordia's front seven as part of its standard 3-4 alignment. Coordinator Corby Osten will be working in a lot of new faces, but Daberkow and his staff believe that the defensive line and linebacker units will remain solid. For the first time in his collegiate career, Erik Small will play on the defensive side of the ball. The coaches hope he can provide steady play at the nose guard position that had been manned by Ron Jackson, now a graduate assistant coach. Small is one of the strongest and most physical players on the roster.
At the inside linebacker spots, sophomores Terrell Pearson and Derek Tachovsky have worked with the No. 1 unit. At one of the outside backer positions, senior Shane Scott returns after recording 20 tackles in 2016. Up front, Small will be the anchor for a line that will move on without All-American Trey Barnes.
Fitzke joins broadcast booth
Father of current Bulldogs Seth and Brady, Roger Fitzke jumps into the broadcast booth this fall as color commentator alongside play-by-play voice Tyler Cavalli. Also the voice of Concordia basketball, Cavalli replaces Jayson Jorgensen in the football play-by-play role. Cavalli and Fitzke can be heard every Saturday on 104.9 Max Country (KTMX-FM). The York station streams online and via mobile devices through the 104.9 Max Country app. Coach Daberkow will join Cavalli each week for the Bulldog Coaches Show, which airs on Max Country at 5:30 p.m. CT on Thursdays.
Scouting Kansas Wesleyan
Concordia and Kansas Wesleyan will meet on the gridiron for the first time since 1991. In three matchups all-time, KWU owns a 2-1 advantage. The Coyotes' fortunes have trended upward under the direction of head coach Matt Drinkall, who led the program to the NAIA football playoffs in 2015. Kansas Wesleyan owns a record of 19-4 over the past two years. Its success has been the product of offenses that have ranked inside the top 20 nationally for consecutive years. Though Wes Geisler filled the quarterback role in 2016, he may give way to senior Kelly Cordova, who tossed for 252 yards and three touchdowns in last week's season opener. Kajuan Ocasio emerged as the team's top receiving threat, catching six balls for 155 yards and two touchdowns. Defensively, two players stand out in particular – defensive lineman Christian McQueen (8.5 sacks in 2016) and linebacker Garrett Updegraft (team high 99 tackles last season). The Coyotes have hopes of returning to the postseason after just missing out a year ago.