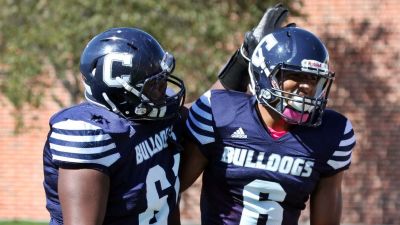 Preseason polls: NAIA Coaches | College Football America
SEWARD, Neb. – Not since the 2002 squad appeared at No. 12 in the preseason had a Concordia football team been awarded a national ranking prior to the start of a campaign. First-year Head Coach Patrick Daberkow's program received mention in a pair of national polls released on Monday (Aug. 7). While placed just outside the NAIA's official coaches' preseason top 25 poll, Concordia checked in at No. 23 in the College Football America NAIA Preseason Top 30.
In the NAIA Football Coaches' Preseason Top 25 Poll, Daberkow's bunch collected 28 points, placing it first among others receiving votes. The Bulldogs slid back from a No. 20 ranking in the spring poll unveiled on April 10 by the NAIA.
Behind first team All-American defensive end Trey Barnes, the 2016 Bulldogs finished 7-3 overall for the highest winning percentage for the program since the 2001 GPAC championship campaign. In addition, Concordia went undefeated at home (5-0) for the first time since 2000. This past year's squad appeared in nine of the 12 national polls released by the NAIA. They peaked as high as 16th.
In both 2017 preseason national polls, the Bulldogs slotted in fourth among GPAC teams. The fourth-place position ranks higher than they appeared in last week's GPAC preseason coaches' (T-5th) and media (6th) polls. Concordia's 2017 home slate offers plenty of marquee matchups with No. 4 Morningside, No. 11 Doane and No. 17 Dakota Wesleyan all set to make their way to Bulldog Stadium. In addition, the Bulldogs open the season Sept. 2 with a trip to 20th-ranked Kansas Wesleyan University.
Concordia begins preseason practice on Friday (Aug. 11). It will open up Bulldog Stadium to fans for an intrasquad scrimmage on Saturday, Aug. 19. The open scrimmage is set to begin at 7 p.m. CT.
"I believe we have a tough-minded and physically tough team coming in this fall," said Daberkow at last week's GPAC Football Media Day. "We're taking one day at a time and we're learning as we go. I'm passionate about winning. We're going to pour every ounce of effort into that endeavor and into the future. I believe in the guys in our locker room and we're thrilled to get started."
Daberkow's staff is made up of full-time assistants in Thomas Byrd (offensive coordinator), Corby Osten (defensive coordinator) and Wes Coomes (special teams coordinator). For more details on the 2017 team, check out our media day notebook from Aug. 3.