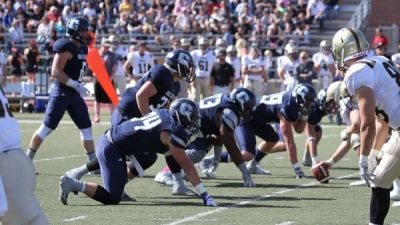 Bulldog football 2013 season preview
By Jacob Knabel, Sports Information Director
2013 Concordia football media guide
Head Coach: Vance Winter (16-27, four years)
2012 Record: 5-6 overall; 4-5 GPAC (7th)
Returning Starters: OFFENSE – 7; DEFENSE – 8; SPECIAL TEAMS – 3
Key Returners: Jeff Balz (WR), Drew Baxter (OLB), Derek Blessing (CB/PR/KR), Dylan Heithoff (OLB/DE), Langston Jones (LB), Dylan Klassen (OL), Josh Powell (OL), Tait Sibbel (S), Josh Slechta (TE), Von Thomas (QB), Darnell Woods (S)
Key Losses: Victor Brown (RB), Adam Faulstich (OL), Kyle Little (LB), Tom Malander (LB), Colten Quinabo (WR), Michael Voelker (DL), Kenny Zoeller (K)
2012 GPAC All-Conference: Derek Blessing (first team – PR), Darnell Woods (first team), Kenny Zoeller (first team), Adam Faulstich (second team), Dylan Heithoff (second team), Colten Quinabo (second team), Michael Voelker (second team), Langston Jones (honorable mention), Kyle Little (honorable mention), Tom Malander (honorable mention), Josh Powell (honorable mention), Von Thomas (honorable mention)
2012 AFCA NAIA All-America: Kenny Zoeller
Outlook:
Head coach Vance Winter's Bulldogs enter the 2013 season determined to turn last season's close losses into victories. While the 2012 campaign produced the program's most wins since 2004, Concordia suffered five losses by 10 points or less as part of a tightly-grouped middle of the GPAC.
"We did have our opportunities," Winter, a fifth-year head coach, said. "That's what's kind of disappointing about last season. We were closer in a lot of ways. It was a few plays here or there in every football game. A lot of our close losses came down to turnovers and missed opportunities, whether it be dropped passes, dropped interceptions or whatever. We had an opportunity to finish that play and we didn't do it.
"That's the theme this year – finish."
Still, several great stories emerged in 2012. After dropping their first three games of the season, the Bulldogs won four in a row, including a signature 17-16 upset of No. 11 Northwestern on homecoming at Bulldog Stadium. Electrifying punt returner Derek Blessing spearheaded the win with a 50-yard punt return touchdown midway through the fourth quarter. Blessing would go on to lead the NAIA in punt return yards (388) and touchdowns (3), setting school records in both categories.
Under the direction of new offensive coordinator Curran White, Concordia's pistol spread attack allowed for an improvement from 16.7 points and 249.5 yards per game in 2011 to 24.0 points and 306.5 yards per contest in 2012. The Bulldogs found a consistent playmaking threat with Von Thomas taking over under center as a sophomore last season.
Blessing and Thomas return along with first team all-conference safety Darnell Woods in 2013 to give the team three bona fide stars. The key will be to find depth around the standouts. Winter believes the depth of the program is in as good a shape as it's been during his tenure, especially with an incoming recruiting class well north of 50 names providing fortification.
"I feel like our talent level has improved," Winter said. "I feel like we've always had good players, but depth has always been an issue. A few key injuries here or there have cost us big time. I feel like we're developing more and more depth. We have guys who have worked their way up through the program in a three or four year period that have continued to get better year after year, and that helps your talent level."
Thomas' talent is undeniable. The signal caller from Miami, Fla., led the team in both passing (1,840) and rushing yards (460) as a premier dual threat. Now with his mastery of the offense, and an emphasis placed upon putting more speed around Thomas, the unit could see another significant bump in production in 2013.
"I am 100 times more familiar with the offense so I'm a lot more comfortable," Thomas said.
"We're probably going to see an even greater leap than last year, just for the simple fact that we're more comfortable in our offense now. Just being able to go out and play and not think about it will benefit us greatly."
The biggest question marks offensively come at running back and receiver – units that both lose their top two yardage producers from last season. After unexpected losses to the backfield following the spring, senior Mitch Reed (32 rushes, 177 yards) is left as the most experienced ball carrier. That makes for plenty of opportunity for a number of incoming freshmen backs.
While second team all-conference receiver Colten Quinabo (47 catches, 567 yards) has graduated, the Bulldogs feel good about the duo of Jeff Balz (21 catches, 238 yards) and Derek Klaus (10 catches, 99 yards) at the position. In addition, Winter raves about sophomore tight end Josh Slechta (14 catches, 193 yards), who could morph into Thomas' most reliable target this season.
"I feel like that's my core group of receivers so I'm very comfortable with them," Thomas said. "We've been through thick and thin. I know if I throw the ball up in the air they will go up and get it to help out the team the best they can."
Up front, Concordia must replace its best offensive lineman in left guard Adam Faulstich, a 2012 second team all-conference choice. The good news is that junior right guard Josh Powell and senior center Dylan Klassen are back to form a solid interior. Winter also liked what he saw this spring from junior guard Glennon Manninger and senior tackle Mitchell Cherney.
While the offense figures to make continued strides, the defense has fewer question marks. Fourth-year coordinator Patrick Daberkow will trot out a unit with experience at every position group, particularly in a loaded secondary.
Blessing made a smooth transition from running back to corner last season, leading the team in tackles (75), pass breakups (6) and forced fumbles (3). He is likely to team with junior Landon Oelke at the two corner spots this season. Oelke brings the least amount of starting experience to the secondary group, but he was a special teams regular who made 11 stops last season.
Woods became the star of the defense last season after switching from corner to safety early on. The ball-hawk from Phoenix, Ariz., picked off five passes, and like Blessing, is dangerous with the ball in his hands. He returned one pick for a touchdown and totaled 176 interception return yards. He will be flanked by free safety Tait Sibbel, who ended up starting 10 games while more than holding his own as a true freshman. Says Winter, "Our defense kind of took off after those moves."
"We've got a lot of guys returning back," Woods said. "As many core guys as we've got coming back, we feel very connected. It builds our chemistry. We'll be very solid."
Despite losing key contributors Kyle Little and Tom Malander at the linebacker position, Concordia is well-stocked with backers that fit the team's 3-4 scheme. Dylan Heithoff (71 tackles, 4 sacks) and Langston Jones (73 tackles) provide senior leadership and stability along with Drew Baxter, a converted safety. Winter called Baxter the team's defensive MVP of the spring. Another senior, Colton Schneider, is primed for a starting job after serving as a special teams ace the past couple years.
The defensive line loses second team all-conference choice Michael Voelker but counters with holdovers in senior Cody Hawk (45 tackles) and juniors Alex Melius (24 tackles) and Kyle Rakow (15 tackles). This gives the Bulldogs plenty of seasoned veterans at the position.
Special teams, coordinated by Corby Osten, figure to be a strength again in 2013. Kickers Adam Meirose and Zach Moje will compete to take the place of departed All-American Kenny Zoeller (school record 15 made field goals in 2012). Senior Joe Marshall comes back for his third season as the team's punter, while the return units are strong with Blessing.
Considering the sum of these parts, the Bulldogs will aim for the program's first above .500 season since sharing the conference crown in 2001. The key will be to more consistently bottle up the type of performance that allowed Concordia to shock Northwestern last season.
"We showed glimpses of it last year," Winter said. "The thing we're looking for this year is consistency week in and week out. We know what we can be. We know how we can play. We did it in spurts. We played at a high level at times. I want us to really on a consistent week-by-week basis, to show that talent level and show our improvement."
Added Woods, "We're going to shoot for the top. We want to be in the top two or three contenders with teams like Northwestern, Morningside and Doane. It's going to be a battle to the top. We're ready for it."
The Bulldogs kick off the 2013 season on Thursday, Sept. 5 when they travel to Liberty, Mo., for a non-conference collision with NCAA Division II member William Jewell College. The Cardinals went 2-9 in 2012.