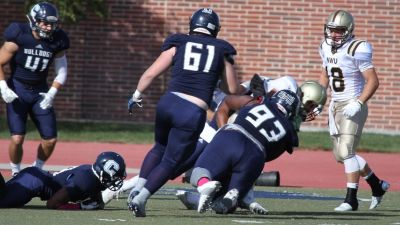 Go ahead and scan the list of hometowns that appear on the Concordia football roster. You'll notice plenty of small town Nebraska with a good sprinkling of California, Colorado and Texas – all popular locales for high school football. Nothing looks out of place. That is, until you notice Brussels, Belgium.
Go ahead and name the most famous football player ever to come out of Brussels? You can't. That's OK. The world is shrinking. Just ask Concordia senior defensive lineman Dylan Pierquin. Soccer wasn't the game for him like it is for many people born in Europe. All the way from Brussels, Pierquin arrived to play the sport he really loved: football – American football.
"It's been amazing," Pierquin said. "I will never forget my first play with the varsity team. I will never forget the feeling of having a chance to play American Football in the States."
That first play, by the way, happened to be a Pierquin sack, though it was negated by a 15-yard penalty. What the play showed was how far Pierquin had come, and not just from a geographic standpoint. The 5-foot-11, 265-pounder has made immense progress while cracking the team's two deep.
He's done it after growing up in a nation that provided fewer football playing opportunities. On top of that, for whatever reason, Pierquin did not get cleared by the NAIA to play his first season on campus. Meanwhile, two friends that also came to Concordia from Brussels were cleared. Pierquin waited it out, fighting the natural feeling of discouragement.
"He's always done everything we asked," said Corby Osten, Pierquin's position coach. "He was here for a full year and not able to play. It was disappointing for him, but he had a good attitude through the whole thing. As soon as he got his opportunity he made the most of it."
When Pierquin first appeared on campus, it wasn't exactly a given that he would someday become a contributor on the field. Coaches put Pierquin and his fellow Brussels natives through basic drills to gauge athletic ability. They saw enough to welcome aboard Pierquin and his friends, who were set up on visits to several GPAC schools by someone back home who had coached basketball at Morningside.
The first Concordia practice Pierquin witnessed was a real eye opener.
Said Pierquin, "I remember (first team All-American) Darnell Woods and those guys. We were like, 'Wow, this is going to be tough.' This is not the same size and speed we see back home. We knew it was going to be tough, but we were pretty excited about it."
Pierquin had just started playing football at the age of 14 as part of a club system that required a fee. The first league he played in featured a nine-man format. He fell in love with the sport as a fullback and linebacker and even started paying attention to the NFL. He found just enough opportunity, despite football's status as a periphery sport in Belgium, to land at a college football program in America.
Still there were hurdles to clear in addition to having to sit out his first year of college. His two friends from Belgium didn't stick at Concordia. It wasn't for them. Was it for Pierquin?
"My freshman year there were moments where I was like, 'What am I doing here?' Both my friends are gone," Pierquin said. "They gave up. My family gave everything they had so I could come here to college. God gave me this opportunity. I love this sport so much that I was like, 'I'm not going to give up.' I want to be the best football player I can. For once in my life I don't want to give up in something. I kept pushing and I will keep pushing this year."
That resilience has impressed Osten and the rest of the coaching staff. They expected Pierquin to be raw in regards to his football savvy, technique and familiarity with schemes and coverages. They found that he could learn surprisingly fast.
"He plays with good technique and he's fast too," Osten said. "He beats a lot of people with speed. He's smart. He's figured out how to read blocks. He beats offensive linemen to the point."
Added Pierquin, "When I came here it was just different – technique, speed of the game, just everything. I had to learn everything. I came as a linebacker and I was moved to D-line. I tried to learn everything about a new position. It was a little bit challenging, but I liked it. I like a challenge. I do like the position now."
For Pierquin, who now wears No. 42 (wore 61 last year), an important goal has been reached. He wanted to make it as a college football player in America. He's got more goals. He wants to become a missionary like his parents, who took him to Guinea for a mission for three years during his childhood. It was the type of unique experience that better prepared him for a life of change and relocation.
No matter where he goes after graduation next May, he'll take with him the positive experiences he's had as a student-athlete at Concordia.
"I honestly trusted God," Pierquin said of what compelled him to choose Concordia. "I just let Him do his thing. I came here and I'm really happy I made this choice. It's been the best fit for me. I didn't expect much. I didn't even expect to play my senior year of football. Now that I've been able to play, I've reached my goal. I was proud of myself."
Out of place as a college football player from Brussels? Not Dylan Pierquin.