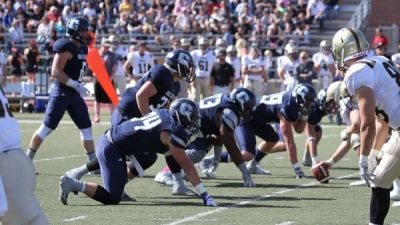 Broekemeier claims GPAC Player-of-the-Week honor
Concordia University junior Heath Broekemeier is this week's GPAC/Hauff Mid-America Sports Defensive Player-of-the-Week. Broekemeier played a key role in Concordia's 30-26 win over Briar Cliff University on Saturday.
The defensive back from Prairie Grove, Arkansas, had a key 61-yard interception return for a touchdown in the third quarter. His touchdown increased the Bulldog lead to 28-13. Late in the fourth quarter, Broekemeier preserved the win with an interception of a two-point conversion attempt. He returned the interception all the way back to increase the lead from 28-26 to the final of 30-26. Broekemeier also had a team-high six total tackles in the Concordia win.
"Heath's performance on Saturday was a culmination of a great offseason and summer," said Patrick Daberkow, defensive coordinator for the Bulldogs. "Heath has worked so hard and has had to earn his spot from day one. I'm very happy to see all the hard work paying off for him."
Concordia is now 3-4 overall and 2-4 in GPAC play following Saturday's win. The Bulldogs travel to Morningside College on October 23 for a 1 pm contest against the Mustangs.