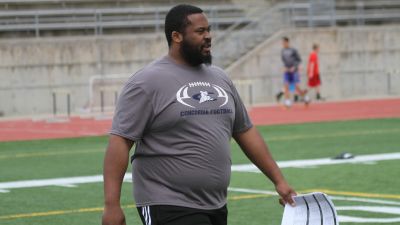 Thomas Byrd knows a good thing when he sees it. Byrd identified Boise State University as one of those good things even before the famed Statue of Liberty play that lifted Boise State to a shocking win over Oklahoma in the 2007 Fiesta Bowl. Just three years later, Byrd would help the Broncos to another Fiesta Bowl victory after turning down scholarship offers from the likes of San Jose State and Southeast Missouri State.
"Boise was one of the first schools to offer me actually," Byrd said. "Once they won the Fiesta Bowl, everyone was freaking out. 'You're going to Boise!' I committed way before they won the Fiesta Bowl."
A four-year starting center for former head coach Chris Petersen's Boise State program, Byrd is about to tackle his first season as a collegiate offensive coordinator after two seasons as the offensive line coach at NCAA Division II New Mexico Highlands. The native of San Pablo, Calif., began installing his offense this spring with designs on boosting a unit that averaged 25.8 points per game in 2016.
Byrd liked what he saw from standouts such as receiver Jared Garcia and tight end Seth Fitzke, but his decision to accept head coach Patrick Daberkow's job offer was more about fit. Byrd wanted to be part of a program that did it the right way and one where he could feel comfortable professing his faith.
"I told myself that the next school I go to, there are going to be some things that I want," Byrd said. "One of the things I wanted was to have people around me that are like-minded and that live for Christ. There are a lot of people that say they believe in Christ, but their actions don't hold up accordingly. I wanted to be in a community where people hold each other accountable. When I showed up here, that was one thing that stood out. Everyone is nice from the custodians to the president. I knew this was a place I could come to and not be scared about my faith."
Those words are music to the ears of Daberkow, who put his staff together, including defensive coordinator Corby Osten and special teams coordinator Wes Coomes, with those sentiments in mind. Of course, the Boise State background of having played for one of college football's most successful coaches stands out as an obvious plus.
But more importantly, Byrd is a spiritual and philosophical fit. Accountability has been one of the buzzwords of the offseason – and Byrd is all about it. He is also emphasizing an up-tempo style while bringing an obvious intensity to the practice field. He knows how to command a room.
"He aligns philosophically with the rest of our staff as far as how to build men to be prepared for life after football," Daberkow said. "He also aligns philosophically with what we want to be as an offense as far as tempo and pace. He's very much in the same school of thought as I am."
Byrd excels at making good first impressions. Let's rewind back to Byrd's days as a prep at McClymonds High School in Oakland. In regards to his prospects of playing at the NCAA Division I level, Byrd's biggest drawback was his lack of size. Because he stood at 6-foot even, many of the big name programs overlooked him. That quickly changed when Byrd made a splash while up against several more highly touted recruits at a Nike combine.
"I had a really good combine and went against some good athletes," Byrd said. "Everyone was watching these d-linemen that were ranked near the top of the nation and I was beating them. Everyone was wondering who this short guy was who was beating all these top d-linemen. From there I started getting offers."
That 'short guy' snapped footballs for record setting quarterback Kellen Moore (current member of the Dallas Cowboys) and was a rock for the 2009 Boise State team that went 14-0. When you play for a program like that, you just aren't used to losing.
There may be some growing pains that come with a new system and new terminology, but Byrd will have high expectations for an offense still looking to develop its own version of Kellen Moore.
"We have a lot of good football players on that field," Byrd said. "We need to make sure we don't overthink things and try to put our players in situations where they can prevail. I'm impressed with the guys that we have between Jared Garcia and Seth Fitzke. As an offensive line, I think we had a pretty good spring. We obviously have a good battle at quarterback. We're just trying to figure out who's going to be the guy. It's a different offense than what they're used to, but we saw them pick up on it."
Garcia is a talent that can be adapted to most any offense. The school's all-time leader in touchdown catches has quickly grown to respect the new offensive coordinator. Garcia says the offense will be an unpredictable one for opponents.
"Coach Byrd is a coach with a vision," Garcia said. "He wants the best out of his players and is always pushing us to be better. He is a very personable man that wants you to come hang out and talk in the office. He is very up front with his expectations, which is good for us as his athletes because there is no question what he is looking for."
Byrd found what he was looking for at Boise State and then again at Concordia. The man who stashes Little Debbie cakes in his office has hopes of bringing plenty of treats to Bulldog football. But Byrd is here to do more than offer snacks to his athletes. He wants to share in his faith – and win some football games along the way.