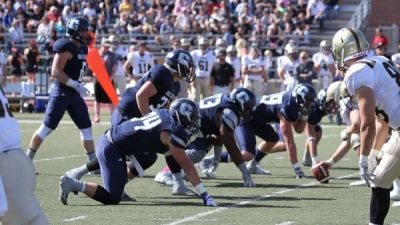 Blessing, Woods collect preseason football All-America recognition
Coming off terrific junior seasons in 2012, Bulldog football standouts Derek Blessing and Darnell Woods have been named to Beyond Sports Network's (BSN) preseason NAIA All-America list. Blessing netted first team honors as a punt returner, while Woods placed on the honorable mention list as a safety.
Blessing burst onto the scene last season with his electrifying punt returns. The Ogallala, Neb., native led the NAIA and set school records with 388 punt return yards and three punt return touchdowns. He also made a smooth transition from running back to cornerback, topping the team with 75 tackles. He earned first team all-GPAC and BSN first team All-America accolades, among other honors in 2012.
Woods also blossomed in his junior year, proving to be a perfect fit at safety after beginning the season at corner. He plucked a Bulldog best five interceptions, one of which went for a touchdown at Doane. Woods was selected to the GPAC's first team and received Omaha World-Herald All-Nebraska honors in 2012.
Blessing and Woods will form the backbone of one of the nation's most talented secondaries this fall. The 2013 season will kick off Sept. 5 when Concordia plays at NCAA Division II William Jewell College.