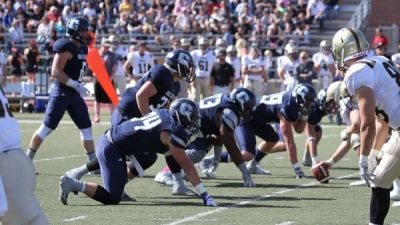 Blessing earns second GPAC weekly honor of season
Junior cornerback/return man Derek Blessing has been named the GPAC/Hauff Mid-America Sports Special Teams Player of the Week for the second time this season, the league announced Monday. Blessing received the same honor on Sept. 24.
The Ogallala, Neb., native made perhaps the biggest play of the Bulldogs' 17-16 upset of No. 11 Northwestern on Oct. 13 when he fielded the Red Raider punt on a bounce and returned it 50 yards for a touchdown midway through the fourth quarter. That score pulled Concordia within 16-14 with 8:03 left in the game.
"We switched it up," Blessing said following the game. "Coach said let's go middle return, so I caught the ball and looked straight up the middle. Our guys just made a big hole for me. I saw the hole, saw two guys down field and I saw one or two of our guys down field. They blocked it perfect. It's theirs, not mine."
Head coach Vance Winter singled out the punt return as the key play that turned the tide and allowed Concordia to pull out the comeback win.
"We just needed a play. We need something to happen. We needed a big play," Winter said. "Derek Blessing in the punt return was just huge, and we could feel it then."
The touchdown marked the third punt return Blessing has taken back for a score this season. He also had a 71-yard punt return for a touchdown versus Benedictine and a 56-yard return for a score against Dordt. He is now second in the NAIA with an average of 22.1 yards per punt return and No. 1 with 353 total punt return yards.
In the victory over the Red Raiders, Blessing piled up 118 punt return yards on seven chances. Defensively, Blessing made five total tackles and had one pass break up.