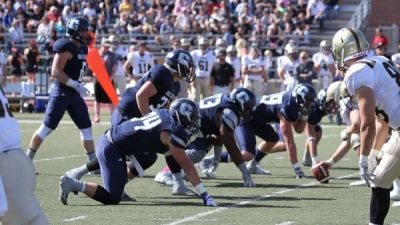 Biting back: 2014 Concordia football preview
2014 Concordia football media guide
Head Coach: Vance Winter (23-31; five years)
2013 Record: 7-4 overall; 5-4 GPAC (T-5th)
Returning Starters: Offense – 8; Defense – 6; Special Teams – 1
Key Returners: Trey Barnes (RB), Drew Baxter (S), Bryce Collins (RB), Nakemm Evans (LB), Michael Gill (DL), Adam Meirose (K), Landon Oelke (DB), Josh Powell (OL), Kyle Rakow (DL), Josh Slechta (TE), Tait Sibbel (S), Von Thomas (QB)
Key Losses: Derek Blessing (CB/KR/PR), Dylan Heithoff (DL), Langston Jones (LB), Dylan Klassen (OL), Colton Schneider (LB), Darnell Woods (DB)
2013 GPAC All-Conference: Derek Blessing (first team – KR/PR), Dylan Heithoff (first team), Langston Jones (first team), Darnell Woods (first team), Adam Meirose (second team), Josh Powell (second team), Tait Sibbel (second team); view honorable mentions HERE.
2013 NAIA All-American: Darnell Woods
Open fall intrasquad scrimmage: Saturday, Aug. 23: 7-9 p.m.
Outlook:
Concordia University football finds itself on solid ground entering a 2014 season that comes with the program's highest expectations in more than a decade. Last season brought the Bulldogs' first winning campaign since 2001 and with a two-year starting quarterback returning, even better things could be in store in 2014.
Sixth-year head coach Vance Winter's squad received its highest preseason ranking since 2002 when GPAC coaches pegged Concordia for a fourth-place league finish.
"We feel like we made great strides as a program the past couple years," Winter said back on GPAC media day. "We expected to have a good football team last fall. We had high goals. Maybe to the people on the outside our season was somewhat of a surprise but for the people in our building, the people on our campus, we had high expectations. Ultimately, we did not reach all of our goals last fall but we did make a lot of great strides."
Senior quarterback Von Thomas generated significant buzz at media day. Morningside head coach Steve Ryan joked that he wishes Thomas would run out of bounds more. Concordia's dual-threat signal caller from Miami, Fla., broke the school record for total yards in a season last year and has piled up 3,787 passing yards, 1,021 rushing yards and 36 total touchdowns over the past two seasons.
What excites Thomas and company is the playmaking potential around the quarterback position. The Bulldogs expect more explosive plays a season after the team's longest play from scrimmage totaled 36 yards. Thomas knows he will be able to count on a deep backfield that includes experienced sophomores Trey Barnes and Bryce Collins (combined 1,168 rush yards and 18 touchdowns in 2013) and emerging sophomore Demarques Saulberry.
"That makes me feel a lot better," Thomas said. "It takes a load off my back. We call ourselves the four-headed monster back there. We're all explosive at any moment. It's very relieving to see that. I can hand the ball off and watch those guys go out and run."
The receiver position is less experienced, but perhaps just as talented. Junior Riley Herren of Lone Tree, Colo., enjoyed an impressive spring season and freshman Jared Garcia (Pearland, Texas) has the ability to make an immediate impact. Plus the Bulldogs return tight end Josh Slechta, who Winter believes is ready to become a dominant player.
"This is as talented a group as we've been able to work with at Concordia since my time here," Winter said of the receivers. "I think that's going to be big with how they develop and how they mature throughout the season. It's a young group but a very talented group and we're excited to see what they do. I think there's going to be a lot of competition within that group."
Experience is a strength along the offensive line, which last season helped pave the way for the team's highest yards per game average (360.0) since 2004. Coordinator Curran White's line is anchored by right guard Josh Powell, a second team all-conference pick in 2013. He is likely to be surrounded by left tackle Glennon Manninger, left guard Ben Balduc, center Adam Aschenbrenner and right tackle Sawyer Birtell.
With more potential firepower, the buzzword in the offensive huddle will be "explosion" for a Bulldog offense that looks to add the long ball to an already efficient unit.
"The coaching staff did a great job recruiting, getting some more explosive guys so we can have more explosive plays," Thomas said. "Hopefully we can get better at that – having bigger plays throughout games."
On the other side of the ball, Concordia was more difficult to crack than the Sunday New York Times crossword puzzle. Coordinator Patrick Daberkow's unit ranked first in the NAIA in pass defense (134.7), fourth in total defense (285.5) and sixth in scoring defense (17.3).
"Coach Daberkow year-in and year-out has done just a phenomenal job since he took over in 2009," Winter said. "I think he does a fantastic job of getting our guys – whatever group we have that season – to play to their potential. Last season was the best season statistically that we've at Concordia since I've been there in terms of national rankings."
The defense faces more turnover compared to the Bulldog offense. Concordia must replace GPAC defensive player of the year Darnell Woods as well as other all-conference performers in Derek Blessing, Dylan Heithoff and Langston Jones.
Even with the losses in the secondary, junior safety Tait Sibbel, a two-year starter, expresses confidence that this squad will continue a tradition of ball-hawking defense. Sibbel will pair with senior Drew Baxter at the safety spots as part of a unit that hopes to be just as stingy against the pass in 2014.
"I think losing those type of big play guys is definitely going to affect us," Sibbel said. "But I believe the unit we will put on the field this year has a more complete understanding of the schemes we run and what we are trying to accomplish on defense. We are bringing back guys that have the potential to make big plays. Our secondary coming back will be an extremely consistent one, and with consistency in the secondary comes opportunities for game changing plays."
The biggest question marks come at linebacker with Jones and Colton Schneider having graduated. Senior Nakemm Evans could be in for his best season yet and fellow senior Michael Carroll caught the attention of the coaching staff with a strong spring performance.
The defensive line may prove to be the strength of the defense with returners Michael Gill, Ronald Jackson, Alex Melius and Kyle Rakow in the mix. Gill is a rising star who made 7.5 tackles in the backfield last season. Jackson packs plenty of size and is an up-and-comer to watch at the nose guard spot.
Says Sibbel, "I think we can expect a consistent defense that is going to bring energy, excitement and a love of the game to every play. It will be a fast defense that is always looking for an opportunity to come up with the ball."
There will be several changes in key special teams spots as coordinator Corby Osten looks to find replacements at punter and for Blessing, an electrifying return man the past two years. A recent run of dependable field goal kicking should continue with the return of junior Adam Meirose, a second team all-conference choice.
The season kicks off at 6 p.m. on Sept. 6 at 15th-ranked Sterling College. The Warriors are one of four preseason top 25 squads on the 2014 slate, which includes No. 3 Morningside, No. 13 Northwestern and No. 21 Dakota Wesleyan.
The challenging schedule won't dampen expectations for a program that is brimming with confidence after rising from the doldrums of a 1-9 season in 2008.
"We had a great offseason and there is definitely a confident feeling around the team," Sibbel said.
Added Thomas, "The expectation level is really high. We're looking forward to it. We're a team that likes to take on challenges."
For coverage of the Aug. 7 GPAC football media day, click HERE. To read head coach Vance Winter's breakdown of each position group, click HERE.