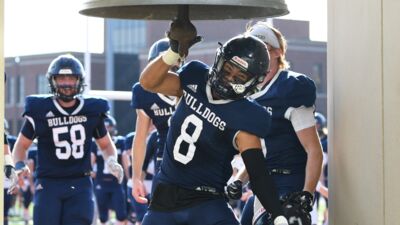 SEWARD, Neb. – A matchup between two strong defensive-minded rivals played out about as one could have expected on a warm fall senior day Saturday (Nov. 6) inside Bulldog Stadium. A 43-yard pass play to tight end Garrett Schardt and a pick-six by linebacker Jorge Ochoa altered momentum as the Concordia University Football team came from behind for a 20-13 victory over Doane. The defense for the Bulldogs was just a notch better than that of the Tigers.
The tide has turned in this series in recent years. Patrick Daberkow owns a record of 3-2 versus Doane in his head coaching tenure. Concordia has won back-to-back meetings over the nearby Tigers and has moved to 6-3 overall this season (five-game win streak).
"Any time you can beat a rival at home on senior day it's a good feeling," Daberkow said. "If you can't get going for that, then you probably can't get going. That was fun to see. It's exciting to see 'Ocho' make that interception and return it for a touchdown. That was obviously the difference in the game at the end there. I'm just really proud of the team for staying together.
"Doane is really sound defensively and they fly around and cause problems. To be able to score 20 points and beat them – we'll take a win no matter how ugly it is."
Leading 13-7 in the fourth quarter, Doane (5-5, 5-5 GPAC) was pinning its hopes on riding out a defense led by the four tackles for loss from Mason Krause. Schardt and the Bulldogs had other ideas. Facing third-and-eight from its own 27, Concordia came to life thanks to a 43-yard connection from quarterback DJ McGarvie to Schardt. Seven players later, McGarvie whirled a bullet of a back-shoulder touchdown toss to Cayden Beran on fourth and goal. At that point, 10:21 remained on the clock.
Then came the day's most consequential play. With first-and-10 at its own 20, Doane was victimized when Ochoa hauled in a pass thrown right at him and took it 23 yards to the end zone. Over the final nine minutes, Concordia used its suffocating defense to polish off the victory and preserve the seven-point advantage. A plus-one turnover advantage for the Bulldogs was a key against an opponent that entered the contest leading the NAIA in interceptions.
There's something about playing Doane that has brought out the best in Concordia running back Jonah Weyand, who had the advantage in a rushing dual opposite a fine player on the other side. Weyand rushed for 112 yards and a touchdown on 26 carries. Star Tiger back Frazzie Wynn ran for 87 yards on 21 attempts, including one that went for 41 yards. Most of the afternoon, Wynn had nowhere to go.
The Crete High School product Weyand rushed for 169 yards and two touchdowns in last season's win at Doane. He found holes on Saturday thanks to the help of a solid day for the offensive line. Said Weyand, "I don't know what it is, but they're always a circled game on the schedule for me. I think our offense matches up to their defensive scheme. Obviously having two weeks of preparation helped … For me personally, this will be my first (winning season) ever. The locker room's just super excited. We have a good thing going right now."
This may have been the finest performance of the season for the Concordia defensive line. Jordan Kavulak was all over Doane quarterback Vaughn Martinez, racking up 2.5 sacks while also recovering a fumble. At defensive end, senior Payton Stevens collected an impressive 11 tackles, made 1.5 sacks and forced the fumble that was recovered by Kavulak. The Bulldog defense limited Doane to 264 total yards and created three takeaways – one of which came on Lane Napier's second career interception. Napier topped all players with 14 tackles for the day.
"Before the game, I was telling a bunch of the seniors – this one's for them," Kavulak (a Seward High School product) said. "We've worked super hard this season and those guys always step up. I came in and they take a lot of us under their wing and show us how it's done."
Doane's strong pass defense did provide some problems. McGarvie went 13-for-31 for 131 yards and a touchdown (in addition to two turnovers). Beran caught five passes for 32 yards and a touchdown. In addition, Schardt reeled in three receptions for 59 yards (all on the same drive) and Korrell Koehlmoos caught three balls for 44 yards.
The Tiger (5-5) completed their season on Saturday. Doane broke a 7-7 halftime tie with two third quarter field goals from Caden Theis. The Tigers got very little out of their passing game as Martinez went 19-for-130 for 129 yards (two picks). Concordia waited until the fourth quarter to make up the difference. Added Daberkow, "I thought our focus was good the entire game today."
The Bulldogs hope to complete a 3-0 run against in-state opponents when they play at Hastings (2-8, 2-7 GPAC) at 1 p.m. CT next Saturday. The Broncos are led by former Doane head coach Matt Franzen. Concordia has won back-to-back games against Hastings.