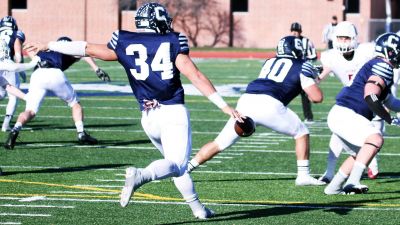 SEWARD, Neb. – Trey Barnes put on a show in his final game in a Concordia football uniform. Following a career day as a punter in the 31-28 win over Hastings, Barnes picked up GPAC/Hauff Mid-America Sports Special Teams Player of the Week recognition, as announced by the conference on Monday (Nov. 14). Barnes also garnered GPAC defensive player of the week accolades on Oct. 24. This is the Seward native's third career weekly award.
In the victory over Hastings, Barnes punted seven times for an average of 48.9 yards per attempt. He boomed a career long punt of 75 yards and added another that covered 69 yards. Four of his punts were downed inside the Bronco 20-yard line. With a punting average of 40.7 this season, Barnes ranks No. 1 in the GPAC and 10th nationally.
The Seward High School product was also a major pain for the Hastings offense. From his defensive end spot, Barnes registered seven tackles (three for loss), a sack, a forced fumble and a pass breakup. His 16-yard fumble return for a touchdown in the third quarter helped Concordia dig out of what had been a 21-7 deficit.
A second team All-American in 2015, Barnes is poised for more postseason honors this year. Barnes completed his senior season with 68 tackles, 22 tackles for loss, nine sacks, two forces fumbles and an interception. He leads the nation in tackles for loss per game (2.2).
"It's been a pretty incredible career for Trey Barnes," said head coach Vance Winter following last week's game. "He's the best athlete that I've ever coached. He does so many things well and he's a winner. I love the guy to death."
Barnes and the Bulldogs jumped up three spots to No. 18 in the NAIA national coaches' poll released on Sunday. Concordia (7-3, 5-3 GPAC) will finish a season with a national ranking for the first time since 2001.