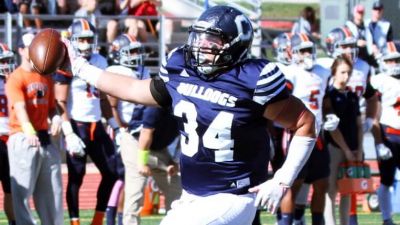 SEWARD, Neb. – Two days following a 20-14 victory over No. 22 Midland, both senior defensive lineman Trey Barnes and junior kicker Brendan Cremin have earned accolades from the GPAC. On Monday (Oct. 24) the conference named Barnes the GPAC/Hauff Mid-America Sports Defensive Player of the Week and Cremin the Special Teams Player of the Week. It's the second career weekly award for Barnes and the first for Cremin.
Barnes dominated at the line of scrimmage against a Warrior offense that entered the game averaging more than 440 yards per game. Named a second team All-American in 2015, Barnes registered seven tackles, two sacks and four quarterback hurries. His work up front helped limit Midland to just 23 first half yards and 234 for the game. In addition, it appeared Barnes had scored a touchdown in the first half after an apparent fumble, but the Warrior ball carrier was ruled down. A Seward High School product, Barnes ranks third among all NAIA players in tackles for loss (15.5).
Cremin is in his first season at Concordia after transferring from Modesto Community College. The California native draws long field goal assignments for the Bulldogs. Last week he responded after missing a 48-yard attempt by nailing tries from 39 and 42 yards to help put the game out of reach. In addition, Cremin recovered a fumble on a kickoff in the second quarter. Two of his other kickoffs resulted in touchbacks.
Concordia (5-3, 3-3 GPAC) now has a bye week before returning to action on Saturday, Nov. 5 when it travels to Sioux Center, Iowa, for a 1 p.m. CT kickoff at Dordt (4-4, 2-4 GPAC). The Defenders had this week's GPAC offensive player of the week in Bryce Lidtka, who ran for 240 yards and two scores in their 44-43 win at Hastings.