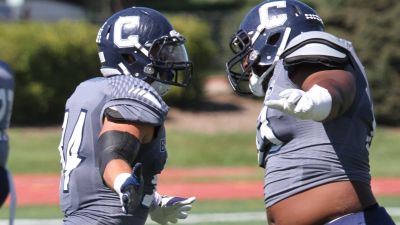 SEWARD, Neb. – For the second-straight year, All-American Trey Barnes has been awarded the distinction of honorary captain of the defense for the All-Nebraska football team, as selected by the Omaha World-Herald and announced on Christmas day. Barnes is one of seven Concordia players to appear on the All-Nebraska team.
Concordia All-Nebraska honorees are:
Trey Barnes, defensive line
Bryce Collins, running back
Jared Garcia, receiver
Michael Hedlund, linebacker
Ron Jackson, defensive line
D'Mauria Martin, defensive back
Tarence Roby, defensive back
Now a two-time All-American, Barnes collected first team all-conference accolades as both a defensive lineman and punter this fall. In his final collegiate season, Barnes totaled 68 tackles, 22 tackles for loss, nine sacks, two forced fumbles, an interception and a fumble return for a touchdown. He led the nation in stops in the backfield per game (2.2). As a punter, Barnes topped the conference with an average of 40.7. After the final week of the season, he was also named GPAC special teams player of the week after a career day punting the football.
Garcia made his second-straight appearance on the GPAC's first team this fall. He was a second team all-league choice as a freshman in 2014. This season the native of Pearland, Texas, posted career highs for catches (55) and receiving yards (825) while also grabbing 10 touchdown receptions. In 2016 Garcia became the program's all-time touchdown catches leader. Through three seasons as a Bulldog, Garcia has 140 receptions for 2,188 yards and 29 touchdowns.
Hedlund moved up the ranks to first team All-GPAC honors in 2016 after a second team all-conference honor as a junior in 2015. Hedlund led all GPAC players with 107 tackles this fall. It was the second-straight 100-tackle campaign for the O'Neill, Neb., native. Hedlund also picked off three passes this season. He concluded his career with a Winter-era high of 261 tackles. In addition, he recorded 11.5 tackles for loss and nine interceptions over his career.
An honorable mention All-GPAC choice in 2015, Martin landed on the first team this year. Martin teamed up with Roby, the corner opposite of him, to hold opposing offenses to an average of 182.6 passing yards per game in 2016. Martin, who hails from Converse, Texas, made 24 tackles, intercepted a pass and broke up seven throws in 2016. Roby, a Rockford, Ill., native, was named first team all-conference as a kick returner and second team All-GPAC as a defensive back. Roby recorded 39 tackles and five pass breakups. On kickoffs, he averaged 27.7 yards per return (11th best in the nation) while taking one kick 91 yards for a touchdown.
After first team All-GPAC honors as a sophomore and junior, running back Bryce Collins found his way onto the conference's second team offense in his final season. As a senior, the Boerne, Texas, native rushed 201 times for 881 yards and eight touchdowns while also catching 20 passes for 176 yards. His 3,547 career rushing yards rank second all-time in program history. His standout career also included 37 total touchdowns and 4,694 all-purpose yards over 40 games played.
A run stuffer up the middle, Jackson (Houston, Texas) notched 38 tackles, including 3.5 for loss, and forced a fumble. Jackson totaled 105 tackles (6.5 for loss) during his four collegiate seasons.
2016 All-Nebraska Football Team
Offense
QB: Jack Shadley Doane Jr.
RB: Nate Meier Doane Sr.
RB: Bryce Collins Concordia Sr.
WR: Jared Garcia Concordia Jr.
WR: Drew Klein Doane Jr.
TE: Ben Berreckman Doane Jr.
OL: Farao Maileoi Hastings So.
OL: Zach Reeves Doane Sr.
OL: Andrew Lorenz Midland Sr.
OL: Mark Nellis Hastings Sr.
OL: Mason McCann Peru State So.
Honorary captain: Nate Meier, Doane
Defense
DL: Trey Barnes Concordia Sr.
DL: Drew Krueger Doane Sr.
DL: Jordan Pelletier Doane Sr.
DL: Rashad Baker Peru State Sr.
DL: Ron Jackson Concordia Sr.
LB: Colten Mach Doane Sr.
LB: Michael Hedlund Concordia Sr.
DB: Cole Wiseman Doane Jr.
DB: D'Mauria Martin Concordia Jr.
DB: Lucas Schawang Midland Sr.
DB: Riley Shoemaker Neb. Wesleyan Sr.
Honorary captain: Trey Barnes, Concordia
Special Teams
K: Nick Giaffoglione Hastings Sr.
P: Ethan Renner Midland Sr.
KR: Tarence Roby Concordia Jr.
PR: Trey Carr Peru State So.