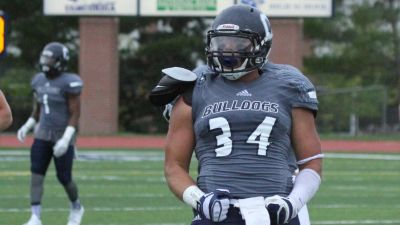 SEWARD, Neb. – For the second-straight year, the name Trey Barnes appears on the list of NAIA All-America football teams, as announced by the American Football Coaches Association on Tuesday (Dec. 13). A second team All-America selection as a junior in 2015, Barnes has moved up to the first team following his senior season. The Seward High School product is also a two-time first team All-GPAC choice.
This marks the fourth All-America honor in the past five seasons for the Concordia University football program. In addition to Barnes' two All-America awards, kicker Kenny Zoeller (2012) and Darnell Woods (2013) garnered All-America recognition in recent years. Barnes is the first Bulldog to be named either first/second team All-America in back-to-back years since tight end Ross Wurdeman in 2000 and 2001.
Barnes collected first team all-conference accolades as both a defensive lineman and punter this fall. In his final collegiate season, Barnes totaled 68 tackles, 22 tackles for loss, nine sacks, two forced fumbles, an interception and a fumble return for a touchdown. He led the nation in stops in the backfield per game (2.2). As a punter, Barnes topped the conference with an average of 40.7. After the final week of the season, he was also named GPAC special teams player of the week after a career day punting the football. One of his punts went a career long 75 yards.
For his career, Barnes totaled 165 tackles, 44.5 tackles for loss and 19 sacks. Barnes became a dominant defensive player after playing running back earlier in his collegiate career, which included 575 rushing yards, seven rushing touchdowns and 136 receiving yards.
Barnes and teammate Bryce Collins will be playing in this Saturday's D2 vs. NAIA Challenge all-star football game. The contest will kick off from Doug Shaw Stadium in Myrtle Beach, S.C., at 6:30 p.m. CT / 7:30 p.m. ET.
CONCORDIA FOOTBALL ALL-AMERICANS
2016 – Trey Barnes, defensive line (first team)
2015 – Trey Barnes, defensive line (second team)
2013 – Darnell Woods, safety (first team)
2012 – Derek Blessing, punt returner (first team – Beyond Sports Network)
2012 – Kenny Zoeller, kicker (first team)
2007 – JaMaine Lewis, running back (second team – Victory Sports Network)
2007 – Jeff Neujahr, kick/punt returner (honorable mention – Victory Sports Network)
2006 – Jeff Neujahr, kick/punt returner (honorable mention – Victory Sports Network)
2004 – Matthew Egger, punter
2002 – Sean Stewart, safety (second team)
2001 – Erik DeHaven, linebacker
2001 – Sean Stewart, safety (honorable mention)
2001 – Ross Wurdeman, tight end (first team)
2000 – Drew Ekart, defensive back (honorable mention)
2000 – Sean Stewart, safety (honorable mention)
2000 – Ross Wurdeman, tight end (first team)
1996 – Ed McLaughlin, offensive line (honorable mention)
1995 – Mike Hoernemann, linebacker (honorable mention)
1994 – Travis Soukup, tight end/punter (first team)
1984 – Kahlil King, safety (first team)
1984 – Cleve Wester, running back
1982 – Gary Pomerenke, defensive line (first team)
1981 – Gary Pomerenke, defensive line (second team)
1965 – Dennis Oetting, lineman (honorable mention)
1964 – Bob Oetting, lineman
1961 – Larry Oetting, lineman
1959 – John Suhr, quarterback/safety/punter
1956 – Gary Seevers, running back
1955 – Gary Seevers, running back