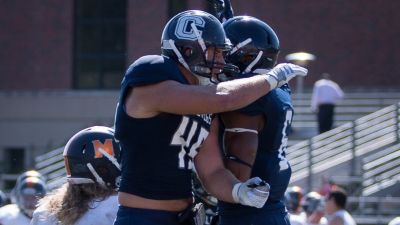 When Seth Fitzke blew out his ACL and his meniscus while reach blocking during a practice in the spring of 2016, it could have meant the end. His senior football season loomed just four months into the future. One option was to go all out in rehab and then make a triumphant return and help the Bulldogs make a push for a 2016 playoff berth.
The Seward High School product never did return to the field, deciding that graduation could wait a bit longer. He took a cue from Billy Madison … "Stay here. Stay as long as you can."
"I wasn't sure (if I was done playing)," Fitzke said. "There were a lot of unknowns about whether I could push it hard enough and possibly catch some of that upcoming season or if I would end up graduating. There was a lot of uncertainty at the time, but I knew I still wanted to play. I was going to rehab and get through it."
The 2016 Concordia football team's loss is the 2017 Concordia football team's gain. Missing from last year's offense was a certain tight end that excels at all aspects of the position. He punishes the opposition in the ground game. He can run routes and he can catch the football. There's a reason why Fitzke collected first team all-conference accolades as a junior in 2015.
The hometown standout is back for one final semester and one last hurrah as a Bulldog. There may be question marks about who will throw the football and who will carry it, but Fitzke's return will help settle an offense that will have a different look under the controls of first-year offensive coordinator Thomas Byrd.
"It's huge to have him back," said head coach Patrick Daberkow. "He's dynamic as a receiving threat and that changes things schematically for defenses. As good as he is at catching the ball and as big of a target as he is, he's just such a good perimeter and downhill blocker. We'll have a lot of different ways that we'll use him. What's great about him is he's all about what's best for the team."
Fitzke is comparable to his former Seward High and Concordia teammate Trey Barnes in the way that he has transformed his body as a collegiate athlete. At 6-foot-4 and built like a Nebraska Cottonwood, Fitzke is perhaps the team's most physically imposing presence.
The Kansas born Fitzke has had no problem adjusting to the increased intensity in the weight room that has been emphasized by Daberkow and strength and conditioning coordinator Todd Berner. Fitzke tipped the scales at 230 pounds when he entered his freshman year at Concordia. Since then he's added several pounds of muscle. His work ethic helped him essentially make a full recovery from major knee surgery in five months.
"He's lifted like crazy," Daberkow said. "He's always in the weight room. He has packed on a lot of good weight and he's done it without losing speed. It's a testament to what Todd Berner does with our guys in the weight room. Seth has really blossomed under Coach Berner."
By late last fall, Fitzke felt ready to return to the field. However, Fitzke and the coaches agreed that he would only burn his last season of eligibility if Concordia could put itself in the running for a NAIA playoff berth. Things didn't quite come together in that fashion.
Instead, Fitzke waited until this spring to put the pads back on. He's now fully healthy and chomping at the bit for a return to game action. It's good news for Concordia quarterbacks and ball carriers – not so good for the opposition. The year off even helped Fitzke improve his own understanding of the intricacies of college football.
"Watching the games I ended up picking up a lot more stuff than I thought I would," Fitzke said. "I focused on guys' stances and how they leaned towards the ball and what gaps they were going to. I would say the biggest advantage I have is how bad I want to play now. I really want to get back out there. I miss it a lot. Sitting there and watching a whole season is pretty rough."
Fitzke has the mentality of an old school, bring-your-lunch-pail type of football player. He talks about wanting to be a dominant blocker first and foremost. Fitzke's run blocking prowess will surely help a ground game that will need a boost with the loss of prolific running back Bryce Collins. Not even once did Fitzke talk about catching the ball in regards to his role. He can do that, too. He has 31 catches and four touchdowns in his career.
"If you can't block, you can't play," Fitzke said. "Being a dominant blocker is what we're stressing this year. There are a lot of single blocks in our offense. You have to beat the guy across from you. The run game is where us tight ends have to be dominant."
Fitzke says he and his offensive teammates went through an adjustment phase during spring ball. They had to learn Byrd's offense while getting accustomed to a new head coach. (Said Fitzke, "We wanted Coach Daberkow to be our new head coach. We were all psyched when we found out.") In Fitzke's case, his role will be largely the same as it was prior to his injury. He'll be the same do-it-all tight end capable of lining up all over the field.
Fitzke and receiver Jared Garcia will be a difficult tandem to handle in the passing game. Fitzke will give this year's team more of an ability to stretch defenses in the middle of the field. (An added bonus this season for Seth will be the opportunity to play with younger brother Brady, a transfer from the University of Nebraska-Kearney).
"We'll use him as a traditional tight end, we'll motion him around and we'll use him in a lot of different spots in our formations," Daberkow said. "It won't be unlike what he's done in the past. We're not trying to reinvent the wheel, but he does open up our playbook a little bit with some of the stuff that he can do."
One theme this offseason has been finishing. Finish in the weight room. Finish plays. Finish games. If all Bulldogs follow Fitzke as an example, Concordia football will be successful in 2017.