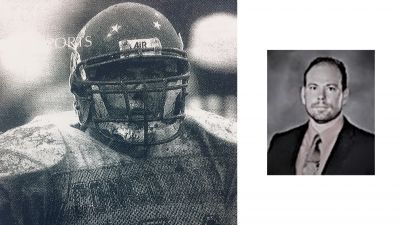 One of the most fearsome linebackers in school history, Erik DeHaven represents what Concordia University football is all about. DeHaven really made a name for himself as a college football player on a mud pit of a gridiron in Sioux Falls, South Dakota, in 2001. As DeHaven recalls, "I remember having one of the best games of my life" while the Bulldogs upset then eighth-ranked Sioux Falls.
During his youth and a collegiate career that led him into the Concordia Athletic Hall of Fame, DeHaven shook off dyslexia and two separate broken foot injuries.
As part of the induction ceremony of 2019 that honored DeHaven, former defensive coordinator Tim Pruess did the honors of accepting the Hall of Fame award on his star linebacker's behalf. Said Preuss, "I love Erik DeHaven for a lot of reasons. One reason I love him is he's an overcomer and that was inspiring to me as his coach. Erik was a great competitor. He's a strong leader and one of the things that made him a strong leader was that he was one of the most enthusiastic encouragers of his teammates that I've ever been around. He made everyone on the team better."
DeHaven has used his leadership abilities in his vocation as a coach. Hired as the head football coach at The John Cooper School in The Woodlands, Texas, in January 2019, DeHaven began his coaching career as a graduate assistant at Concordia following his playing career. What a career it was. The native of Mesa, Ariz., garnered first team all-conference accolades for the celebrated 2001 squad that shared the GPAC title and reached the quarterfinals of the NAIA playoffs.
Because of his coaching duties, DeHaven was not present for the Hall of Fame ceremony and thus provided a video recording of his speech. Much of it centered upon the special nature of his relationship to Concordia. Said DeHaven, "Being a Bulldog is something very special to me. It's something very special to my friends. It is a true family. The ultimate love people shared throughout the years to make me not only a football player – but the man I am today – is something I can't pay back."
DeHaven joined other individuals from the 2001 team in the Concordia Athletic Hall of Fame such as tight end Ross Wurdeman and safety Sean Stewart. A story leading up to the 2001 home playoff game versus St. Ambrose detailed DeHaven's vast skillset. Wrote the Lincoln Journal Star, "The middle linebacker can stop the run, rush the quarterback and provide assistance in the passing game." In a 28-14 homecoming win over Northwestern, DeHaven piled up 24 tackles in another of his signature efforts. The Bulldogs moved to 5-0 at the time and eventually to 8-0 before finally suffering their first defeat of '01.
DeHaven even admitted that he counted his own tackles. He reasoned that it served as a personal motivator each time out. Games like that 17-14 slugfest of a victory over Sioux Falls epitomized football the way that DeHaven liked to play it. Said DeHaven, "It was a mud bowl and it was physical and it was everything you wanted that was right in the game."
Those who coached DeHaven or played alongside him are likely not surprised by the success he's had in his professional career. John Cooper went 7-2 in his first season as head coach following strong runs at two other Texas high schools. He also previously served as the head coach at St. Pius X High School and Lutheran High North as well as the defensive coordinator at three different stops.
DeHaven explained his philosophy as a coach with The Courier of Montgomery County Texas in saying, "I would definitely say I'm more of a players' coach. I try to establish those relationships with the players because that's the base of everything. Once you establish those relationships, the young men will start trusting you. Once there's trust, they start performing on the field. So that's a big deal – being able to create those relationships."
DeHaven moved to the hotbed of America for high school football, but he won't forget about the things that led up to this point. In the past he has returned to Nebraska for the Bulldog Golf Classic and has nothing but glowing remarks for those who coached him. He lauded Courtney Meyer for teaching him about winning on and off the field, praised Bill McAllister (former offensive coordinator) for his ability to recruit and build relationships and said Preuss was someone he "wanted to run through a wall for."
DeHaven graduated from Concordia with a B.S. in business administration. He also earned a B.A. in physical education from Concordia in 2005. He has a wife named Alex, whom he got engaged to at a football game – because of course.
Not long ago, DeHaven was interviewed by a source called Vype Media and discussed his approach to coaching during the current world situation. DeHaven used the words "faith over fear" as part of the exchange. Such faith grew mightily during his time as a Bulldog.
Said DeHaven, "Concordia University is one of the greatest places on this Earth. It allowed me to create a relationship with my Lord and savior. It's something I did not have before. I know that's why God led me to that university."