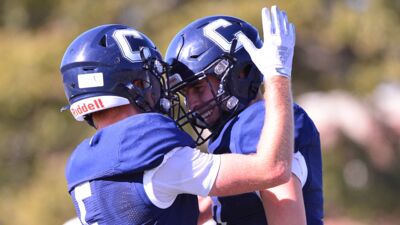 SIOUX CITY, Iowa – All phases played a role as the Concordia University Football team aced its final road test of the 2022 season. A balanced Bulldog offense piled up 538 total yards and the defense held the opposition off the scoreboard in the second half as Concordia rolled to a 45-10 win over Briar Cliff on Saturday (Nov. 5). As part of the victory, DJ McGarvie and Korrell Koehlmoos became new program single season record holders.
Head Coach Patrick Daberkow's squad picked up its second GPAC road win this season and moved to 4-5 (4-5 GPAC) with one game to go.
"It was a team effort," Daberkow said. "We wanted to play a crisp and a clean game. I don't know if we could define it entirely that way, but I was proud of the performance start to finish. Our o-line just played well today. When those guys are playing the way they did today, you can move the ball pretty easy. We're definitely looking forward to the future of this group. We're excited for the opportunity next Saturday."
A competitive first quarter (Concordia led 7-3 after 15 minutes) gave way to a blowout as the Bulldog offense got rolling. The fullback Brandon Vega found the end zone from one and three yards out for the first two touchdowns of the game. Concordia added to the advantage thanks to a Devin Zeigler six-yard touchdown rush, McGarvie scoring tosses of 23 and 15 yards to Koehlmoos and a Mark Arp eight-yard touchdown rush. Ty Harold also drilled a 34-yard field goal as time expired in the first half. The Bulldogs scored the game's final 31 points.
Five scoring drives covered at least 60 yards on a day when Concordia moved the ball seemingly at will. The Bulldogs passed for 274 yards and ran for 264 while averaging 6.2 yards per play and holding the ball for more than 34 minutes in time of possession. McGarvie completed 26-of-38 passes and threw for 274 yards and two touchdowns. His season passing total of 2,235 yards broke the former school record of 2,178 yards by Jarrod Pimentel. McGarvie threw 15 times to Koehlmoos for 163 yards. Koehlmoos' 989 receiving yards broke the program's previous standard of 951 yards by Clarence Woods.
Said Daberkow, "It's awesome to see because they're both selfless players. They all put so much into it and it's good to see them celebrating each other's success."
While the passing game has stood out as the most prolific in school history, the running game enjoyed its best day of the season on Saturday. Arp (130) and Zeigler (102) both went over 100 yards and found the end zone once apiece. Zeigler has twice rushed for 100 yards this season. Meanwhile, Austin Jablonski chipped in with 20 rushing yards.
As for the defense, it barely allowed the Chargers to breath in the second half. The unit got 1.5 sacks from Kyle Sterup and a sack apiece from Stephen Hughes and Devon Polley. In the final two minutes of the first half, Isiaha Conner and Nick Leader both came away with an interception. The pick by Leader (who returned it 27 yards) led to Harold's field goal leading into halftime. Once again, linebacker Michael Grindey paced the team in tackles. He made eight stops. Both Leader and Kam Baker forced a fumble.
Briar Cliff (1-9, 1-8 GPAC) managed 285 total yards with 152 coming through the air. Quarterback Luke Davies went 12-for-25 for 121 yards and a touchdown. The Chargers got their one touchdown on Davies' 32-yard pass to Kobe Johnson in the middle of the second quarter. Brett Tinker paced the Briar Cliff defense with 14 tackles.
The Bulldogs will put a bow on the 2022 season next Saturday (Nov. 12) when they host top-ranked Morningside (9-0, 9-0 GPAC) at 1 p.m. CT. Prior to kickoff, Concordia will honor its senior class. The most recent series win for the Bulldogs came in 2003 when they defeated the Mustangs, 34-19, in Seward.