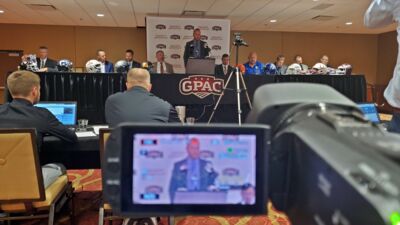 The 2018 and 2019 recruiting classes brought in by Patrick Daberkow and his staff are entrenched as the backbone of the 2021 team. Many key components of the depth chart have two or three years of experience as starters or integral role players – or four years of starting experience in the case of All-American linebacker Lane Napier. Since the Bulldogs finished 6-4 overall in 2017, the program has been in the process of a gradual rebuild with an eye on constructing a foundation of consistency. The offensive side of the ball continues to attempt to catch up with a defense that has been sound and reliable. Concordia hit the .500 mark (4-4) in a shortened 2020 campaign. There are a total of 16 starters returning (eight on offense, eight on defense), so naturally, the expectation for Concordia is a winning season.
Offense
A new year means another new starter at quarterback. In previous seasons, that position has primarily been filled by the likes of Blake Culbert (2020), Jake Kemp (2019), Andrew Perea (2018) and Riley Wiltfong (2017), respectively. Former Centennial High School state championship signal caller Wyatt Ehlers enters the picture after seeing time in 11 games over the past two seasons. Offensive Coordinator Reggie Corbin hopes to take advantage of the athleticism of Ehlers, who can make plays with his legs. Ehlers has the advantage heading into August camp as the lone QB with college experience.
Ideally, the Bulldogs will be able to pound the football on the strength of first team All-GPAC running back Jonah Weyand and an offensive line returning four starters, including all-conference performers in center Johnny Robinson III (three-year starter) and guard Christian Schlepp. The rest of the line could feature additional returning starters in guard Keegan Hornung and tackle Gavin Mull. The staff also really likes the way sophomore Kaden Peters has developed. Peters projects to be a strong left tackle. Up and comers include Jarryd Doucet, Cam Roulston and Tyler Walford. Collectively, the offensive line would like to see more outbursts in the running game like weeks one and two of last season when Weyand racked up a combined 346 yards and seven touchdowns. In relief of Weyand, Lyle Whitney and Devin Zeigler each saw action last season. Whitney ran for 260 yards and a touchdown.
The receiver core has a veteran look to it as Art Anderson, Cayden Beran and Korrell Koehlmoos return in 2021. All three have recorded multiple 100-yard receiving games in their careers. Statistically, Koehlmoos has a chance to go down as one of the top pass catchers in program history. His career totals stand at 91 receptions for 1,399 yards and eight touchdowns. At tight end, Garrett Schardt is arguably the GPAC's best, if not one of the best in the entire NAIA. Schardt earned first team All-GPAC honors while catching 25 passes for 430 yards last season.
As an offense, Concordia went from 2019 averages of 280.2 yards and 15.6 points per game to comparative figures of 351.4 yards and 21.9 points. A similar rate of increase in 2021 would provide a big boost to the team's chances on the scoreboard.
Defense
The big news here is that Lane Napier is back for a fifth year. Despite battling injuries last season, Napier moved past 400 career tackles and was named a second team All-American and a first team All-GPAC selection (fourth-straight year). He's the clear leader of a defense that limited opponents to 25.4 points per game in 2020. Eight starters return on a defensive unit that should be better overall than it was last fall.
Defensive Coordinator Corby Osten has hopes of making strides up front. Returners Karson Dickson, Eric Kieper Jr. and Payton Stevens possess the most experience. A transfer from NCAA Division II Northwest Missouri State, Dickson has the potential to be a disruptive force off the edge while Stevens is a steady performer who will have an opportunity to start at another end spot. Osten is high on the incoming class of defensive linemen and believes newcomers will compete for playing time. Jordan Kavulak and Carson Stauffer are making a push. The goal is to keep blockers off of Napier, who could eclipse 500 career tackles.
The linebacker crew will be experienced with Napier being joined by the likes of Shayne Campbell, Caydren Cox and Jorge Ochoa. All four players have starting experience. Campbell's role increased last season and he took advantage by making 42 stops (tied for second on the team). Logan Kreizel will be in his second season as a linebacker since making the switch from the offensive side of the ball.
Most of the two-deep returns in the secondary. Safety Peyton Mitchell is the most heralded having garnered second team All-GPAC honors in each of the past two seasons. Mitchell will have a new safety alongside him with Kamren Baker appearing to be a frontrunner. At corner, there will be competition between Jayzen Armstrong, Isiaha Conner, Blake Sears, Jourdhin Smith and others. Opposing quarterbacks threw for only 11 touchdowns last season on the Bulldog secondary.
The three GPAC teams that qualified for the NAIA playoffs last season all employed elite offenses. In other words, Concordia will be put to the test throughout conference play. The Bulldogs would like to cut down on the 384.2 yards per game they allowed in 2020.
Specialists
Last year's specialists – kicker Jordan Spilinek (injury) and punter Lane Castaneda (graduated) – will have to be replaced. Spilinek went 6-for-10 on field goals and 18-for-20 on PATs last season. Dan Cantu and Jorre Luther could potentially share kicking duties. The punter position is up for grabs (the battle could include as many as four competitors). Receiver Korrell Koehlmoos can make plays in the kick return game (589 kick return yards last season). Defensive back Jourdhin Smith handled most of the punt return duties last season, but Carson Core could take on that role this fall. On the flip side, the Bulldogs expect to have solid coverage units once again. Toby Hager is back as the long snapper.