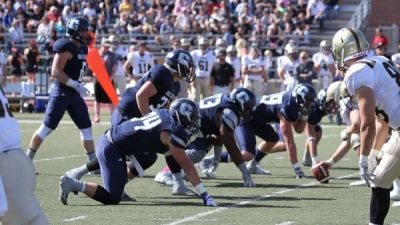 2014 Concordia football schedule announced
SEWARD, Neb. – The Concordia University football team will kick off the 2014 season on Sept. 6 at Sterling College (Kan.) as part of an 11-game schedule announced on Thursday. Other highlights include the home opener against Midland on Sept. 20 and the homecoming game versus Dordt on Oct. 4.
In nonconference action, the Bulldogs will also take on head coach Vance Winter's alma mater, Dakota State University, for the fourth-straight year. The Trojans will visit Seward on Sept. 27 – one of five home dates on the slate.
Sterling will provide a stiff opening test. The Warriors went 9-3, won the Kansas Collegiate Athletic Conference and advanced to the NAIA Football Championship Series last season. Concordia has not played Sterling since 2001 when the two teams met in Sterling, Kan., in the season opener. The Bulldogs won 21-10 and went on to pile up a school record 10 wins under then head coach Courtney Meyer.
Concordia's 11 opponents went a combined 61-58 (.513) in 2013. Among those foes, Morningside (11-2) produced the top record. Dordt (2-9) finished with the lowest win percentage. Six of the 11 put up marks of .500 or better and three reached the NAIA playoffs.
In addition to being the first game of the season at Bulldog Stadium, the Sept. 20 battle has been tabbed fan appreciation day. Parent's day will be celebrated on Oct. 18 (Northwestern) and senior day will take place on Nov. 8 (Dakota Wesleyan).
Three of the season's opening four games will have 6 p.m. start times, including the first two home games. Eight of 11 games will kick off at 1 p.m.
The Bulldogs begin spring practice on Monday, March 31. The team will hold a practice open to the public at 7 p.m. on Friday, April 25 inside Bulldog Stadium.
2014 schedule
(2013 record in parentheses)
Sept. 6 – at Sterling (9-3), 6 p.m.
Sept. 13 – at Hastings (2-8), 1 p.m.
Sept. 20 – vs. Midland (4-6), 6 p.m. (Fan Appreciation)
Sept. 27 – vs. Dakota State (2-8), 6 p.m.
Oct. 4 – vs. Dordt (2-9), 1 p.m. (Homecoming)
Oct. 11 – at Nebraska Wesleyan (6-4), 1 p.m.
Oct. 18 vs. Northwestern (8-3), 1 p.m. (Parent's Day)
Oct. 25 – at Doane (5-5), 1 p.m.
Nov. 1 – at Morningside (11-2), 1 p.m.
Nov. 8 – vs. Dakota Wesleyan (8-3), 1 p.m. (Senior Day)
Nov. 15 – at Briar Cliff (4-7), 1 p.m.