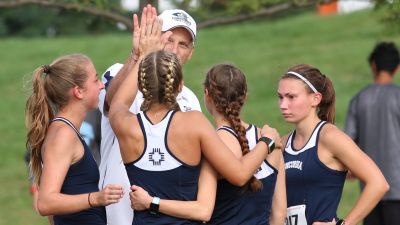 SEWARD, Neb. – The Concordia University women's cross country squad has made a giant leap on the national landscape. For the first time since 2015, the program has cracked the NAIA Women's Cross Country Coaches' Top 25 Poll. The Bulldogs checked in at No. 17 in the ranking released on Thursday (Oct. 3). It also marks the highest ranking for the program since September 2012.
The poll carries significant meaning due to its impact on national championship bids. Head coach Matt Beisel's squad received votes in the previous NAIA poll that came out on Sept. 19. Concordia impressed the voters by winning last week's Dean White Invite. Led by GPAC Runner of the Week Rebekah Hinrichs, the Bulldogs outpaced previously 11th-ranked Dordt (now ranked No. 20) and NCAA Division II University of Nebraska-Kearney. That performance pushed Concordia to No. 1 in the GPAC poll and marked the first meet win for the program since 2011.
The Bulldog women's cross country team still has yet to be beaten by an NAIA opponent this season. It placed eighth out of 25 squads at the Augustana Twilight on Sept. 6, second out of 11 teams at the Hastings Invite on Sept. 24 and first out of nine schools at the Dean White Invite on Sept. 28. Concordia has had a different No. 1 runner at each meet – Amie Martin (Augustana Twilight), Kylahn Heritage (Hastings Invite) and Hinrichs (Dean White Invite).
From the 1994 through 2009 seasons, Bulldog women's cross country finished in the top 20 nationally each year. The 2011 squad is the last to qualify as a team for the NAIA national meet.
Beisel's cross country teams will return to action this Saturday (10 a.m. CT) at the Briar Cliff Invite held at Adams Nature Preserve in North Sioux City, S.D.