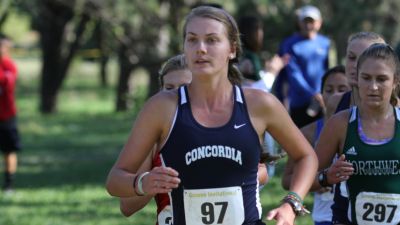 Concordia women's cross country has again become a mainstay among the NAIA's top-ranked squads. The 2015 Bulldogs have made six appearances in the national poll, and they've done it in a manner atypical compared to the 17 women's teams head coach Kregg Einspahr has steered to top 25 NAIA finishes during his first 23 years at the helm of the program.
At its most recent outing, the Mount Marty Invite on Oct. 24, Concordia's top four placers consisted of three runners who did not compete in a single high school cross country meet. Two of the three began their Bulldog careers as volleyball players and the other was known much more for her prowess in middle distances on the track.
"I would say it is fairly unusual," Einspahr said of the make-up of his group of frontrunners. "I can't think of a team that was as good as this one that had three of the top five or six that did not run cross country in high school. Most of the national runner-up teams or top 10 women's teams that we've had were made up of girls that ran cross country in high school."
Senior Kim Wood, a 2014 cross country all-GPAC performer and 1,000-meter All-American, is the ring leader. She may not have hit the trails at Greeley-Wolbach High School, but she's now one of the GPAC's top runners. Meanwhile, sophomores Beth Rasmussen and Jordyn Sturms traded in volleyball spandex for running shoes.
The transition has been impressively smooth for all three. For Wood it wasn't just about getting accustomed to 50 to 60 mile weeks, it was learning how to compete from a mental standpoint. She's cleared that hurdle and has been the team's top runner in three of four meets this season.
"Running is a very mental sport and keeping a competitive mentality has been my biggest challenge in cross country," Wood said. "Both having confidence in my ability and keeping competitive have had a huge impact in my race performance throughout the last four years. Learning to have confidence and to be tough on the course has helped me out as a competitive runner and has shown in the last year."
Einspahr realized early on that Wood had the ability to be his team's No. 1 runner. Owner of numerous coach of the year awards, Einspahr sought Wood as both a track and cross country athlete out of high school.
"I don't know if she knew right away or not, but I did," Einspahr said. "I had my suspicions that we could try her in longer distances. That certainly worked for her. A lot of it is mental. In Kim's case it's taken a little while for her to be able to focus for that long of a race. That's a process. That doesn't happen overnight."
Sturms, a native of Parker, Colo., got recruited along with Rasmussen by Concordia head volleyball coach Scott Mattera. Sturms has been an especially quick adapter, placing 24th in the conference last season in her first year competing in cross country. This past week, the 5-foot-10 long strider finished 12th out of 145 runners at the Mount Marty Invite. In the same 5K race, Rasmussen placed 39th, fourth among Bulldogs.
Because they both made similar transitions from volleyball to cross country after arriving in the same recruiting class, Sturms and Rasmussen share a bond that's helped both become better runners.
"Beth has been my closest friend since freshman year," Sturms said. "We've been through a lot together especially with us both making the switch. She is the one I lean on during those days that are just physically and mentally tough. It's tough love: She has pushed me and helped me to grow through these years. I would not be who I am today without her."
Close bonds and a can-do attitude have been key to Concordia's successful group of frontrunners, which also includes standout sophomore Emily Sievert. The team's attitude can be summed up by Wood, who might actually run off a cliff if instructed to do so. "Whatever Coach says, I'll run," says the Greeley native
There is precedent for what the likes of Rasmussen, Sturms and Wood have done. Former star Bulldog runner Zach Meineke captured a pair of GPAC titles despite not having run high school cross country. Says Einspahr, "We've had a lot of success with it. Typically if you find good athletes you can turn them into good runners."
Wood has set a positive example for Rasmussen and Sturms. In turn, Wood has taken notice of how her two teammates have risen near the top of the Bulldog heap.
"Beth and Jordyn both have incredibly competitive spirits and I think this has been a firm foundation of success for the two of them," Wood said. "Anyone can run, but not everyone can run fast. Their competitive mentality translates into mental toughness which is a formula for success in cross country."
A run to the national championships would be particularly satisfying for a group that did not necessarily have that expectation placed upon it prior to the season. Einspahr believes the Bulldogs will need to outpace both No. 19 Doane and No. 23 Morningside at the GPAC championships on Nov. 7 to have a shot at an invitation to the national stage. It's doable. Concordia finished ahead of Morningside and just five points behind Doane at the Briar Cliff Invite on Oct. 10.
Considering the progress made in just a short time by the Bulldogs, it would be foolish to count them out. Already proud to be part of the team, Sturms would be elated to help Concordia to the national championships.
"I think it would be amazing," Sturms said. "It's a special, hard working group of girls. Coach believes in us and the team has such drive. It would be an amazing accomplishment and opportunity. We've been training hard and improving. It'd be a great way to end the season."
Sturms and company have just over a week to prep for the GPAC championships set to be hosted by Doane College on Nov. 7.