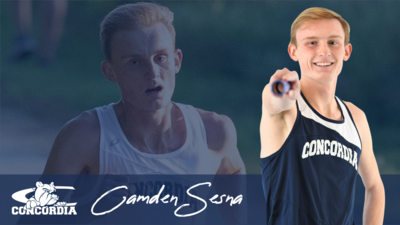 When he arrived on campus, Camden Sesna immediately established himself as one of the top runners in the Concordia Cross Country program. That doesn't mean everything has been easy for the native of Kearney, Neb. In his second season as a Bulldog – the fall of 2020 – Sesna burnt out late in the campaign while struggling through an injury. Perhaps most frustrating, Sesna had seemingly lost track of why it is he puts himself through grueling training sessions and 60-mile weeks.
With Sesna nowhere near 100 percent for the 2020 GPAC Championship meet, the season came to a disappointing conclusion. Sesna was being tested both physically and mentally.
"When I got injured during cross last year it was a really tough time for me," Sesna said. "I was really happy with where things were at and where things were going and then all of a sudden it got to the point where I couldn't run anymore. We took it super light. During that time, I realized I turned running into something I wasn't doing for enjoyment. I was doing it for success. When I got hurt, I realized later it was like a slap in the face from God. 'Wake up. You need to get back on track where I need you to be.' I just really committed myself to enjoying running and enjoying my everyday life and doing it for God."
A year later, Sesna finds himself in a much better position. He's enjoying a special 2021 season that has resulted in two GPAC Cross Country Runner of the Week awards and placement as the team's top runner at all four meets. This fall, he's sped to the fastest 8k races of his life, clocking times of 25:39 at the Morningside Invite and 25:55 at the Mount Marty Invite. In that most recent outing at the Mount Marty Invite, Sesna again proved he's right there with the top runners in the conference.
Sesna referred to his performance last week in Yankton, S.D., as his top moment personally this season. It's no small task to hang tight with the many standouts for rival Dordt. Sesna's confidence has soared with him claiming top 10 individual finishes in each of the past three meets. His runner-up finish at the Morningside Invite spurred Concordia to a team championship and a late-night bell ringing session inside Bulldog Stadium.
Says Sesna, "This year, every day I'm showing up to practice and instead of looking at a workout like 'oh, man, this is going to be tough,' I'm looking at it as a chance to get better. This team makes it so easy to have fun too. They're just a great group of guys. It's a real loose atmosphere. It's so great to show up to practice every day when you can be yourself and have a good time. No one's going to judge you."
Head Coach Matt Beisel is certainly thankful the high school version of Sesna filled out a recruiting questionnaire after learning about Concordia through a friend. Beisel and Sesna began regular contact and Sesna pledged his committed to the Bulldogs while a high school senior at Kearney Catholic. Recalls Sesna, "My senior year when I stepped foot on campus I just knew. I had this feeling that this was where God wants me."
God also put Sesna in position to take on a leadership role. It's natural that the top runner on a team would be someone others would look up to. Sesna is grown comfortable being in that role. He possesses an engaging personality and a willingness to help lift up his teammates.
Says Beisel, "He has that ideal combination as someone who has credibility from his accomplishments athletically but is also someone who is relational and who cares about the other people on the team more than himself. He makes an effort to help, assist and serve other people. That's Camden in a nutshell. He's a tremendous, natural leader, and he loves this team. He's not afraid to come and talk to me about issues that come up. He was also a big part of planning preseason camp. He was just nominated overwhelmingly as the team captain for the distance and middle-distance crew this week."
Sesna got his legs back underneath him this past indoor and outdoor track season. That's really when he got over the hump and shook off the injury that prevented him from a strong cross country finish last fall. Some track highlights included Sesna qualifying for the 2021 NAIA indoor national meet as part of the distance medley relay and then achieving a GPAC outdoor runner-up finish in the 3,000-meter steeplechase. This really is just a start for Sesna, who is training with hopes of earning a bid to the cross country national meet.
Off the trails, Sesna also shows a sense of humor, as evidenced by when he wore a "chicken legs" t-shirt to a preseason photoshoot. In addition, he smiles when thinking about how he used to aspire to be a football star. Slightly built, Sesna wasn't exactly made out for taking hits from linebackers. Cross country provides a different type of mental and physical challenge.
Said Sesna, "I had it set in my mind, 'Man, I want to play football.' Of course being a small, skinny guy, it changes your mind pretty quickly when you get hit hard a couple times … It is a lot of hard work (training for distance), but it's definitely a testament to the sport we do. It's really difficult whether people realize it or not."
Sesna's accomplishments, his work ethic and the way he carries himself have earned him plenty of respect within the team. Sesna's caring personality has made it easy for his teammates to embrace him as he continues to be the lead Dawg.
"My teammates give me great support," Sesna said. "Last week we didn't have the best day because of the training we've been doing. My teammates came up to me and asked my time and wondered how I did it. They're always there to support me and I'm always there to support them. The whole team atmosphere we've built is not about individual success but when there is individual success, it's celebrated across the board."
Sesna will put his trust in his training as he preps for next week's conference championship meet. His process for keeping his mind at ease is to not giving upcoming races a whole lot of thought. Sesna will get dialed in mentally when Saturday, Nov. 6 arrives. On that day, he'll stride those ably developed and strengthened chicken legs around the GPAC championship course in Orange City, Iowa.
Said Beisel, "I think he's gained a lot of confidence about what his capabilities are and he feels good. He hasn't reached a point this fall where he's been burnt out or beat up. He has a great desire to make it to nationals. That's something that's been burning in him, and he knows what he has to do to get there. We want the whole team to get there, but he also wants to take care of business on his own end."
As Sesna has learned, as long as he continues to enjoy the journey, the results will take care of themselves.