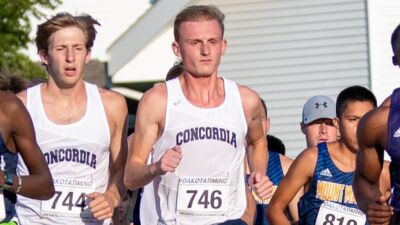 SEWARD, Neb. – For the second time in three weeks, Concordia University's Camden Sesna has been chosen as the GPAC/Hauff Mid-America Sports Men's Cross Country Runner of the Week. Sesna was recognized with the award on Wednesday (Oct. 6) for his performance at last week's Briar Cliff Invitational. He garnered the same honor on Sept. 22.
At the Briar Cliff Invite that took place on Oct. 1, Sesna placed ninth overall (out of 133 runners) while outrunning all other GPAC and NAIA competitors at the meet. Sesna's 8k time of 26:03.30 was the fastest of any GPAC runner this past weekend. Two weeks earlier on the same course, Adams Nature Preserve in North Sioux City, S.D., Sesna clocked in at 25:39.16 and placed as the runner up at the Morningside Invitational. In the other outing this season, Sesna ran a four-mile time of 20:44.53 at the Augustana Twilight on Sept. 3.
Sesna is the first Bulldog male cross country runner to garner GPAC Runner of the Week honors twice in a span of three weeks since Ben Sievert accomplished that feat in 2013. Sievert was a five-time GPAC Runner of the Week during his successful career.
Sesna and his teammates will return to action at the Mount Marty Invite in Yankton, S.D., on Oct. 23. The GPAC Championships are coming up on Nov. 6.