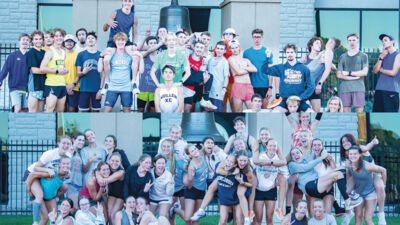 Momentum has been building within the Concordia Cross Country programs as evidenced by both squads placing inside the top three of the GPAC last season while sending representatives to the 2022 NAIA Cross Country National Championships. Both the men's and women's teams graduated just one major impact performer this past May, meaning the cupboard is fully stocked. Entering his eighth season leading his alma mater, Head Coach Matt Beisel has put together the largest cross country roster of his tenure. More than 60 Bulldogs reported to campus a week prior to the start of classes.
GPAC coaches pegged the Concordia men and women at No. 2 in the conference preseason poll. Naturally, expectations are high for Beisel and the distance crews. As temperatures soared above 100 degrees throughout the first week of school, the Bulldogs found creative ways to beat the heat while preparing for the season opening meet on Sept. 1.
"It's the first time I've ever had to do 5:30 a.m. practices because it was like 101 in the afternoons every day, but we got a lot of good work done," Beisel said. "We have 24 new freshmen distance runners and we now have a roster of 63. All of those freshmen have come in and melded into the group. They're great people. The team chemistry is phenomenal, and you need that. From a performance standpoint, we did a 1,600 time trial the first week of preseason. Never in my time coaching here have I had so many people running very, very good times. It blew my mind and got everyone super excited."

Men's Outlook
Head Coach: Matt Beisel (8th year)
2022 Finish: 2nd in GPAC
Key Returners: Jack Ellis; Thomas Gorline; Charlie Hayden; Aaron Jendro; Trevor Kuncl; Nathan Pennekamp; Calvin Rohde.
Key Loss: Camden Sesna.

The second place GPAC claim in 2022 marked the highest conference finish for the men's program since it captured the GPAC title in 2012. In order to achieve such glory this fall, the Bulldogs will have to dethrone defending national champion Dordt. That's certainly not the focus during preseason for Concordia, which is rallying behind the theme of "be where your feet are." Past national qualifier Calvin Rohde will set the pace for the Bulldogs, who are determined to get back to the national stage as a team qualifier.
The Bulldogs will surely miss Camden Sesna, a two-time cross country national qualifier, but they believe they can overcome his graduation with combined improvement of returners and with an influx of freshmen talent.
"It's the largest men's roster I've ever had," Beisel said. "There is a lot of talent. There's some good stuff about to happen and we don't know quite how it's going to shake out. Camden definitely was a loss. He was a team captain for two years. He is a phenomenal young man. Calvin Rohde is running fantastic. He had a great track season. He's our team captain this year and he's our top runner. He's running really well. Then you look at Trevor Kuncl, who had a little health stuff going on fall of his freshman year. He was a state champion in cross country. We have that figured out, and he really blossomed during the spring. He has shown no signs of slowing down. He was literally right with Calvin in our time trial. In addition to Calvin and Trevor, we have six returners who were all impact players at the conference level in track and field this spring. Then we have probably the strongest freshman class of boys I've ever had come in."
A Reed City, Mich., native, Rohde carries the added motivation of having narrowly missed out on a spot at nationals a year ago. It was really the only downer for Rohde, a two-time All-GPAC award winner and captain of the current squad. Rohde is joined on the 2023 roster by eight holdovers who competed at last season's GPAC meet (as listed below). The group includes the likes of Jack Ellis, Aaron Jendro, Charlie Hayden, Nathan Pennekamp, Trevor Kuncl, Thomas Gorline and Micah Willweber. It's a group that understands what it's like to compete at the top of the conference.
Returners from 2022 GPAC Championships (with GPAC placement)
14. Calvin Rohde
18. Jack Ellis
29. Aaron Jendro
33. Charlie Hayden
37. Nathan Pennekamp
40. Trevor Kuncl
45. Thomas Gorline
46. Micah Willweber
Says Rohde, "One of our goals is second or better in the GPAC. We were second place and one point from third last year. Dordt won the national meet, which was very impressive for them and also kind of encouraging for us to know that it was the only team that beat us (in conference). Dordt will be a force again for sure. We'll be gunning for them."
Concordia is also gunning for the NAIA top 25. The lack of votes in the preseason national poll won't deter the Bulldogs. It simply means they have something to prove in order to earn the program's first at-large bid to nationals since 2013. The group of freshmen will help make that possible. Potential impact newcomers include Aidan Limback, Colin Pinneo, Trey Robertson and Justin Sherman, among others. Aidan is the nephew of Concordia men's basketball coach Ben Limback.
It's fair to say the quality of depth in the program has been enhanced – and that's after the Bulldogs placed inside the top three of the team standings at each of their final four outings of 2022. Soon Concordia will find out just how much better it has gotten. The results last season changed the game and made this a more confident group.
"I think last year was a huge breakthrough for our guys' mentality," Beisel said. "To get second in the GPAC is huge. It's a tough conference. I think our guys are hungry. They're tired of playing second fiddle. They're doing everything they can. Great team mentality. I think we're going to see some cool things happen. The ultimate goal this year is we really want our men's team to perform well enough to win or get second in conference and run well enough that we are nationally ranked so we can go to nationals. That would be very cool."
Added Rohde, "All in all, last year was a pretty good year for me and for the team. I got faster. I ran well, except at the GPAC meet when I underperformed and didn't qualify for nationals, but the team got second. It was kind of a weird mix of good and bad things that happened. That individual performance is definitely motivating me for GPAC and for the whole year. It's motivating me to perform and be mentally strong, whether I'm feeling good or not."

Women's Outlook
Head Coach: Matt Beisel (8th year)
2022 Finishes: 3rd in GPAC; 27th in NAIA
Key Returners: Hannah Beintema; Keegan Beisel; Kylahn Freiberg; Rylee Haecker; Rhaya Kaschinske; Julie McIntyre; Faith Williamson.
Key Loss: Amie Martin.

The women's program has qualified for nationals as a team in two of the previous four seasons and carries a No. 23 NAIA national ranking into the 2023 campaign. Considering the talent and depth that returned to campus this August, the Bulldogs believe they have a team that can rival the 2019 Concordia squad that placed 12th in the nation. That particular team had Kylahn Freiberg (maiden name Heritage) leading the way at the top of the pack. The expectation for this group is that it will be planning a trip to Fort Vancouver, Wash., come mid-November.
Beisel is capable of going on at length about his team's depth. Concordia brings back six of the seven competitors who ran at the 2022 national meet and welcomes back nine of the 10 Bulldogs who took to the course at the 2022 GPAC meet.
"I'm very optimistic," Beisel said. "We lost Amie Martin – she had a great career for us. At the same time, Kylahn Freiberg made the decision to come back for her fifth year and use her 'COVID' eligibility, which is gigantic. Rylee Haecker, who had such a great track season, is in her final year. Julie McIntyre, a transfer, had a great year and a breakout year in track. She's back and doing well. My daughter Keegan ran exceptionally well and made our 4x8 at nationals and also ran 18:37 in the 5k on the track. She's doing great. Hannah Beintema is right there with Keegan. Rhaya Kashinske is running fantastic. Then you add Keeli Green from Arlington. She's showing huge early promise, which we knew she would. Then you have Alayna Vargas, who is also running well. Both of those freshmen girls are state champions and state runners up – great competitors. Then there are a whole bunch of other girls that are really good. It sure is fun."
Below is a breakdown of the top returners, in terms of their GPAC placements from 2022. Freiberg has placed as high as 33rd at the national meet and is capable of achieving All-America status. The Nampa, Idaho, native clocked in at 18:34.7 at the 2022 national meet held in Tallahassee, Fla. This past fall, Freiberg, McIntyre and Haecker all collected all-conference awards thanks to top 15 finishes at the GPAC championships hosted in frigid Jamestown, N.D. Haecker is an eight-time NAIA All-American in track and field. The list of returners from the 2022 national meet also includes Beintema, Kaschinske and Beisel.
Returners from 2022 GPAC Championships (with GPAC placement)
8. Kylahn Freiberg (NAIA Nationals: 69th)
14. Julie McIntyre (NAIA Nationals: 161st)
15. Rylee Haecker (NAIA Nationals: 216th)
18. Hannah Beintema (NAIA Nationals: 151st)
20. Rhaya Kaschinske (NAIA Nationals: 238th)
37. Keegan Beisel (NAIA Nationals: 286th)
46. Faith Williamson
51. Courtney Wright
72. Jaiden Tweton
The accomplished Freiberg broke through during indoor track with a national runner up claim in the 1,000 meters. Her return is a major recruiting win for Beisel. Freiberg is a captain and leader who sets a strong example. Said Freiberg in explaining her decision to opt in a COVID year, "There were a lot of little things that went into it. Part of it at first was that my husband is also staying a fifth year on the track team. I thought it would definitely be hard not being on the team. I was already thinking about it my fourth year, thinking about the team and how much I love running. I love my teammates. I just felt called to come back and serve."
Green won two individual cross country state championships at Arlington High School and figures to fit seamlessly into the program and be among the team's top runners right away. Similarly, Vargas won a state title and was a state runner up in cross country while also taking home nine state track medals. Other freshmen such as Kelsie Heins and Trinity Houchin are primed to make an impact. The process of assimilating the many newcomers into the team culture is already well underway.
"They're definitely high," says Haecker of the team's expectations. "We have six returners from the national team. It's exciting but there can definitely be pressure with that expectation. This year we're really focusing on having fun and running for the glory of God. Our team is bonding really well. The freshman are a good chunk of our team. It's competitive and encouraging to know that we're bettering each other. You always have a group with you. That definitely creates that team camaraderie."
Added Freiberg, "We are definitely a lot stronger, in my opinion, than we were last year. It's a lot of the same group. In addition to that, we have even more people who bring wonderful assets to the team to keep it Christ-centered and to work hard and motivate each other. I want to keep the focus on how much I can lift up my teammates."
In the preseason, Concordia is ranked behind only Dordt at the top of the GPAC poll. The Bulldogs finished third last season while trailing Dordt and Hastings. Freiberg and company did manage to outrun the Broncos at the national meet. The most recent GPAC championship for the women's program came in 2019.
Final thoughts
This may be as strong as Concordia Cross Country has been under Beisel from a combined men's and women's perspective. For both squads, the focus is on being where your feet are, to repeat the mantra.
Coach Beisel:
"I think the biggest thing is the team mentality. One of the things I did a lot of praying about this summer was what our theme should be. Our theme for the year is: 'be where your feet are.' In the competitive world of distance running, it can be really easy to fixate and worry about – will we qualify? Will I make this roster? Will I make this relay? It's a tough thing. It's a reality that everyone has to wrestle with. C.S. Lewis talked about the Screwtape letters where it's like, God is a God of eternity. God wants us focused on eternity and he wants us focused on the present. It's the devil that wants us focused on the future and what might happen. When there's anxiety, discouragement and worry about the future, we know that's not coming from God. What I want us to do is keep our eyes fixated on Christ but also focus on each other – be where our feet are. I think that's going to be something that will keep our focus on the here and now. Trust God for all the rest and control what we can control. Love each other, these amazing people, build relationships and see what happens."
Beisel also provided his thoughts on the return of nationals to Fort Vancouver. Said Beisel, "It is run on a national historic site where an old fort was. A lot of it is run on the side of the hill, it's twisty-turny and it is a very technical race. You've got to get out strong or you're going to get stuck in the back of the pack. It's really hard to work your way up. You're not going to look at the times and go, that was a really good race. It's a very technical course. What's good about Washington, is it will be good temperatures typically and there are some cool things to do there. We usually go to Multnomah Falls and check that out. Then we go to Cannon Beach and go hang out there the night after the race, eat some seafood and then come back."
First Meet
Friday, Sept. 1 – Augustana Twilight, 8:30 p.m. CT, Yankton Trail Park (Sioux Falls, S.D.)